As an Amazon Associate I earn from qualifying purchases. When you use our links, we may earn an affiliate commission. Learn more.
When using dairy-free milk for latte art, professional baristas have been confronted with many new trends. The quest for dairy-free barista milk begins with soy, almond milk, and cashew milk. Now there is whole new milk for baristas to consider: barista oat milk.
Oat creamer was developed to be a non for customers who like vegan, dairy-free flat whites, cappuccinos, and lattes.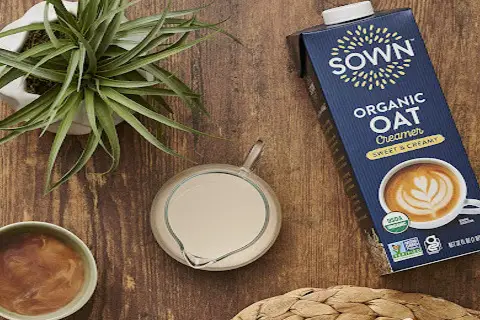 Barista oat milk is now a thing as it is specially developed to create that thin layer of microfoam that sits nicely in a thin layer on top of the cup of perfectly brewed espresso. It is smooth, creamy, and perfect for making dairy-free lattes.
Here is an At-A-Glance chart comparing the best of the barista milk, including oat milk and comparable products that make a great latte, such as macadamia milk (paid links).
$8.98

$5.69 ($0.18 / Fl Oz)

Made From:

Oats, Organic Sunflower Oil
11/10/2023 03:16 pm GMT
5 Best Barista Oat Milks 2022 
Here are the five best oat milk available.
FAQs
What Is The Difference Between Oat Milk and Barista Oat Milk?
Regular oat milk is thinner and more watery than barista milk. An oat barista blend has to be made a bit thicker with added oil before it will make perfect dairy-free lattes.
It is essential to read the labels of any barista oat milk that you buy to avoid additives used as thickeners and GMO products such as canola oil.
A good example would be phosphate calcium carbonate tricalcium, which makes the oat milk bubble up like soap as you froth it with your steam wand.
The texture of regular oat milk would make it harder to form latte art, but a barista blend provides the thin layer of microbubbles on top of your cup needed to create drawings.  
Is Barista Oat Milk Good for You?  
Whether or not oat milk will be good for you largely depends on your general state of health. Thankfully, oat milk is made to accommodate just about every nutritional goal. All of our top choices have dairy-free ingredients.
The most healthy oat milk tends to be fortified with the vitamins you would typically find in dairy milk, such as B12 and Vitamin D. These are vitamins you need to consume daily.
If you have diabetes or trying to lose weight but still want to drink coffee with creamer, many brands are keto, sugar-free, or have added protein on their label.
Why is Barista Oat Milk Better?  
Barista milk is better than some other blends because the entire product can usually be sourced from simple plant-based ingredients such as sunflower oil, organic vanilla, and organic cane sugar. This is a specialty product made by companies that have long been sourcing GMO-friendly products such as Silk, Oatley, Sown, and Willa's.
The best designer oat milk usually allows you to steam perfect lattes at a lower temperature.
Phosphate, calcium carbonate, tricalcium, and other soapy agents are often added to make it easier to do ideal latte art.
What Kind of Oat Milk Do Baristas Use?
Professional baristas will always prefer an oat milk blend with higher fat content. Usually, that fat is added in the form of canola or sunflower oil.
The fat in oil will whip up a better foam, so that is why baristas prefer it. Ordinary oat milk is simply too thin and sometimes even adds an overpowering oat taste to the drink. 
Slightly sweet oat milk, with added vanilla (preferably organic), goes a long way towards converting dairy to oat milk users. Most baristas love the flat canvas-like surface provided by the top layer of oat milk foam because it makes beautiful lattes.
Get Your FREE Coffee Brewing Cheat Sheet!
This free cheat sheet will improve your coffee brew by providing quick information on brew ratio, grind size, optimal brewing time, and more.
No spam. Unsubscribe any time.
The Bottom Line
In the end, it seems that the best barista milk for most people is the one that is going to give them the best value for the money while offering great taste and the perfect texture for creating latte art.
In this case, our number 1 choice is actually raw nut milk: Milkadama latte da Macadamia Milk.
Our top choice for the best oat milk is the Oatly Oat Milk Barista edition, mainly because it is fortified with B and D, has a great taste, and can be nicely frothed. 
Our third choice is SOWN, which is made with a bit of cane sugar and incredibly reasonably priced for an organic, gluten-free, vegan, and sustainable product. 
Both Silk Barista Oat Milk and Willa's Oat Milk Unsweetened make great latte, but they contain a lot of sunflower oil, thus making it less of an oat product.
However, all of the products we have chosen for you have simple plant-based ingredients that are top-notch quality and are worth auditioning for your next round of lattes.
Get Your FREE Coffee Brewing Cheat Sheet!
This free cheat sheet will improve your coffee brew by providing quick information on brew ratio, grind size, optimal brewing time, and more.
No spam. Unsubscribe any time.