Working in a coffee shop is a unique experience, allowing you to smell the aroma of fresh coffee as you prepare to brew it. 
Thanks to the increasing popularity of coffee in the States, many coffee businesses are growing exponentially. Owing to this, there is an increased rivalry among baristas out there.
If you want to work as a barista at coffee shops, taking a barista training course will help you stand out from the rest. 
However, choosing an online barista training that provides you with everything you want is like finding a needle in a haystack.
Apart from being pricey, most offline courses are only offered once every few months, by coffee shop owners where the trainer is the most experienced barista, and the number of students is limited.  
Thus, many online resources have begun offering online barista courses, which are becoming increasingly popular because of their remote learning structure and affordable fee structure.
We have compiled a list of the best online training courses that you should definitely explore.  
Best Barista Online Training Courses 
| | | | | |
| --- | --- | --- | --- | --- |
| Organization Name   | Level of Expertise   | Price   | Our Rating | Website Link  |
| Advanced Coffee Making   | Intermediate/Advanced   | $149 one time   | 4.0/5 | Click here  |
| Coffee Pro   | Beginner   | 499.95 per year  | 4.8/5 | Click here  |
| Udemy   | Intermediate   | $13.99 one time  | 4.2/5 | Click Here  |
| Skillshare  | Intermediate   | $15 one time   | 4.0/5 | Click Here  |
| Virtual College  | Beginner   | $21 per month   | 4.5/5 | Click Here  |
| Barista Hustle   | Advanced   | $15 per month  | 4.5/5 | Click Here  |
| Barista One  | Beginner   | $149 one time   | 4.0/5 | Click Here  |
| Online Barista Training   | Intermediate   | $59.95 per month   | 4.6/5 | Click Here  |
Advanced Coffee Making
This barista online training is geared towards those who are looking forward to working as a senior barista. 30 hours of video lessons along with comprehensive tests to assess your performance ensure complete learning. You also get permanent access to 70+ training sessions. Their training will include informs on:
Nomenclature
Grind size
Temperature and flow
Refractometry
Extraction and strength lessons
Brewing lessons
Comprehensive assessments
Various spreadsheets and toolkits to keep track of data are also a part of the package. Students are credited with their Barista Hustle Accredited Certification upon completion. You can reach them by writing at [email protected].  
Pros 
Lifetime access  
Easy refunds  
No specialized equipment required  
Cons 
Only available in one language  
You must score 85% or above to get the certification. 
Coffee Pro 
They offer up to 12 different courses for baristas and coffee cuppers. This course is known for its high flexibility due to the self-paced curriculum and lifetime access. You also get access to various on-demand online barista courses from other platforms such as Seed to cup, Q grader prep course, Coffee at origin, etc. Having trained over baristas, this organization aims to turn all coffee enthusiasts into efficient professionals. 
The main learning modules include:  
Coffee analysis 
Grinding concepts  
Roasting methods  
Fundamentals of an espresso machine 
Pros 
Lessons can be easily understood by an amateur  
High-quality learning  
Cons 
Udemy  
Udemy's Coffee Expert Online Barista course will teach you how to create the perfect cup of coffee. The training is offered online, and the platform also provides a 30-day money-back guarantee. Budding baristas and coffee shop owners will be learning latte art with two highly experienced coffee baristas who have served as judges for the UK Barista Championship.  
Students are also provided with additional tips and workstation management guides to help them avoid making rookie mistakes. The website contains comprehensive information on the course and what it has to offer. An affordable price and flexibility are the cherry on top.  
What you learn- Origin of coffee, grinding, brew methods, making coffee, extraction & brewing tips, and tricks. 
Rating- 4.2/5  
Pros 
Easily accessible on television and smartphones 
Provides certificate of completion
Lifetime access to the course material 
Money back policy  
Cons 
The doubt clearing portal isn't so responsive. 
If you are looking for a wide array of courses covering various topics, Skillshare is the right place for you.
It is one of the most visited online resources for workshops, short time courses, student projects, etc.
Skillshare provides The World of Latte Art Coffee online workshop that will provide you with an understanding of what a barista's work entails.  
Get an opportunity to learn about the history of coffee, how roasters taste their coffee, types of brewing processes, and a deep dive into the realm of latte art.
You will have received all of the necessary information to become a barista after attending this class. 
What you learn- Introduction to coffee, coffee brew methods, how to make the perfect espresso  
Rating- 4.0/5  
Pros 
Unlimited access 
Offline availability of tutorials through the app 
Professional teachers 
Cons  
Plenty of ads unless you opt-in for a membership 
Virtual College's Barista Training 
With virtual colleges, it's never been easier to attain a professional-level degree online. Virtual college's online barista training can help you earn internationally recognized certifications through this platform. Students get to learn and obtain a practical understanding of their subject from the comfort of their own homes with the added benefit of live interactive sessions.  
The cost of this online barista training is also significantly lower than that of other online training schools. So if you're a student on a tight budget, Virtual College is a good option for your barista training. The course gives you complete confidence in your ability to become a barista in a short amount of time. 
What you learn- Latte art, necessary equipment, different recipes using steam milk and coffee pouring processes.  
Rating- 4.5/5 
Pros 
Affordable price 
Provides CPD approved certificate of completion  
Cons 
Lack of quality control for instructors 
Barista Hustle  
If you are looking for thorough courses with a deep understanding of the fundamentals, Barista Hustle has got you covered. Their barista workshops and online tools have paved the way for thousands of people who want to learn how to be a barista.  
Engagement and creativity are the pillars of this online coffee school. They provide full access to all of their online barista training tools through a monthly membership, in addition to one-to-one barista course sales.  
This cost-effective option gives you access to the latest modules of their state-of-the-art study material. It provides full access to our entire video collection, as well as free admission to all of our events and seminars. At BH, they don't just provide online barista courses; they also host monthly events and podcasts by specialty coffee industry experts, including their own founder, Matter Perger, who holds the position of two-time World Barista Championship winner.  
What you learn- Espresso making, latte art, coffee making recipes, water chemistry  
Rating- 4.5/5 
Pros 
Professional teachers with ample experience 
Full access to the latest study material and tools 
14-day free trial  
Digital certificate of completion 
Cons 
Bellissimo Online Barista Training  
This course was created by Bruce Miletto, a professional barista with an extensive understanding of the specialty coffee industry. The site offers two sorts of membership packages, each of which includes all the study materials as well as access to interactive coffee-making sessions.  
The course will prepare you to become a professional barista by teaching you how to make coffee effectively and efficiently.  
Individual Barista Membership is limited in numbers and specializes in brewing techniques. You'll also get access to every new video that rolls out, as well as any relevant resources such as webinars and other important updates.  
What you learn- 
The curriculum includes the following: 
Manual Coffee Brewing techniques 
Milk steaming procedure 
Latte art 
Workstation maintenance  
Pros 
Individually tailored courses  
Plenty of learning material  
Easy to follow lessons  
Cons 
Barista One  
This course comes in several chapters that address various parts of the coffee-making process as well as other relevant topics. Barista One is a twenty-hour training that teaches beginners how to become skilled baristas. It's an espresso training program and certification that offers you all you need to know about working in a modern cafe.  
All classes are led by Matt Perger, the CEO, who is also a published author in addition to being a world barista champion.  
After purchasing the course, you will have unrestricted, lifetime access to over 40 instructive films and 50 individual sessions. The training program contains basic components, and all of the lessons are designed with new and inexperienced baristas in mind. 
Following the completion of each chapter, students are given a short quiz to help them better grasp the concepts and apply them in their daily lives. 
What you learn – Steam milk texturing, latte art, coffee culture, espresso-based coffee drinks 
Rating – 4/5  
Pros 
Can easily be accessed on mobile using an internet connection 
Unlimited access to tests and exams 
Provides printable certificates on completion 
Cons 
Costlier than other courses providing the same course material 
Consider a Coffee Retailer Membership 
This membership is specifically curated for the retailers and coffee shop owners out there. This package includes all the material you need for business management.  
It also includes 15 unique barista accounts for the proper training of baristas that you have on your business. This works as the perfect tool for both you and your employees.  
What You Learn 
Planning and strategies for coffee business 
Employee relations  
Efficiency control and coffee culture 
Cost analysis of the beverage  
Pros  
Provides completion certificates that are recognizable all over the USA 
Customized membership plans  
Cost-effective 
Lifetime access to study materials and tutorials  
Barista Training Online Free 
If you don't have the budget to buy an online course, there are other ways by which you can learn the basics of being a barista. The following are the different ways by which you can access the information about being a barista and other important information for free or almost no money.  
Youtube 
Many YouTubers share coffee brew methods and teach you how to cold brew your coffee in the most cost-effective way possible. Typically, YouTubers create a playlist that includes a variety of instructional videos. Simply look for the recipe you want, and you'll discover simple instructions.
On the downside, they can also sometimes provide you with incorrect information, so make sure to check the credibility of the channel before subscribing to it. Examine the YouTuber's comment area as well as the number of subscribers they have.  
Click here for more YouTube references.  
Ebooks  
Ebooks are not only convenient to use, but they are also inexpensive. The purpose of ebooks is to present you with all of the essential information about Barista Training and tasting coffee recipes.  
Get 50% Off Your First Bag Of Coffee!
This delicious, immune-boosting, healthy, low-acid, USDA organic certified is our favorite coffee. Our friends at Lifeboost offer our readers 50% off for all first time customers. So give it a try today, and see why it's our go-to!
SAVE 50% NOW
Free Online Courses 
Many internet platforms provide free online courses, and some offer certifications as well. To begin your Barista Training, try the following free courses :   
The Web Grind 
This platform offers you in-depth knowledge about coffee and barista training for free. You can reach them by clicking here.  
Alison 
Alison explains the fundamentals of being a barista as well as the career opportunities. It offers a guide to investigating work responsibilities and the average wage package, among other things. 
You can reach them by clicking here. 
Frequently asked questions
Can you do barista training online?
With the advancement of technology, many institutes now offer their courses online. You can easily learn all about the job of a barista while sitting at your house. While the majority of these training's are available at really affordable prices, you can also check out the free resources that are scattered across the web.  
Once you have sufficient knowledge about various equipment and brewing techniques, getting some experience at a local cafe is also recommended. 
How much does barista training cost?
Online barista training certifications will save you from burning a hole in your pocket. These courses start from as low as $10. Offline barista courses cost significantly more, starting from $300 for local shops to $600-800 for the premier institutes. On the other hand, if you decide to go for a diploma, the cost can increase as per the duration of your course.
Are barista courses worth it?
If you want to convert your household hobby into a job or are an employer seeking professional development of your employees, barista training will prove to be a fruitful asset. On the other hand, if you are just out there looking for a part-time job and do not consider being a barista as your full-time hustle, then you are probably better off with free tutorials online resources.
How do you get trained as a barista?
Barista training involves various steps ranging from learning about health and safety measures, preventing steam milk contamination, brewing mouth-watering beverages to workstation maintenance. You can try out various courses that are available online when starting out. Taking help from baristas, your local coffee shop owners or talking to a coffee sommelier may also help you get started easily. 
Wrap Up
We hope that with the help of all the courses listed above, you are able to reach your professional and intellectual goals regardless of your current level as a barista. Thanks-a-latte for going through this guide! 
Brooke Davis
Hi everyone, my name is Brooke and I'm a Barista and freelance writer. I love brewing coffee and my favorite coffee drink is without doubt an Americano (espresso with added hot water). When I'm not busy making or writing about coffee you'll find me hanging out at the beach with friends in California where I am currently residing.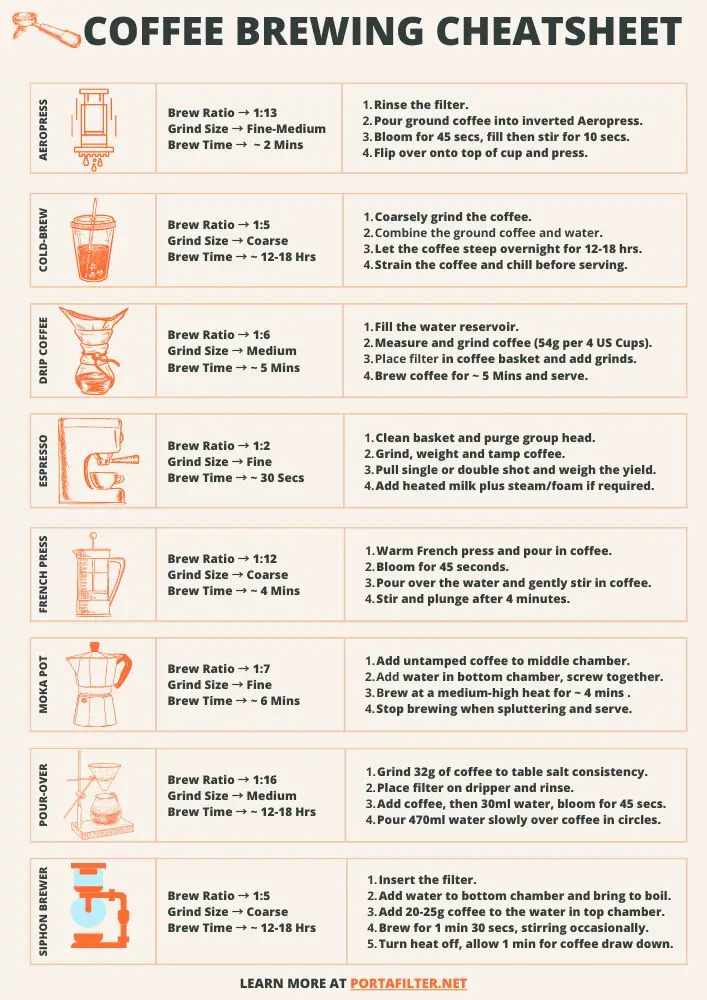 Get Our FREE Coffee Brewing Cheat Sheet
This free cheat sheet will improve your coffee brew by providing quick information on brew ratio, grind size, optimal brewing time, and more!
No spam. Unsubscribe any time.