Portafilter helps coffee lovers brew like a barista. When you use our links, we may earn an affiliate commission. Learn more.
Florida is studded with amusing tourist attractions, national parks, and coastal cities. Fueling this large state of over 2 million people are myriads of coffee shops spread across the city. After all, what better way to enjoy island life than to sip handcrafted shots of coffee brewed straight to perfection.  
As tourism levels continue to hike, various new coffee businesses are in need of skilled baristas who not only have a few pouring tricks up their sleeve but are also proficient in management and coffee education.  
If you are someone who is on the lookout for barista training Florida courses, or you just want to learn more about the mesmerizing world of beverages, taking a barista training course will surely turn out to be a good investment for you.
If you live in Miami, Florida then please see our in-depth review of the Best Barista Courses in Miami.
We have curated a list of the best barista training courses that you can take in 2022. Let's get started!  
Barista Training Florida Classes
| | |
| --- | --- |
| Institute/ Organisation   | Best For  |
| Amavida Barista Training | Best Overall |
| Sweetwater Organic Coffee Company | Best Budget |
| Sips Barista | Beginner Friendly |
| Counter Culture Coffee | Hybrid |
Best Overall – Amavida Barista Training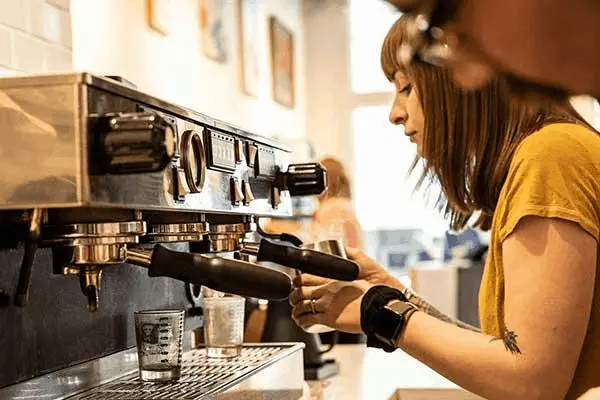 The uniqueness and the variety offered by the coffee industry are what make it so enjoyable to work with. The staff at Amavida will ensure that you enjoy each and every session of your barista training journey.  
They offer courses for both individuals and groups at their premiere training institute in Florida. Backed by a group of 15+ veteran baristas who are all AST certified, they are currently running a coffee skills program, which will teach you about brewing methods and fundamental barista skills.  
They keep updating their courses on a regular basis in order to stay on track with all the industry advancements.  
They also offer a 10% discount on their course along with giving you barista certifications and SCA certified training. The coffee brewing methods guides on their websites give you a sneak peek into what their courses have to offer. Head over to their website to know more.  
Best Budget – Sweetwater Organic Coffee Company
A great cup of coffee brewed just right has the potential to open your mind and give you the head start you need for your tasks. That being said, a barista has the crucial responsibility of pulling out consistent and flavor-rich shots back-to-back for every customer that sets foot in their cafe.  
Students at Sweetwater Organic also get to earn a diploma course once they complete their basic coffee program. These courses contain six different modules, details of which are given below – 
Barista skills module – This module will give you the right skills that you need for handling an espresso bar. Be it customer service or latte art – all the basic etiquettes are covered here.  
Brewing methods module – Students get to learn about different grind profiles, coffee extraction, latte art and will also be able to measure coffee strength after completion.  
Green coffee module –  Learn all about the production, harvesting, and trading of green coffee. This helps the students to know more about fair trade coffee businesses and employ sustainable practices for a healthier future.  
Roasting module – As suggested by the name, this lesson will give insights into the tidbits of different roast cycles, levels, and common mistakes to avoid when picking out coffee beans for a particular drink.  
Sensory skills module – A  barista with impaired sensory skills is as good as a ship without the ocean. This module will help you learn more about coffee aromas. You will easily be able to identify and differentiate between various kinds of mixtures after completing this module. Click to know more.  
Beginner-friendly – Sips Espresso Barista Training Course  
With industry experience which goes back to 15 years, Sips Espresso has pledged to provide quality education without any fluff or irrelevancy, as seen in many courses these days. With the help of years of expertise and experience, they have managed to create a highly detailed barista training course led by Frank Wilkerson, a certified barista by the Specialty Coffee Association of Europe.  
This training is offered monthly from 8:30 AM to 4:00 PM. After the course, you can opt for both one-to-one or doubt clearing sessions based on your liking. Their curriculum includes the following – 
Creating your own drink menu  
Learning about the significance of signature drinks  
Barista skills such as roasting, pouring designs and preparing smoothies  
Reach them at (813) 627-9200 today to know more about their courses.  
Hybrid – Counter Culture Coffee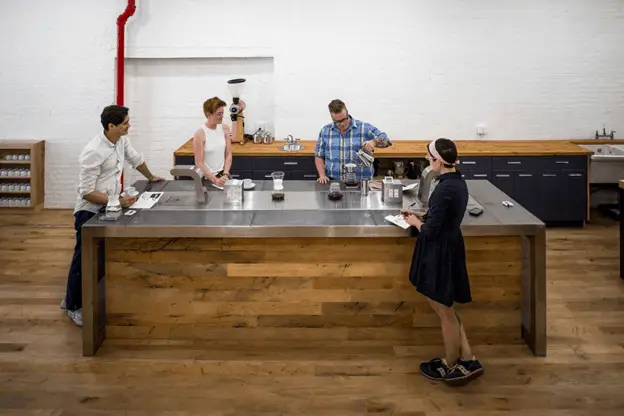 They have various regional centers spread all across the States to foster easy education. Counter Culture Coffee aims to provide quality training at an affordable price in a short span of time to give a boost to your career. Not only do you get to explore various high-end coffee equipment, but you also get support from their premium support team after the course.  
As the seasons change, their students keep getting access to their updated catalog with the latest recipes, tips, and tricks to give them an edge over anyone who is an amateur. They also host many public tastings under the name – Tasting at Ten virtually via zoom meetings.  
Join their course today and take home a skillset filled with exquisite techniques and an amped-up taste palette.  
Verdict 
All these courses require little to no prior knowledge and can easily be obtained regardless of what level you are at. For starting out your journey, we would highly recommend the course by Sips Barista.
Furthermore, you can also watch various YouTube tutorials to gain better command over the basic actions.  
Preparing a great cup of coffee will require lots and lots of experience, but once you master latte art, the job of a barista will seem like a cakewalk to you.  
From basic techniques and maintenance to gaining command over complex workflows, pouring and roasting techniques, these courses will teach you everything. Many of these institutes also conduct free sessions in order to educate more and more people about the significance of latte art.  
The earlier you enroll, the higher your chances of getting your dream barista job will be.
So what are you waiting for? Pick up your phone and show up at your nearest barista training course today.
We wish you loads of luck!  
Hi everyone, my name is Brooke and I'm a Barista and freelance writer. I love brewing coffee and my favorite coffee drink is without doubt an Americano (espresso with added hot water). When I'm not busy making or writing about coffee you'll find me hanging out at the beach with friends in California where I am currently residing. Follow me on:
Linkedin
Get Your FREE Coffee Brewing Cheat Sheet!
This free cheat sheet will improve your coffee brew by providing quick information on brew ratio, grind size, optimal brewing time, and more.
No spam. Unsubscribe any time.