Portafilter helps coffee lovers brew like a barista. When you use our links, we may earn an affiliate commission. Learn more.
If you are planning to take up a career in the coffee industry, getting formal training will surely give you the advantage you need to set you apart from others.
There is a wide range of very effective formal training programs you can benefit from. You can choose to carry out your barista training San Diego online or on campus. 
Find Los Angeles Barista Classes Near Me.
San Diego Barista Training Programs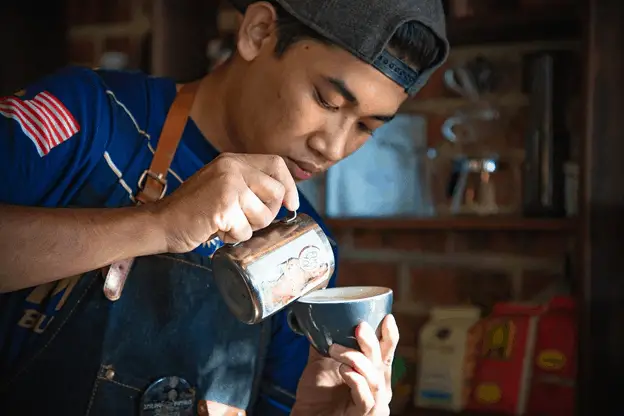 Located in San Diego, the San Diego Coffee Training Institute (SDCTI) is a Specialty Coffee Association member which offers paid courses and training to individuals to become certified coffee roasters and baristas.
The organization also offers individualized education and different courses to coffee enthusiasts to improve their advanced latte art techniques, espresso extraction understanding and skills.
SCDTI is a nonprofit organization and uses the fee paid by students to fund training for various at-risk populations in the area. Once you enroll in a barista course at the San Diego Coffee Training Institute, you will receive assistance in job placement in the specialty coffee industry or related positions.
During your training, you will learn about making and serving coffee, customer service, product quality control, latte art, and much more information.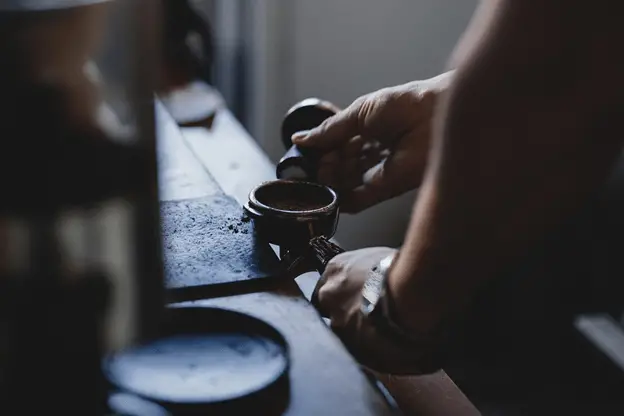 Ivy League Barista Academy (ILBA) offers a state of the art training for all aspects of work within the coffee industry. Students gain hands-on training and experience at the 10,000 square foot facility located in San Diego California.
The coffee school has provided training to coffee businesses, beginners, and working baristas since 2002.
ILBA has multiple consultants, trainers, designers, product specialists, and project managers, who will together provide training in all aspects of successful coffee business.
This course is cost-effective and concentrates on the most important advanced latte art techniques and skills.
Some of the strategies include one-on-one coaching, group learning, and hands-on training. You can choose among the various levels of training such as those for beginner baristas, advanced baristas, or successful coffee business operations.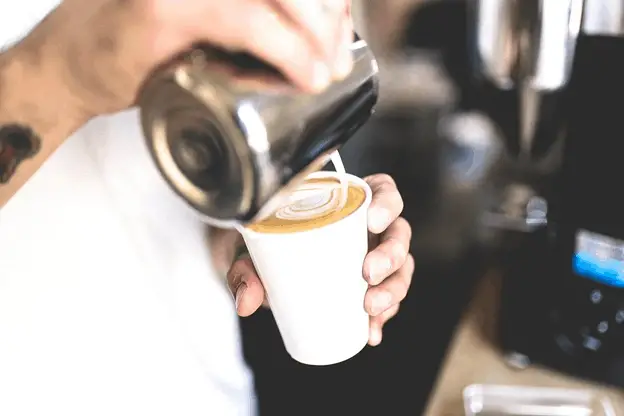 Starbucks offers an excellent training program for new baristas. If you enroll in the Starbucks Barista Training Program, you will receive initial official training.
The unofficial training will continue for a longer period after that. Most new hires take approximately three months to learn all the basics and generally six months to become very competent baristas.
The basic training program is for newly hired baristas and provides highly effective training.
The positive learning environment will enable you to enhance your competence and confidence in delivering top-quality customer service. There are additional training courses for shift supervisors, assistant store managers, and district managers.
All courses include instruction and hands-on training.
If you are a beginner barista, with experience and training, you can move up to managerial positions within the company.
People Also Ask
By doing a barista class, the indispensable skills you gain will help you gain your first job with much ease even if you do not have previous experience.
However, before you choose the right course for yourself, you may explore other factors about training to become a barista.
What Qualifications Do I Need To Be A Barista?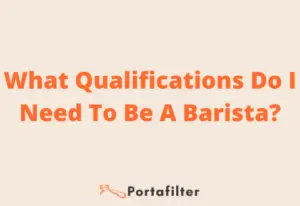 Being a barista is about learning the techniques and practicing to become brilliant at it. The recipe for becoming a successful barista is to get training and then practice. And you do not need a college degree to learn about specialty coffee.
To enroll in a course, you must meet the following requirements:
1. Have a high school diploma.
2. Some experience in customer service or in drink preparation, quality control and espresso beverages.
3. The willingness to learn about drink preparation and espresso beverages.
4. Exceptional skills in communication, including bot, speaking, and listening.
5. The ability to stand and walk for longer periods.
While every barista's journey is different, you will start gaining competency after two or three months.
Although you may need at least a year to become completely proficient. There is, however, no specific rule as people learn new skills at different rates.
By learning from experts in the barista coffee industry, you will learn all you need to be successful at this job.
In addition to getting hands-on training in coffee knowledge, such as espresso extraction, latte art, calibrating, grinding, drink preparation, quality control, and milk texturing, you will also learn about coffee brewing and pallet tasting.
An important aspect of the barista's job is cash management. While some coffee shops may have specialized job assignments, many baristas also manage cash in addition to making and serving coffee. This is why learning about cash management is important and will help you to advance your career.
In addition to the technical skills, you will learn how to provide excellent customer service. Some other skills that will help you to build a successful career as a barista include teamwork, attention to detail, and multitasking.
What Should You Look For In A Barista Training San Diego Class?
Look for a course that has small class sizes. This will help you to ensure that you receive maximum instruction and proper attention from your instructor.
Another deciding factor would be the number of diverse skills you will learn from the course. As a successful barista, you must learn how to brew hold and cold coffees, and all about beverages such as Cortado, Macchiato, Cappuccino, and Americano.
In addition to making the right coffee, a barista must also learn the art of serving coffee. Choose a training program that helps you learn about excellent customer service.
How Much Does Barista Training Cost?
If you choose to enroll in a course at a physical location, the cost will be approximately $500. There are several very good options for barista training San Diego. Though individual experience may vary, most people prefer on-site classes to an online course.
Online courses vary from $50 to $200. While the cost may seem rather high, you can benefit from learning the required skills from the comfort of your home and at your preferred schedule. All you need is a computer and good quality internet. You will also be able to save on travel costs.
An online course provides extensive practical lessons to enable you to learn all the skills you need. You will learn to do your work professionally and effectively so that you meet the coffee industry standards.
Hi everyone, my name is Brooke and I'm a Barista and freelance writer. I love brewing coffee and my favorite coffee drink is without doubt an Americano (espresso with added hot water). When I'm not busy making or writing about coffee you'll find me hanging out at the beach with friends in California where I am currently residing. Follow me on:
Linkedin
Get Your FREE Coffee Brewing Cheat Sheet!
This free cheat sheet will improve your coffee brew by providing quick information on brew ratio, grind size, optimal brewing time, and more.
No spam. Unsubscribe any time.