Across the US, pour-over coffee makers are probably the most popular way of getting your morning cup. They are a staple of most US homes and have become an almost iconic item that can be used to identify any home as American.
When it comes to coffee drinkers, especially in the morning, the faster the better is usually the preferred method and that is understandable. For most people, it's difficult enough to complete any task before their morning coffee, so making amazing coffee needs to be as easy as possible.
Pour-over coffee machines are simple enough to use anyway, but automatic pour-over machines are even better.
To help speed up and simplify your mornings, we've created this list of the best automatic pour-over coffee makers available.
Bleary-eyed and in need of that caffeine fix soon? Don't worry, here are our top picks at a glance.
Best Automatic Pour Over Coffee Maker Comparison Table
Best Automatic Pour-Over Coffee Maker
Technivorm Moccamaster Coffee Brewer
Pros:
Huge number of colors available
Quiet
Able to brew 10 cups in 6 minutes
Hot plate switches off after 100 minutes
Adjustable hot plate temperature
Cons:
Old-fashioned aesthetic

Expensive
Buy on Amazon
We earn a commission if you make a purchase, at no additional cost to you.
04/28/2022 10:18 am GMT
The Best Automatic Pour Over Coffee Maker of 2022
Get 50% Off Your First Bag Of Coffee!
This delicious, immune-boosting, healthy, low-acid, USDA organic certified is our favorite coffee. Our friends at Lifeboost offer our readers 50% off for all first time customers. So give it a try today, and see why it's our go-to!
SAVE 50% NOW
Automatic Pour Over Coffee Machine Buying Guide
Coffee has been around for centuries in many different varieties and every culture has its own traditional way of drinking it. But recently, coffee has become a massive source of interest for some people, and brewing a simple cup of coffee has become a hobby.
There are many coffee lovers out there who believe that there is only one way to make a "proper" cup of coffee. But, what really matters with a cup of coffee is how you like it.
So, to help you find the perfect automatic pour-over coffee maker that will make your perfect cup of coffee here's a guide to what to look for.
Complex Features
When it comes to coffee machine options, most simply making a cup of coffee can be incredibly complicated. If you find yourself eager to try the best coffee beans and get excited at the thought that you can wake up to whatever kind of coffee grounds you like, then these machines are a great choice.
If you like a simple coffee but don't want to compromise on coffee taste by using instant then an electric pour-over coffee maker is ideal. Automatic pour-over coffee machines are even better as they are simple to use and are still customizable. 
With automatic coffee maker options, you don't have to settle for one style and still have your choice of strengths, levels of richness, and temperature. Some even come with milk frothers or steamers if that's what you prefer.
Carafes
The carafe of a coffee maker may not seem particularly important as the taste of the coffee inside is usually the main focus. But the carafe is still important. 
Most coffee machines will feature a thermal or glass carafe.
Both of these have their positives, but you need to decide which you need most. A thermal carafe will, not surprisingly, keep your coffee warm for longer. A glass carafe will usually sit on a hot plate, so your coffee stays hot, but not in the same way.
Thermal carafes do also get heated with a hot plate, but the insulation means that less energy is used, making it a more environmentally friendly option.
But, when it comes to taste, the glass carafe will arguably be better as the thermal carafe will usually be lined with plastic which can alter the taste of the coffee beans.
Pour Over vs. Drip Coffee Maker
You may have heard about brewing coffee using a good drip coffee maker as it has recently become very popular. Pour over and drip coffee are very similar methods of brewing coffee as both involve pouring hot water temperature over ground coffee that then passes through a stainless steel filter basket.
But there are some important differences.
A drip coffee machine is generally simpler to use but doesn't allow as much control as a pour-over coffee maker. They usually require pressing a button and allowing the machine to do its thing.
With an electric pour-over coffee maker, the coffee grounds may usually be less complex but you have control over the temperature, strength, and richness of the coffee. If the taste is more important to you than style, then pour over coffee is the way to go.
Automatic vs. Manual
Whenever something becomes automated, there are purists who believe that they are inferior. There's nothing wrong with taking your time making coffee, especially on a slow day off.
If you're busy, being able to have a good quality coffee made easily is obviously a big plus. 
Manual pour-over coffees are relatively simple and usually only require adding what looks like a coffee mug without a base over the coffee mug, placing a stainless steel filter basket inside, adding the coffee grounds, and then pouring in the hot water.
Automatic pour-over coffee machines do pretty much the same thing, but the machine does the pouring for you.
There is little difference in flavor between automatic and manual unless the coffee maker is made from a material that can transfer taste or smell. The biggest difference is the price. As with most things, the automatic version is far more expensive, but you do get what you pay for.
Frequently Asked Questions
Are automatic coffee makers expensive?
Yes. As with most things, once it becomes automatic and more complicated, it becomes more expensive.
Automatic pour-over coffee makers can vary in price and, depending on the brand, can be quite a bit more expensive than the average coffee machine. 
What's the best kind of coffee maker?
This depends on the kind of coffee you like. If you prefer black coffee then a standard automatic pour-over coffee maker is fine.
But, if you prefer something more complicated or sophisticated, then getting a coffee machine with a lot of different features is the way to go.
You can also buy espresso machines with a milk steamer that are similar to the kind of coffee machine you would find in a coffee shop. But these aren't necessarily automatic and can require a lot of skill and work. 
What kind of coffee should I use in a pour-over coffee maker?
We recommend ground coffee beans, as this is typically what is required for use in a pour-over coffee maker.
Some coffee machines do come with built-in coffee beans grinders, but these are expensive and are usually espresso makers.
What is the size of a coffee maker carafe?
This varies greatly depending on the coffee maker so there's a great amount of choice.
One thing to remember is that when a carafe capacity is described in "cups", this refers to actual coffee cups which average about 5oz.
This does not refer to the measurement of cups that is used in baking and cooking.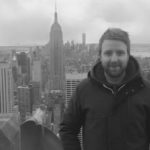 Adam
Hailing from the United Kingdom, Adam has a wealth of experience in building websites including researching, designing, content creation and website optimisation. Adam and his team were instrumental in helping create the master plan for Portafilter and subsequently designing and launching the site.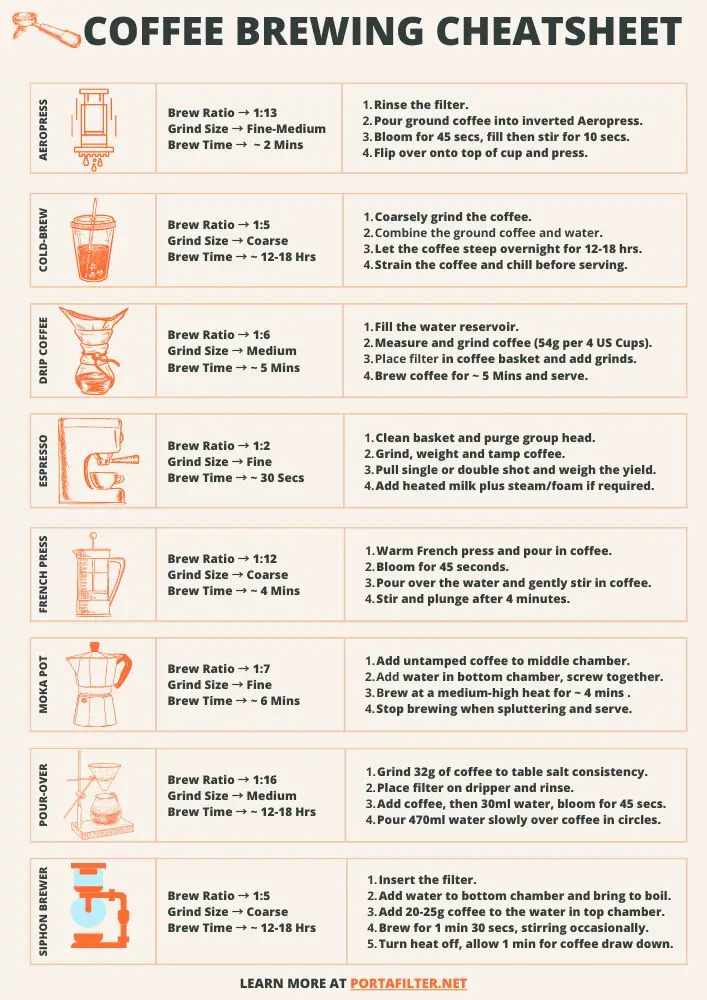 Get Our FREE Coffee Brewing Cheat Sheet
This free cheat sheet will improve your coffee brew by providing quick information on brew ratio, grind size, optimal brewing time, and more!
No spam. Unsubscribe any time.