As an Amazon Associate I earn from qualifying purchases.
There is nothing quite like the aroma of freshly brewed coffee to stir you from your stupor in the mornings.
While modern cons like the coffee machine are now a common feature in most households, sometimes simpler methods of coffee brewing are equally effective, and just as pleasurable, if not more authentic. 
The French Press – also known as a cafetière – was first patented in France in 1942 and went on to be popularized across Europe. It works by placing ground coffee into the beaker of the press and adding hot water, more or less to taste. Next, the coffee is then left to brew for 2 to 4 minutes, then the mesh plunger or piston is pressed to compress the coffee grounds before pouring.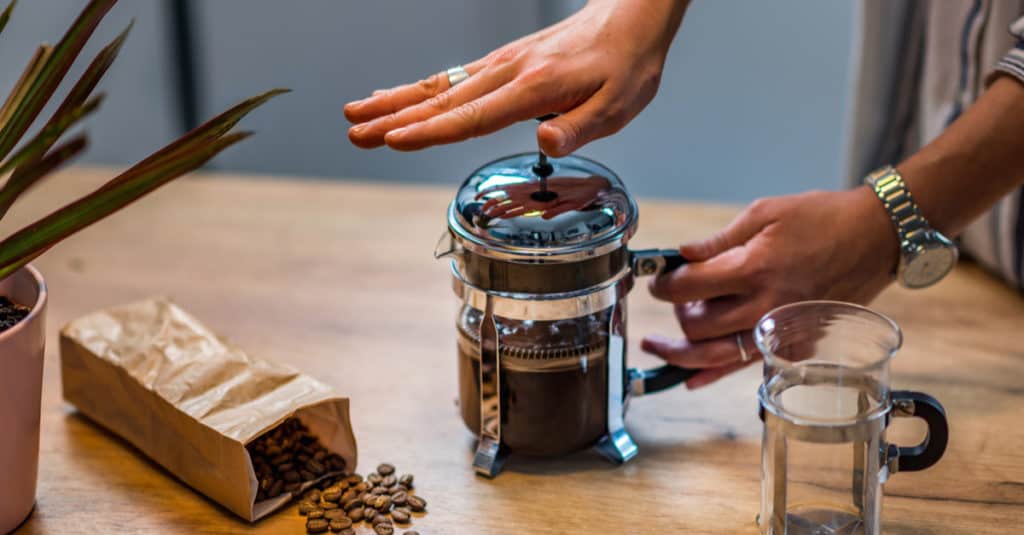 There are many perks to brewing your coffee in a French press. For example, they're cheap to buy, cost-effective to use, and relatively low maintenance – simply rinse your press in the sink after using. Many also like the French press for its distinctive taste, as the oils from the coffee grounds are thought to be what gives coffee its finest taste and flavors. Back in 2012, the CEO of Starbucks surprisingly stated that the best cup of coffee was one that could be made at home by a simple French press!
Many Americans may not have ever seen or used a French press, and if this sounds like you, fear not. We've put together a list of the best coffees for French press, along with a buyer's guide containing all of the essential information you need to know about brewing the perfect cup of coffee in a French Press. 
Short of time? You can find our top pick below:
Best Coffees for French Press Comparison Table
Top 5 Best Coffees for French Press
OUR TOP PICK
Peet's Coffee Major Dickason's Blend, Dark Roast
Our Rating
Alfred Peet sparked an American coffee revolution over 50 years ago in Berkeley, California. The Major Dickason blend is thought to be the epitome of Peet's coffee and has a rich, complex, and flavorsome taste reflective of the worldwide origins of the blend. 
Peet's coffee is centered around freshness and quality – which is essential when selecting a coffee for the French press, which will draw out all of the flavor and complexity. While you have a choice of light, medium, or dark roast, the dark is our favorite due to its subtle smokiness and full-bodied taste. 
The beans used in this blend are selected from the finest origins to ensure premium quality and taste, and the taste is honed in small batches where they are hand-roasted by 9 roasters, with an average tenure of over 13 years. This gives the coffee a distinctive, layered flavor that sets it apart from big-batch roasts and major companies. 
Pros:
A global blend of beans for a layered, distinctive quality 
Rich, full-bodied taste 
Affordable 
The roast date on every bag for guaranteed freshness 
100% Arabica Coffee
Cons:
Some people criticized the stock rotation due to short expiry dates
EDITORS CHOICE
Kicking Horse Kick Ass Coffee – Dark Roast
Our Rating
This medium roast coffee from Koffee Kult is made of 100% Arabica beans grown in Colombia and Brazil. They're then artisan-roasted at a small family business in Hollywood, Florida, so you know that these have been roasted with craft and care. 
These beans are medium-bodied with a smooth, mild flavor that is easy to drink and doesn't leave behind that acidic, bitter aftertaste that commercial coffee often does. Koffee Kult's medium roast has a pleasant aroma that strikes a balance between waking you up and not being too overpowering. 
Pros
100% Arabica beans grown in Colombia and Brazil
Roasted by a small family business 
A smooth, mild flavor that is easy to drink 
Pleasant aroma 
Perfect for a French press
Cons
Some people found the packaging difficult to reseal
BEST VALUE
Primos Coffee Co – French Press Specialty Coffee
Our Rating
Specially roasted for the French press, these premium Arabica beans from Primos Coffee Co have been selected from the best micro-lots at Primos' fourth-generation family farm to produce a delightful, easy-drinking coffee.
This medium roast is mild-tasting with a smooth, medium body and low acidity with slightly-sweet citrus notes. This blend is best for those who aren't keen on strong, bitter coffee and prefer a more subtle roast.
The coarsely ground consistency is perfect for the method of the French press, which will draw out this coffee's subtle and delicate aroma.
Pros
Easy-drinking, 'city' blend 
Coarsely ground – perfect for the French Press 
Pleasant, delicate aroma
Family business 
100% Arabica 
Grown under shade trees, harvested by hand, European prepared and naturally dried
Sustainably sourced from Nicaragua
Cons 
May be too mild for some coffee drinkers
RUNNER UP
Bulletproof French-Kick Ground Coffee – Dark Roast
Our Rating
This French-inspired ground coffee is smooth and sweet with subtle, smoky chocolate notes wrapped up in a medium body. Each Bulletproof bean has been expertly-picked by hand to maintain the company's quality standards and unique flavor.
This coffee is even tested for toxins to ensure it's of the purest and cleanest quality – which in turn helps you keep jitter-free, so you get an energy boost without any nasty extras.
Bulletproof has high standards when it comes to sustainability, too. Their organic coffee is Rainforest Alliance certified using ingredients that support farmers, forest communities, and families, so you can rest assured that your coffee not only tastes great but is held to the highest ethical standards, too. 
Pros
Smooth, smoky notes and medium-bodied for easy drinking 
Rigorous farming and roasting process to ensure beans are of the highest quality 
Coffee is tested for toxins to ensure it's pure 
Organic and sustainably sourced 
Climate pledge friendly  
Cons
You cannot return this product on Amazon
RUNNER UP
illy – Ground Drip Coffee – Medium Roast – 8.8 oz (250g)
Our Rating
Illy is used by baristas around the world and is a trusted name in the coffee world thanks to it being a premium Italian product composed of nine different types of Arabica beans.
Illy coffee is rich and aromatic, with a slightly bitter sweet-sour note and a distinctive caramel aftertaste that will transport you to a sunny Italian balcony. 
This medium roast coffee is ideal for a French press as it has a uniform, even taste that is easy to drink and not too intense. The packaging of this product pressurizes the coffee to keep it fresh and aromatic throughout its shelf life. 
Pros
A trusted name in the world of coffee
Unique packaging locks in freshness 
Uses nine different types of Arabica beans
Distinctive, European taste 
Uniform medium roast for consistency 
Kosher-certified
Cons
Some people had issues with the service and were sent the wrong type of Illy coffee
French Press Coffee Buying Guide
The perfect French press coffee is dependent on several factors, such as the ground consistency of the coffee.
On the other hand, qualities such as the roast level and blend are more subjective and dependent on your personal coffee preferences. We'll talk you through the basics. 
Ground consistency
When looking for a coffee to use in the French press, opt for coarse or medium grounds, as these work best and will leave the least particles at the bottom of your cup.
It's also important to opt for a coffee that has a smooth, even taste, as uniformity of grinding allows you to experience the complexity of the flavor. 
An uneven ground will provide a rougher coffee. Many professional baristas avoid Robusta coffee, as its grains are harder than those of the Arabica kind, and as a result, the particles are larger. 100% Arabica coffee works best for the French press.
Coffee Roast
This is more of a subjective matter, as there is no particular flavor best suited to the French press. Most coffee lovers go for a medium or dark roast in a French press, but because the French press can brew a more intense coffee, a medium roast can work well as these are usually similar to European or City blends and have a full aroma with a smooth, well-rounded flavor. 
Just because you use one roast in a drip coffee maker doesn't mean you'll like the same roast in a French press, as different brewing methods bring out different flavors. If you're hesitant about which roast to go for, try a lighter roast first and increase the intensity if you're after something a little stronger. 
Cost
Coffee can get pretty expensive when you start moving away from supermarket brands and looking for a specialist, artisan blend.
However, it's worth spending that little bit extra to get a good quality coffee, as it'll still work out cheaper than buying your daily Starbucks – and it'll probably taste better, too. 
How to Make Coffee With a French Press
Not sure how to use a French press? Simply follow these steps: 
Heat the French press with warm water first, otherwise, you risk the glass cracking when you pour in the boiling water. Next boil the water. 
After the water boils, start to grind the beans (if you have whole coffee beans), if your coffee is already ground, there's no need to do this. 
Allow 2 tablespoons of ground beans for 1 cup of water (8 fl oz), and pour the ground beans into the French press, then add the boiling water. 
Wait 3-5 minutes for the coffee to brew and draw out the complexities of the flavors. The longer you leave the coffee, the more intense the flavor. 
When the time's up, you can slowly lower the mesh filter piston, so the coffee grounds are pushed to the bottom. Do this slowly and evenly, so that the mesh does not tilt and allow coffee particles to float into the upper part of the vessel. 
Your coffee is ready: add milk, cream, and sugar to your taste, or simply drink black. 
Benefits of making coffee in the French press 
You decide the strength
Simply brew your coffee for longer if you like it strong, or plunge the piston after 2 or 3 minutes if you like a milder taste.
The great thing about this simple device is that it has a range of potential brews depending on your taste. 
A more even texture and taste
The French press brews coffee that is smooth and even in consistency and taste.
It also creates a drink that is less bitter and is thinner than coffee made in a machine. This gives it a more authentic, European taste. 
Get the most out of your beans
Good quality coffee deserves a method of brewing that draws out all of its flavors.
The French press allows you to truly appreciate the aroma, taste, and texture of the coffee, so it becomes more than just a caffeine kick. 
Brew anywhere
The French press is compact and easy to use. You can even take your French press with you on holiday, to the office, or simply use it at home when you're looking to unwind.
They also take up less space on the kitchen counter than a machine does. After using, simply wash and put away in the cupboard. 
Cost-effective
While coffee machines are expensive to buy and require regular purchases of coffee pods or bags, the French press is affordable for all budgets as it comes in a range of sizes and designs, ranging from low-budget to high-end.
While you'll need to purchase coffee, an average back of ground beans will produce up to 30 cups. Plus the increasingly competitive online market means you can now get excellent quality coffee for a fraction of the price.
Drawbacks of making coffee in the French press
They break easily
 Because the French press is made of glass, it can break easily especially if you pour boiling water into it without warming the glass first. 
They require frequent washing
You'll need to wash your French press by hand after each use, and they can be messy and difficult to clean due to the mesh filter.
You may be able to wash some in the dishwasher – but check the manufacturer guidelines first. 
Time and capacity
On average you should brew coffee for 4-5 minutes in the French press, which can make it feel slower than other methods. However, if you get on with other tasks while it's brewing then it'll be ready in no time.
Another thing to bear in mind is the size of the French press, and these can vary in their capacity, from 12 ounces for the solo drinker to 34 ounces for about 4 cups. Most make about 2 cups at a time, but you can get larger ones that make more than this, so bear this in mind if you'll regularly be making several cups of coffee at once, otherwise, you'll have to make a fresh batch each time.
Frequently Asked Questions
Do you need a special type of coffee for the French press?
You need to use a fresh, ground coffee (or a whole bean variety that you grind yourself) – however, you should also ensure that it's roughly ground rather than finely ground, as the French press uses slower extraction and this requires a coarse grind.
Other than this, it's up to you which coffee you choose in terms of flavor, body, and roast, as this is purely down to personal preference. 
How does a French press work? 
The French press steeps the coffee grounds rather than filtering them, which creates an earthier and more intense flavor and aroma.
Once the coffee is done steeping, a metal mesh filter is pressed to the bottom of the beaker which separates the coffee grounds from the liquid coffee that you then pour straight into your mug. 
Can you use regular ground coffee in a French press?
You can, however, you might not get the best taste out of your coffee, as if the grounds are too fine they will seep through the holes in the mesh and leave traces at the bottom of your mug.
A coarser grind will provide a more even, purer blend, and will allow you to get the optimal taste out of the slow brewing time that characterizes the French press.