As an Amazon Associate I earn from qualifying purchases.
Drinking coffee, I drink coffee, drinking coffee every day – Joey Cape (Lagwagon)
America doesn't run on gasoline, it runs on coffee.  We're a nation fueled by caffeine that wakes up to the smell of freshly brewed java and when we finally turn the lights out every night, we dream about the next morning's brew.
Coffee is as American as apple pie and while we may not have been the first country to embrace it, we certainly made it our own. It's now so ingrained in our culture that, for most of us, the thought of trying to function without coffee isn't just worrying, it's absolutely terrifying.
But thanks to the incredibly clever folks who invented the drip coffee maker, even if Starbucks fell victim to some unprecedented disaster, running out of our morning cup of Joe isn't something that we'll ever have to lose sleep over or fret about.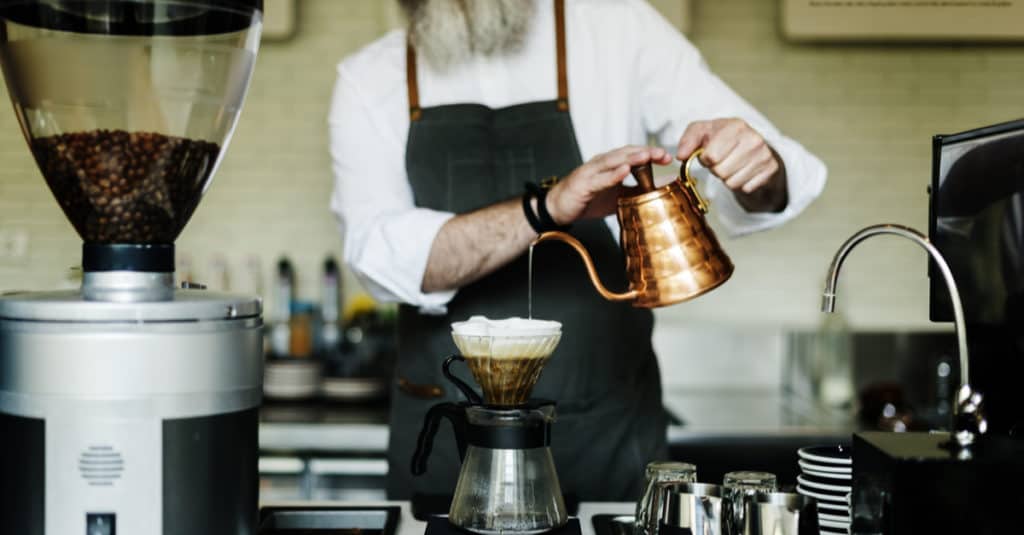 With so many different types and models of drip coffee maker flooding the market, it can be hard to find one that'll give you the caffeine kick that you need to get going and doesn't need a degree in rocket science to operate.
We're useless without our daily coffee boost too and that's why we've done all the hard work for you and searched high and low to find five of the best drip coffee makers that you can trust to set you on the path to a successful day.
You want to start the day the best way that you can and the drip coffee makers on our list will make sure that you're fired up and inspired to be everything that you can be. So let's get ready to brew some great coffee!
Best drip coffee maker comparison table
Top 5 Best Drip Coffee Makers
OUR TOP PICK
Mr. Coffee Four Cup Switch Coffee Maker
Our Rating
The best way to start any day is with a brand that you know you can put your faith in and rely on no matter what. Mr. Coffee has earned their place in the American psyche ten times over and has been kick-starting the nation's morning's with drip coffee makers for nearly half a century. 
And this classic coffee maker epitomizes everything that they do and their history in it's simple, elegant design and reassuringly straightforward approach to making coffee. 
You don't have to be a coffee hipster to enjoy what Mr. Coffee does. They make coffee machines for the everyman and this easy to use, load, and brew drip coffee maker does what it says it will without complication or fuss. It makes coffee. 
With a dual water window that lets you see how much water you're adding, a simple on and off switch to start brewing the coffee that also lets you know your java is being kept warm, and an auto-pause function that'll let you grab a cup before Mr. Coffee has finished brewing – you will be amazed. Add an uncomplicated filter basket that's as easy to clean as it is to fill and this drip coffee maker keeps it simple and makes your morning coffee free from stress and unwanted hassle. 
Mr. Coffee has been making coffee the American way for nearly fifty years, and thanks to keeping the art of making coffee on track and painless, we're sure that they'll be serving caffeine to millions of American homes for another five decades. 
Pros
It's a simple, no-frills, incredibly affordable on and off switch drip coffee maker that'll also keep your coffee warm. What more could you want?
The filter basket it uses? It makes filter papers redundant, so you'll be able to scrub them off your grocery list.  Mr. Coffee doesn't just brew a good cup of java, it also saves you a dollar or two. 
And as it isn't an over-complicated, all-singing, all-dancing drip coffee maker, the Mr. Coffee doesn't take up a whole lot of room and will just sit there on your counter-top, ready to spring into action when it's needed.
Cons
If you're a coffee connoisseur, you're not going to find all the peaks and troughs in the aroma and taste of the brew that Mr. Coffee makes. It makes simple, straightforward diner-style coffee and that's all it does.
Mr. Coffee doesn't come with the largest water tank and it doesn't make a huge volume of freshly brewed coffee. It makes just enough for you to drink and go. It isn't an all-day machine, so if you're looking for a drip coffee maker that'll produce enough jitter juice to keep you going all day, then this isn't the machine for you.
EDITORS CHOICE
Cuisinart DCC-3200P1 Perfectemp Coffee Maker
Our Rating
Culinary education may well be at the heart of everything that Cuisinart does, but they're not exactly slouches when it comes to designing and manufacturing drip coffee makers. And this caffeine leviathan proves that the folks at Cuisinart when it comes to brewing coffee, know what they're doing. 
Cuisinart makes technology work for them and you by ensuring that the Perfectemp brews hot coffee without sacrificing quality, aroma, or flavor, so take a deep breath, because we're about to plunge into the list of all the coffee things that Perfectemp does and it goes a little something like this… 
The Perfectemp is fully automatic, twenty-four programmable, lets you brew one to four cups of coffee at a time of your choosing, is self-cleaning, has an auto shut off, and a brewmaster setting that means you can control the strength of the coffee that it makes. All of which is, quite frankly, staggering. It seems like the only thing it can't do is fetch your morning paper.
Even though Cusininart isn't a name that we, or anyone else, would probably have expected to see on this list, there's no escaping the fact that the Perfectemp is a versatile, powerhouse of a drip coffee maker that belongs in the home of any busy caffeine fanatic. 
Pros
The Perfecttemp includes a staggering array of coffee making features that are easy to program and simple to use. It's the height of caffeine making technology combined with trouble-free instant caffeine access. Cuisinart might as well just take our money, as we're sold on the Perfectemp. 
It's a hipster coffee lover's best friend, as the balance it strikes between brewing temperature and time means that it'll serve up cup after delicious cup of aromatic, incredible tasting coffee. 
That automatic shut off is worth its weight in cold, as you'll never have to worry about whether or not you switched the coffee machine off before you left the house again. If you do forget, the Cuisinart will do it for you.
Cons
It's either a blessing or a curse, depending on how you look at it. The reusable filter that lies at the core of the Perfetemp is going to need to be cleaned after every brew. That means an awful lot of cleaning, but it also means that you won't have to buy any more filter papers ever again. Cuisinart gives with one hand and takes away with the other. What you have to ask yourself is, "Am I a cup of java half full or half empty kind of person?" and apply that to your Cuisinart decision-making process. To clean or not to clean, that is the question.
BEST VALUE
Zojirushi Stainless Steel Coffee Maker
Our Rating
No, you're not the only ones scratching your heads thinking "Where have I heard that name before?" Before we got to grips with this wonderful drip coffee maker, we were thinking exactly the same thing. 
As it turns out, Zojirushi is one of those brands that you've no doubt bumped into a countless number of times over the years, but didn't realize it because they're so good at what they do, they just fade into the background noise of everyday life and let lesser companies take all the credit for all of the things they do.
And what they do is make all manner of household products that are designed to make life easier for everyone. They've been doing it for one hundred years and they're very good at what they do. 
The ten cup stainless steel carafe that this coffee maker uses will keep your jitter juice warm for hours, while the removable water tank and coffee mesh ensure that it's easy to clean and maintain. It's also fully programmable, so you can set your coffee to go anytime you want it to and it'll be ready and waiting for you when you need it the most.
But the best thing about Zojirushi is that as well as being available in ten and twelve cup models (the latter of which also comes with an auto shut off), it'll also make cold brew, so when Summer rolls around and you want your coffee cold and ready to be iced, the Zojirushi will have your iced-coffee ready to go. 
Pros
Rather than using a hot plate to keep your coffee warm, which can lend your brew a burned taste, the Zojirushi uses a thermal, stainless steel pot that will keep your java in pristine, ready to drink condition for hours. 
It has a cleaning indicator light that'll let you know when you need to get your hands dirty in order to keep your Zojirushi in optimal operating condition. 
Did we mention that it makes cold brew too? We did? Okay, we just wanted to make sure that we did. When Summer rolls around, those ice ready java's will put a huge caffeine powered smile on your face. 
Cons
The Zojirushi isn't what you'd call small. All that technology and brewing power comes at a cost and the price you'll pay for it can be measured in the countertop space that it'll take up. Which is, if we're absolutely honest, quite a lot and probably more than you'll be happy to devote to a drip coffee maker.
RUNNER UP
Technivorm Moccamaster
Our Rating
One of the best-kept secrets in the world of the coffee snob, the Technivorm Moccamaster is a full-throttle, high octane Dutch caffeine machine that was designed to be the best at what it does. And what it does is make the coffee with flair, panache, and more style than a New York fashion show.
It is a push-button drip coffee maker that'll brew forty ounces of premium quality java in around six minutes. The manually adjustable brew basket that the Moccamaster uses lets you make the sort of subtle tweaks to your coffee that the most talented of caffeine masters would heartily approve of and readily endorse.
And the Moccamaster doesn't mess around with hot plates or warmers to keep the coffee it produces ready to drink, it uses a stainless steel carafe which maintains the perfection of the brew for up to an hour so that you can enjoy cup after cup of incredible coffee. 
And once it's finished brewing? The Moccamaster will automatically shut its heating element off after it's water tank is empty. It's a safe, efficient, and miraculous coffee maker. Honestly, just thinking about the quality of the coffee the Moccamaster turns out makes our hearts skip a beat.
Pros
It's straightforward, simple, and easy to use and clean. Sometimes you don't need or want, more technology, you just want a little know-how to make your life better. And that's what the Moccamaster is. A lot of coffee know-how and caffeine-based prowess wrapped up in an incredible machine
That automatic, after brew shut off, is one of those neat touches that demonstrates an eye for, and attention to, detail that is sorely lacking in a lot of Technivorm's competitors. 
And the Moccamaster comes with a five-year warranty, so you'll have all the caffeine peace of mind that you could ever need when you use it.
Cons
All of the caffeine experience, innovation, and coffee ingenuity that imbues every atom of the Moccamaster isn't going to endear you to your pocketbook. Quality costs and the Moccamaster is where you'll start, and end up, paying for it. 
RUNNER UP
Our Rating
We figured it was time to rein things in slightly with our final choice which is why we've included the Bonavita One-Touch. It's one of those drip coffee makers that caffeine junkies swear by, and when you've used it to brew your coffee for a couple of days, you'll understand why they adore it. 
Bonavita has included an eye-watering amount of coffee technology (including pre-infusion wet modes, a flat bottomed filter, and larger showerheads) that ensures the One-Touch brews the sort of java that will make baristas seethe with envy every single time you use it.
It's one switch operation and auto shut off delivers the kind of coffee to the double-lined stainless steel carafe that you'll just want to keep drinking. When you start brewing with the One-Touch, you'll never want to stop. 
We just hope that we're not pursued to the end of the Earth by the most rabid of coffee hounds for sharing the secret of the One-Touch with you. Some secrets need to be shared, and the One-Touch is one of them.
Pros
The One-Touch is a drip-coffee making miracle. It's easy to use, simple to figure out, and utilizes a mind-blowing amount of coffee technology to do what it does. Which, in coffee terms, is just about everything. 
Cons
We're just going to stop right here because truthfully, there's absolutely nothing to dislike about, or wrong with, this drip coffee maker.
Frequently Asked Questions
What is coffee?
Coffee is a drink that is brewed using coffee beans. The beans are picked, cleaned, and then roasted and prepared to give them a multitude of distinctive, and different, flavors. 
It is a rich, dark, and sometimes bitter drink that can be consumed either hot or cold (known as iced coffee) that is noted for the effect that it has on the people who consume it.
High in caffeine, it is regarded as a stimulant and in small quantities is thought to be beneficial, but if drunk in larger quantities can be dangerous and can cause detrimental long-term health problems.
While there is credible historical evidence to suggest that coffee has been consumed for thousands of years, it wasn't until the twentieth century that it became one of the most popular, and widely consumed national drinks. 
What is a drip coffee maker? 
A drip coffee maker is a machine that heats water from a reservoir or tank, which is then passed through a series of tubes within the machine before finally being allowed to pass over and through ground coffee that is held in a filter.
The hot water then infuses with the coffee ground and slowly drips into a waiting receptacle, usually a pot or carafe, which often rests on a heat plate or pad that keeps the coffee in the pot or carafe warm.
Which drip coffee maker is right for me? 
That depends on what you want from a drip coffee maker and what you want it to do and how much you want to spend on your drip coffee maker. Do you just want it to brew coffee as and when you want it? If so, you'll never go far wrong with the Mr. Coffee Switch, as it'll make as much or as little coffee as you want it to at an incredibly affordable price. 
But if you're looking for something more from an on and off drip coffee maker, and want exquisite coffee at the touch of a button, then we'd always, without hesitation recommend the Bonavita One-Touch. 
Or maybe you want a machine that'll have your coffee ready for you when you need, and want, it in advance, that's easy to program, use, and clean. If that's the case, then Cuisinart Perfectemp is the machine that you didn't know you were looking for, but have always wanted. 
Whichever drip coffee maker you choose, just remember. Coffee isn't just a drink, it's a way of life.