As an Amazon Associate I earn from qualifying purchases.
You are finally resting on your couch after a tiring day when the world has toiled with you as much as possible.
In this scenario, what could be better than a warm cup of aromatic coffee filled with delectable aromas, right? We couldn't agree more!
So you get up and head over to the kitchen and aim to pull the best espresso shot you ever have.
You got your portafilter clean, tamped everything evenly, and are ready to grind.
Uh oh!
Much to your dismay, you ended up making a weak and sour shot of espresso.
What did you miss?
When all your equipment was up to the mark, what could have gone wrong?
That's right, the best espresso beans! A cup of espresso has around 12% dissolved solids that come from the grounds.
Espresso sits at the center of the beverage world.
Without further ado let us point all you coffee connoisseurs straight in the direction of the best espresso beans reviews.  
Quick Summary – Best Espresso Beans 2022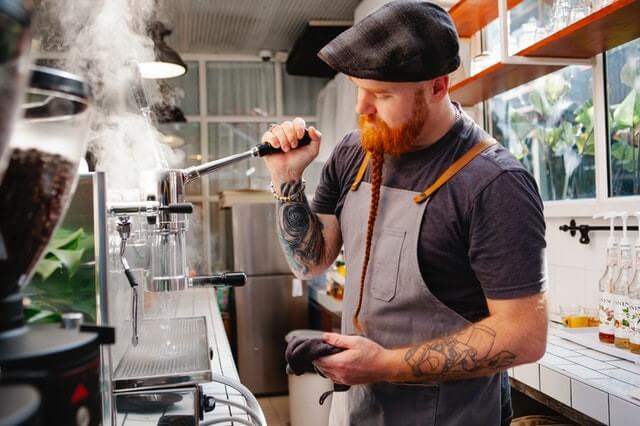 As the coffee industry continues to grow on and beyond, the internet has yielded many different types of coffee recipes.
Be it a fruity flavor or keto-based coffee – you can have it all!
However, as we have established, getting your beans right is key to a rich taste.  
Manufacturers have set up various booby traps full of discount codes and labels, but the truth is that we know nothing about what goes behind the walls of these companies that claim that their beans are ethically sourced.
Collecting ample information about the best espresso coffee beans is the first thing you should do when stepping into this lane. 
What is an Espresso Bean?
The way you roast your coffee bean determines its taste and flavor.
Espresso is just a quick way of making coffee.
Rule of thumb suggests that lighter roasts muddle better with slower extraction techniques such as filter coffee.  
In the case of espresso beans, they have always been roasted super dark resulting in an ash-like charred flavor.  
If we were to ask what is the best dessert in the world, we bet many of you will have different opinions.
Similarly, choosing the best espresso bean is also a very difficult task due to the wide variety and varying preferences of people.
While some individuals prefer a nutty tang, others go for fruity hues.  
When these beans are roasted, they are left with little to no acids and a fuller body.
The espresso roast contains a strong punch of natural oils which can be validated by their shiny texture.
However, you should not use the beans that have been roasted too dark as too much oil can impair the functioning of automatic grinders.  
Here are some key factors that you must consider before buying your espresso beans: 
Basics of Coffee Roasting
Light Roast
These beans have a vivid, citrus-edged flavor.
Due to the high acidity, these seldom work in drinks that are based on milk. If you are a fan of espresso, then we would advise you to steer clear of these beans.  
Medium Roast
With a medium espresso roast, you get berry flavors that advance into brown sugar and almond shades.
Sophisticated espressos with a sly taste are generally made up of medium roasts. These beans are low on caffeine as compared to lighter roasts. 
Dark Roast
This will be your answer if you are looking for the classic espresso with a bittersweet finish.
However, some brightness is always welcomed as else the coffee can end up being too bitter with a burnt taste.  
Coffee Blending Explained
Getting the same consistency with single-origin beans is impossible if you are a fan of an overall bold and complex flavor.
Dark espresso with rich crema can only be obtained by an amalgamation of multiple blends.  
Thus, checking up the website of the company to know more about their blending process (whether manual or machine aided) would not be a bad idea.
Bleeding would give you the chance to alter the flavor of your coffee as per your needs.
Coffee beans that are sourced from Arabica plants are rich in quality with a more complex flavor.
Robusta is a cheaper alternative. Flavors will vary in accordance with the region in which the coffee bean is grown. Blends take the clear winner when it comes to espresso making as opposed to single-origin coffee.
To know more about different kinds of beans, you can head over to this article.
To sum up, espresso beans are a result of dark roasts and have more prominent bitter/sour notes.
How are Espresso Coffee Beans Different From Regular Coffee Beans?
These beans are refluxed with dark roasting methods and are low on acids as well.
Their shiny, oily texture hints towards the presence of oils in these beans.
The emulsification of these oils results in the formation of rich light-colored layered crema, which significantly improves the quality of your shots.
But as we stated above, excess oil can be derogatory for your coffee gear.  
Some notable differences between coffee beans and espresso beans are as follows:
Usage – In the case of conventional coffee beans, they have the essence of beans due to the light roasting process. This may work out when preparing other recipes but will fail to provide the bitter taste needed in an espresso cup. Experts recommend that espresso should be prepared only using espresso due to its superior uniformness and bold flavor. Coffee beans are generally better when trying to brew using multiple techniques.  
Concentration – Espresso beans are highly concentrated as opposed to coffee beans which gives them a thick and rich taste. If the taste is too strong for your liking, you can always dilute it as per your preference.  
Preparation –  Coffee beans are roasted for a short time and retain their coarse texture. Espresso beans, on the other hand, are exposed to high temperatures for a longer duration to facilitate the easy extraction of oils.  
Constituents –  The more you roast a bean, the lesser the concentration of caffeine. Thus, espresso beans have a significantly low amount of caffeine as compared to other beans. When you grind them, the resulting moisture would have a fine texture as compared to the rough texture of the coarse beans.  
Size –  Roasting for an increased amount of time will result in loss of moisture due to evaporation, thus resulting in less weight. This increases the fiber size in espresso beans and gives them an edge when it comes to size.  
Pro tip –  You can also use these beans to make coffee powder which comes in quite handy while baking.  
Espresso Beans  Coffee beans  Black in colorTraditional light brown coffee colorGives off a bitter and ash-like fragranceRegular coffee aromaThey have an oily sheen on the surfaceNo oily sheen on the surfaceGreat for pulling shots with good consistency and rich cremaThey are best suited for mild-flavored recipesThey work well with high-pressure methods, unlike traditional beansThey are great for a variety of brewing methods
Espresso Beans and Coffee Growing Regions
Just like a vineyard, every plantation is capable of producing flavors that are unique to its land of origin.
For espresso, the bean roasts you should be looking for should range between medium and dark roast.  
For dark espresso roast coffee, Sumatra is an excellent option that you can consider.
Thanks to the moisture-rich hulling practices, all the beans have a mushroom-like earthly flavor which can be experienced even in the darkest roasts.
People who are into the tangy flavor of seared Portobello mushrooms may find these Sumatran beans to their liking.  
In the case of medium roasts, South American coffee takes the cake.
They are bright on the acid front and often have a sweet flavor. 
Brazil, Colombia, and Guatemala are some good examples of such places.
Enthusiasts who wish to nourish a milk chocolate-like flavor can head towards Indonesian coffee.  
Thanks to the mineral-rich soil carved on volcanic remains, these beans have a bold flavor and strong intensity.  
7 Best Espresso Beans 2022
Type: Medium roast beans 
Best Features 
The espresso-friendly brand, Lifeboost, gets these best espresso beans delivered directly from remote farms.
Their formula is quite simple and includes pure coffee from single-origin that is carefully roasted to maintain the deep, savory taste of the refreshing drink.  
Composition 
The acid content is reduced to make the coffee lighter and easier to digest.
This also reduces the need for adding extra flavoring agents to your classic espresso cup. 
The official website has a lot of attractive offers as well, and it also boasts reliable organic certification.
Some of the toxin tests performed on the beans include GMO and mycotoxins. In this way, you know that drinking more cups won't hurt in any way.  
Benefits 
Arabica beans are known to be the best choice for preparing caffeinated drinks using espresso machines. 
Lifeboost coffee actually "boosts" your day by adding the much-needed aroma (no artificial flavors added) to the coffee and this indirectly helps boost metabolism too.
If you love to feel your coffee before consuming it, the large-sized beans will enhance your experience.  
Almost all varieties of coffee can be prepared using these beans as the safe growing methods are employed to make the beans capable of matching any texture.
The bag of coffee you receive at the consumer end has already passed more than two hundred checks to ensure the best taste and minimum health complications.
So buy it right away if you prefer quality over quantity! 
Type: Medium or light roast beans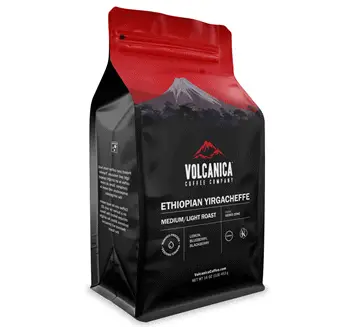 Best Features 
The Volcanica Coffee company has an authentic range of espresso blends grown around volcanic sites.
All the variants are hundred percent organic, without any changes in the taste.
The standards are set high, thanks to the production of single-origin coffee only.  
Composition 
Wash processing of beans is equally reliable – patio drying followed by dry roasting, which gives the aromatic finish quite aptly.
Apart from the exclusion of synthetic materials in production, this coffee brand is also certified by Fairtrade.
The kosher variety is highly recommended.  
Benefits 
The acidity quotient is a bit high, so you would have to combine it with different fruits and basic additives.
A perfect cup needs one teaspoonful of exotic espresso coffee by Volcanica and steamed milk, as per your preference.
The consistency cannot be changed since this coffee has been grown in the wild and maintains its inherent properties throughout.  
Types of Preparation 
You should try all types of Arabica beans with fruity flavors sold by this authentic brand. 
People of Ethiopia and all over the world cherish this "natural" drink due to the earthy taste powered by the location.
This implies that Yirgacheffe is the traditional coffee hub of the world, and you don't need to have any second thoughts before making the purchase.  
Type: Medium roast beans 
Best Features 
Love to add full cream to your coffee?
This one is the best for you! Lavazza Super Crema has the rich taste of cream in every distinct bean to ensure a mild taste with a soft aroma.
The Italian espresso cuisine is marked by the careful inclusion of healthy brown sugar and roasted hazelnuts.
It has a mixed consistency of Arabica and Robusta beans in the tasteful ratio of 3:2. 
Composition 
This brand applies maximum scientific credibility to make your coffee perfect.
Roasting is done through innovative espresso machines at a high rate, and the two types are further combined. Initially, wet polished and natural Robusta are mixed.
On the other hand, natural Arabica is mixed with washed Arabica for balancing the flavors.
This helps in maintaining the high quality.  
Benefits 
For coffee connoisseurs who prefer a thick consistency, the traditionally roasted Super Crema beans by Lavazza can serve the purpose quite well.
You can easily make coffee art as the base is sustainable.
The sharpness of taste is further fuelled by the espresso method of preparation, but it can be neutralized by adding fresh cream and topping with a pinch of light cocoa powder.  
Lavazza has other options, too, for empowering your espresso cups:
Gran Espresso (milk chocolate flavor),  
Espresso Italiano (fruits and flowers flavor) 
Espresso Gran Crema (honey flavor) 
Type: Dark roast espresso 
Best Features 
Gourmet coffee beans are the specialty of the Floridan brand Koffee Cult.
The most tasteful variant is that of caramel chocolate, made with gluten-free coffee.
Your taste buds will definitely get a wholesome treat with the soft creaminess and strong coffee flavors without a single pinch of bitterness.
The exclusive taste of the organic beans is sustained till the last sip you take.  
Composition 
Koffee Kult's taste notes include a powerful combination of coffee beans with cinnamon.
You can also add brown sugar to uplift your coffee drinking experience further.
The taste does not wither away the moment you swallow the drink as it has a long-lasting yet smooth flavor, felt right from the moment you take your first sip.  
Benefits 
Acidity is balanced, and the beans are apt for preparing fresh lattes, macchiatos, cappuccinos, as well as special espresso shots.
Cherries, walnuts, caramel, and dark chocolate go well with the signature flavor of Koffee Kult beans.  
Cafes might need to change the espresso consistency accordingly as these whole beans need a single shot.
There is a promotional tagline, too – the Arabica aroma travels so fast that the people passing by will be attracted immediately.
The health quotient is also balanced diligently as the use of oil while roasting beans is strictly prohibited by the company.  
Type: Dark espresso roast 
Best Features 
Who doesn't love Starbucks?
Their espresso roast is top-notch, and the flavorful combination of molasses with caramelized sugar further enhances the taste.
To brew a perfect cup like that of your favorite cafe, you get customized brewing instructions too.
Mix two tablespoons of whole bean coffee with every 180 milliliters of water for a perfect strong-tasting cup of coffee.  
Composition 
If you love to modify how your morning cup taste, these espresso beans serve it all – zero bitterness and perfect taste.
That being said, the actual "Starbucks specialty"  is maintained even after you add extra flavoring agents like vanilla syrup, berries, or other artificial flavonoids.  
Benefits 
Need more?
The offers on the official website and the discount coupons provided at the walk-in stores can be used to level up each purchase, whether you buy online or from their local store.
Numerous recipes are also available under the Starbucks catalog to spark up the richness beyond "coffee-licious." 
They also suffice the category of best espresso beans for Breville as the intense flavor tastes best with steamed milk.
The beans can also be brewed through cold-press, pour-over, as well as Moka pot without compromising on the bold Starbucks authenticity.
Above all, the experience of forty-six years in the field of coffee shows the robust aroma is unmatched.  
Type: Dark roast beans 
Best Features 
This coffee is the best for coffee lovers who are unable to have a fresh roast every morning.
Peet's Coffee provides you with fresh beans, scoring nine out of ten on the darkness scale.
Freshly roasted beans also translate to high CO2 levels, which help with crema formation.
The high standard of espresso coffee is supported by the roast date mentioned on each pack, irrespective of the portion you purchase.
The aroma is also well-preserved due to the finesse.  
Composition 
Who doesn't love handmade coffee?
If you can't get the same feel with other brands, the Espresso Forte by Peet's Coffee has good news for you – the beans are roasted by hand.
Due to this, your favorite drink will taste much better, as compared to other mechanically formulated versions.
The beans are so flavorful that you can prepare a full cup using a small amount (economic coffee, yay!). 
Benefits 
The combination of tastes is quite commendable – the final taste is like that of really smooth crema and hazelnuts.
A tangy flavor is also ensured since a hundred percent pure Arabica coffee is used.  
Peet's Coffee also provides the best espresso beans for semi-automatic machines since two types (roast and ground) are mixed.
Hence, it can easily be said that this coffee is made for pure coffee lovers.  
Type: Dark roast beans 
Best Features 
If you wish to give a kickstart to your mornings, this organic and climate-friendly coffee brand gets the best espresso beans delivered to your doorstep.
You get nut-free kosher coffee in whole bean form, and the taste is simply a blast.
The tasteful Arabica beans used are specially picked from the dense coffee farms of Indonesia and South America.  
Composition 
Kicking Horse espresso coffee includes a delicate espresso blend of sweetness and smokiness.
The two main aromatic flavors include vanilla and dark chocolate. They go well with or without milk due to their strong roots.
If you wish to change the consistency of your coffee, both ground and whole beans can be mixed in equal proportions as kosher coffee is highly caffeinated.   
Benefits 
Kick Ass caffeinated products, especially of the Kicking Horse range, do not have even a slight tinge of bitterness.
Brewing the beans is also exceptionally easy. This brand assures a cup of strong, recharging coffee.  
There are various taste variations as well – at times, it might taste licorice-y, while the flavors of molasses and milk chocolate malt can also be incorporated.
Each time, your taste buds will surely have an enriching experience due to the perfect lingering finish (a bit earthy, too, as it is roasted in the Rocky Mountains).  
Additional Tips for Getting the Most Out of Your Espresso Coffee
Making excellent espresso is a tough task.
It needs the perfect espresso roast, a great brewing formula, and espresso machines with a grinder that is both efficient and clean.
Additionally, one must be familiar with the finest techniques for actually pulling an espresso.
Here are some recommendations for achieving the perfect taste.  
Cleaning the Portafilter
Cleanliness and removal of dirt or residue in the Portafilter are absolutely necessary. This step is essential because it prevents the coffee from tasting harshly and over-extracted.  
Correct Dosage of Coffee
Measuring accurate coffee dosage is not a difficult task.
Simply push a button on your portafilter, and the grinder will automatically adjust the coffee dose for you.
You may double-check your dosage accuracy by using a scale before tamping the coffee.
This step ensures that the dosage is exact and your coffee is amped up to perfection. 
Even and Consistent Tamping
Tamping is performed in order to ensure that the coffee puck is completely flat and to remove any air pockets that may exist in the coffee.
The proper method to tamp is to crush the puck precisely, which will prevent uneven extraction from occurring. 
FAQs
What beans make the best espresso?
Medium-dark roasts are often regarded as the finest for use in most espresso machines. These types of beans not only have the ideal consistency, but it is also the greatest choice when it comes to pairing it with milk. Dark roast beans are known for their robust flavor, strong aromas and are the reason behind the most delicious espressos made. Some of the best medium-dark roast include:
1. Stumptown Coffee Roasters, Hair Bender Whole Bean Coffee
2. Lifeboost Coffee Espresso
3. Peet's Arabian Mocha Sanani
4. Stumptown Hair Bender
What beans does Starbucks use for espresso?
Espresso drinks at Starbucks are made with the highest-quality Arabica beans.
These beans work the best to provide caramelly sweetness, delicate acidity, and depth to the coffee.
In order for each coffee bean to reach its particular peak of aroma, acidity, body, and flavor, a specific balance of temperature and time must be achieved. 
A cup of Starbucks coffee is more than just a beverage.
After just one sip, it will become a part of your daily coffee ritual.
It might mark the beginning of a new day or serve as a reward at the end of a long one.
It's the perfect way to spend a relaxing weekend morning or a cause to get together with friends. Whatever you're doing, take time to enjoy it. 
Do you need special coffee beans for espresso?
Any type of coffee can be used to make espresso, and the process is simple as well.
However, in order to achieve the desired consistency, it is usually recommended to use a medium-dark roast instead of light.
When it comes to espresso, it's important to understand that it's roasted, ground, and brewed differently than other types of coffee.
It is renowned for having stronger and more assertive flavors that can only be obtained by dark roasted coffee beans. 
Can you use any beans for espresso?
One can use any type of coffee bean to make espresso, but not all of them will produce the dark flavor that you are looking for. It is only through the consumption of bold and rich flavors that one can truly appreciate them.
It's essential to choose only fresh beans as with time, they tend to release CO2, which results in less Crema production.
How fresh do beans need to be?  
Freshly roasted beans impart a great flavor to Espresso when they are between 7-21 days old.
The reason behind this is the increased production of crema in fresh beans.
CO2 is crucial for the production of this cream-like top layer.
As coffee ages, the CO2 levels also decrease, prohibiting the formation of CO2 bubbles.  
Verdict
In our testing and evaluation, Lifeboost and Pete's coffee products have overshadowed the rest of the beans due to their superior quality.
With your individual needs, the kind of beans that you should buy will also differ.
While some prefer the fruity taste, others like going for the classic bitter coffee.  
That being said, proper espresso maker and training are also key to making the perfect espresso.
Do not get disappointed if you can't get it right the first time you try a new method.
Taking a barista training course can also familiarize you with the ins and outs of the coffee industry.
So what are you waiting for?
Get yourself some fresh espresso beans and drool over perfectly made espresso shots today!