As long as there was coffee in the world, how bad could things be? – Cassandra Clare
Some infinitely wiser, and much longer suffering, soul than us once described coffee as being their lifeblood. It's a statement that we not only wholeheartedly agree with, it's one that forms the basis of our day-to-day credo.
Like most people, the first thing that we do when we get up in the morning, and when we get in from the office at night, is put a pot of coffee on. And let's not even begin to get into how many pots of coffee we brew during the day because, between us and the other people we share our office space with, it's a lot.
Probably more than is good for us, but a lot less than we'd like to drink. Coffee makes our world go round.
Sometimes though, there's such a thing as too much. A lot of coffee makers are built to make around ten cups of coffee, and much as we love a good cup of Joe, even we can't drink ten cups before the machine uses its auto-shutoff and stops keeping the good stuff warm.
That's why we've always gone for a happy medium and tend to favor four cup coffee makers because that's the kind of life goal that we aspired to, and reached a while back and once you've attained that sort of perfection, there's no need to embrace any other sort of coffee targets.
We're guessing that since you're here, you're looking for the best four-cup coffee maker you can find, so we're more than happy to share our expertise with you and point you in the right direction. Are you ready to begin your four-cup mambo? Then let's get started…
Best Four Cup Coffee Maker Comparison Table
Mr. Coffee 4-Cup Switch Coffee Maker
Pros:
It's one of the world's easiest to use coffee makers, the Simple Brew wears its name with pride as it describes exactly what it does. It simply brews coffee at the touch of a button, or more accurately the flick of a switch. But hey, switch, button, who cares? As long as you just push it once and Mr. Coffee starts to brew, does it matter what it is?
The Simple Brew is even easier to clean than it is to use. Just take the filter basket out, rinse it thoroughly under a cold tap, put it back in and you're ready to start brewing again. It'll save you money too, as the reusable filter basket means that you'll never have to buy filter papers again. Great coffee and great savings? That's the Mr. Coffee way.
There isn't a day that goes by when we don't thank the heavens for the Simple Brew's auto-pause. We can just grab a cup when it's halfway through its cycle and not have to worry about the machine spilling any coffee on the warming plate while we're filling our cup.
Cons:
We've been using the Simple Brew, and its previous incarnations, for years, and as straightforward, coffee makers go, it's one of the best we've ever had a cup of jitter juice from. There's no such thing as a bad Simple Brew.
Buy On Amazon
Buy On Mr. Coffee
We earn a commission if you make a purchase, at no additional cost to you.
04/28/2022 06:37 pm GMT
Cuisinart Four Cup Coffee Maker
Pros:
Another of the things that the Cuisinart has going for it is that it has the sort of drop-dead gorgeous looks that'll help it to fit right in on any kitchen counter. And it's also pretty compact, so it'll slide right into any available kitchen top space that you have.
As you're almost certainly already know, we're fans of the auto-pause that lets you drink the coffee and do your own thing while the Cuisinart does what it does. Auto-Pause is a double thumbs-up coffee lover's best friend.
We also like the automatic shut-off, as it almost seems like the Cuisinart is daring you to drink all of the coffee that it makes before it turns itself off. It was a challenge that we gladly accepted and the Cuisinart lost. Will you be able to beat the Cuisinart thirty minute coffee challenge too?
Cons:
It would have been nice if the Cuisinart used a filter basket instead of papers, but hey you can't have everything right? We just think that if it did use a basket, it would make using the Cuisinart even easier than it already is.
Buy on Amazon
We earn a commission if you make a purchase, at no additional cost to you.
04/28/2022 07:07 am GMT
Gevi 4-Cup Coffee Maker
Pros:
It's a straight out of the box, plugin, add coffee and water, and go caffeine injection system. Easy to use and set up, it's everything that you could need from a four coffee maker.
The filter basket means that's easy to clean and with a Gevi there's no need to ever buy coffee filter papers again.
Your pocketbook will fall in love with the Gevi, and if you don't keep your eye on it, there's every chance that the Gevi and your wallet will develop a long and meaningful relationship.
Cons:
It isn't all sunshine and rainbows in the land of the Gevi, as some reviews have highlighted manufacturing and durability issues. We guess the old adage about getting what you pay for rings more than a little true as far as Gevi's four cup coffee maker is concerned.
Buy On Amazon
We earn a commission if you make a purchase, at no additional cost to you.
04/28/2022 07:40 am GMT
The Best Four Cup Coffee Maker of 2022
Get 50% Off Your First Bag Of Coffee!
This delicious, immune-boosting, healthy, low-acid, USDA organic certified is our favorite coffee. Our friends at Lifeboost offer our readers 50% off for all first time customers. So give it a try today, and see why it's our go-to!
SAVE 50% NOW
Frequently Asked Questions
What Is A Four Cup Coffee Maker?
A four-cup coffee maker is more commonly known as a drip coffee maker and works by heating the water in its reservoir, which then condenses and is transported through a series of tubes in the machine to the coffee filter bucket where it is sprayed over ground coffee.
As the heated water mixes with the ground coffee, it slowly begins to drip through the coffee granules or ground coffee and drips into a waiting pot or carafe. The drip coffee maker also uses a warming pad to keep the coffee in the pot warm, which can then be drunk at leisure. 
Why Four Cups? Why Not More?
There are plenty of drip coffee makers that will brew more than four cups of coffee at a time, but for the busy coffee lover who needs a jolt to get going in the morning, wants the odd cup after work, and prefers to be able to make coffee as and when they want it, four cup coffee makers provide an optimal amount of coffee that can be enjoyed in the small amount of time that most of us have to luxuriate in the finger things, like coffee, that life has to offer.
Which Four Cup Coffee Maker Is The Right One For Me?
That all depends on what you want from a four-cup coffee maker, what your budget is, and how quickly and efficiently you want it to make coffee. There's a four-cup coffee maker on our list that'll suit every budget and whatever you want your coffee maker to do.
As long as that involves making coffee, because let's be honest, they won't do much more than that. 
However, if you're asking us, as coffee fiends, which four-cup coffee maker we'd recommend, then we wouldn't hesitate for a moment and would tell you the same thing that we tell everyone else. Always go with Mr. Coffee.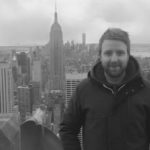 Adam
Hailing from the United Kingdom, Adam has a wealth of experience in building websites including researching, designing, content creation and website optimisation. Adam and his team were instrumental in helping create the master plan for Portafilter and subsequently designing and launching the site.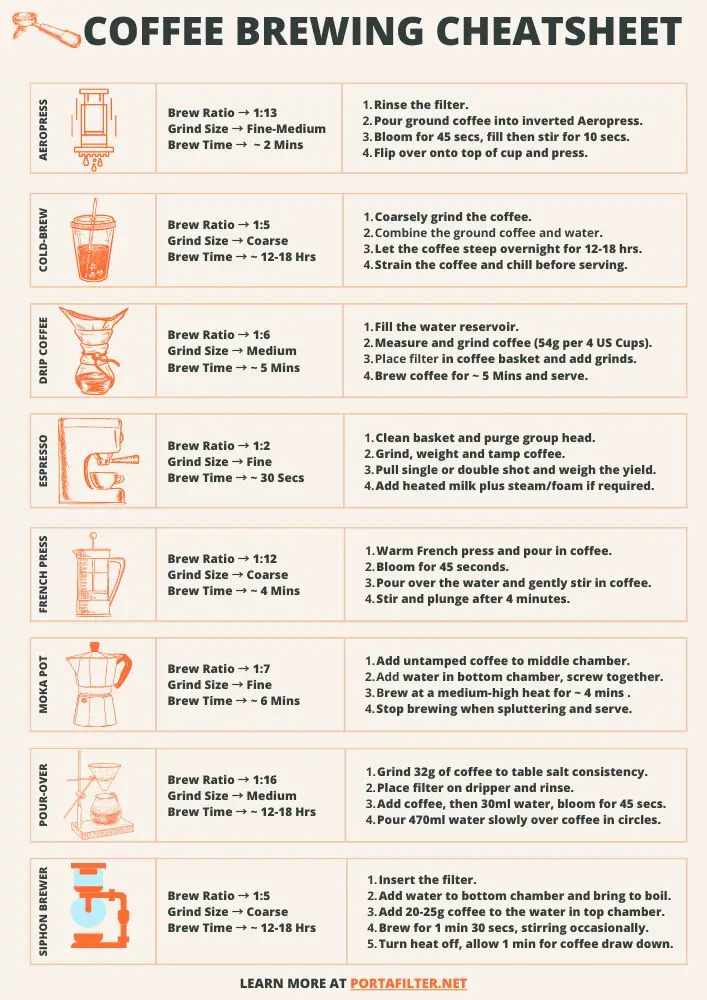 Get Our FREE Coffee Brewing Cheat Sheet
This free cheat sheet will improve your coffee brew by providing quick information on brew ratio, grind size, optimal brewing time, and more!
No spam. Unsubscribe any time.