As an Amazon Associate I earn from qualifying purchases.
Do you enjoy nothing more than a smooth, frothy latte to start your day off perfectly but don't have a coffee machine at home?
Well, it's better latte than never, and we're here to help. Instead of dealing with the hassle of heading down to the coffee shop first thing in the morning and enduring the mind-numbing queues, we suggest bringing the coffee shop to you and creating milky masterpieces from the comfort of your own kitchen.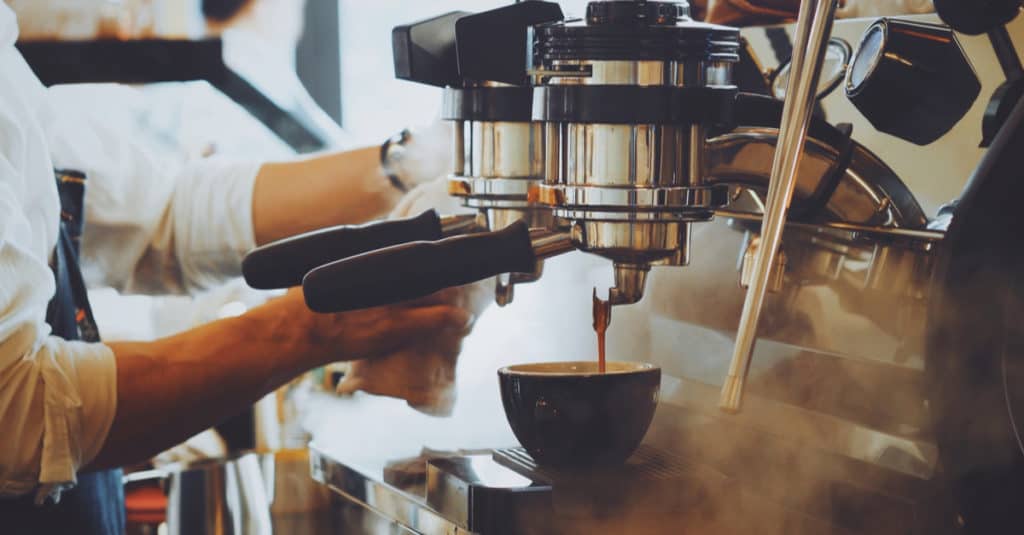 Buying the best latte machine may be a little off putting when you see the price tags, however, if you're a coffee-lover and often buy coffee-to-go, the machine will pay for itself in no time.
It's a wise investment to make and they also work well as gifts for your java-obsessed friends and family. If you have no idea where to start, we suggest that you read on.
Below we've compiled a list of our favorite latte machines on the market right now and included a few reasons why we think you'll love them. We've even added a helpful Buyer's Guide and FAQ at the end of the article to further assist you on your purchasing journey.
OUR TOP PICK
Breville ESP8XL Cafe Roma Espresso Maker
Our Rating
Pressed for time?
We understand that coffee is often used to fuel a busy life, so you probably don't have time to browse through the hundreds of coffee machine options available.
To help you out above is a quick link to our Top Pick and a list consisting of some of its key features.
Made from brushed stainless steel
Fitted with a powerful 15-bar thermo-block pump
Includes a dual-wall filter system and built-in milk frother
40.6-ounce water tank, perfect for large families
Frothing pitcher included
Stylish, modern appearance
Best Latte Machine Comparison Table
Top 5 Best Latte Machines
OUR TOP PICK
Breville ESP8XL Cafe Roma Espresso Maker
Our Rating
If you're looking for a machine that oozes modern charm but won't break the bank, then the Cafe Roma Espresso Maker from Breville is perfect for you.
The price of this machine comes to less than what you'd spend if you bought a latte a day for one month, so it pays for itself in no time.
This stainless steel latte/espresso maker comes with a hefty 40.6oz water tank which allows you to make several cups before having to refill. Despite the large capacity, it won't take up much space on your countertop. It has a relatively small footprint so it won't overwhelm your space.
This innovative machine comes fully-equipped with a stainless steel frothing pitcher and frothing enhancer. These are hard to come by when buying a machine with such a low price tag and they allow for a smooth, milky latte every time.
The intelligent design includes a warning system when the drip tray is nearly full, preventing messy coffee spillages in your kitchen. Still not convinced? This machine even comes with a one year (limited) warranty for your peace of mind. 
Pros:
Trendy modern design
Large detachable water tank
User-friendly
Super affordable compared to other models on the market
Froths milk and brews coffee simultaneously
Cons:
As it's not a high-end machine, the steam pressure can seem a little weak compared to more expensive models
EDITORS CHOICE
De'Longhi EN750MB Nespresso Lattissima Pro Machine
Our Rating
De'Longhi is a well-loved brand in the world of coffee machines, and their EN750MB Nespresso Lattissima Pro model is a favorite among Amazon customers.
This machine can make espressos, lattes and cappuccinos with no effort on your part due to its automatic design. It works using pre-packaged coffee pods that you simply place in the machine, press one button and your cup will be ready within one minute.
The machine has to be filled with milk and water first though, of course. It even comes with a touch screen display making it extremely simple and user friendly to navigate.
Amazon reviewers love how easy this model is to clean as it uses a smart steam burst system that travels through the milk wand, making clean-up a walk in the park. The machine operates using a powerful 19 bar high-pressure pump which will give you the same results you'd expect from a hip coffee house.
This is one of De'Longhi's premium coffee machines, therefore it's more expensive than our top pick. 
Pros: 
User-friendly LCD touchscreen display
Rapid heating system
Compatible with various cup sizes
Super easy to clean
Cons:
The only pods that are compatible with this model are De'Longhi's own brand, which can get quite expensive over time
BEST VALUE
Mr. Coffee Espresso and Cappuccino Maker
Our Rating
As well as producing some of the most affordable machines on the market today, Mr. Coffee products don't lack in quality and convenience.
Their Espresso and Cappuccino maker is a great option for coffee novices thanks to its smart, user-friendly design. Although its name suggests it only makes cappuccinos and espressos, it's also praised by Amazon reviewers for making great tasting lattes too. 
This machine is equipped with a 15-bar pump, which is pretty powerful considering the units' compact size and small price tag. This semi-automatic design means your latte will be ready in just one push of a button, making your morning routine that little bit less stressful.
The automatic milk frother gets rid of the guesswork and can even be removed to be stored in the fridge. The unit itself is pretty small with dimensions of 11.22 x 8.86 x 12.60 inches making ideal for even the tiniest of kitchens.
This product also comes with a limited 1-year warranty and a complimentary recipe book to help you become a coffee connoisseur in no time. 
Pros:
Small unit footprint makes it easy to store
Automatically froths milk in a handy removable container
Very user-friendly thanks to its semi-automatic design
Powerful 15-bar pump
Cons:
Replacement parts for this machine don't seem to be available
RUNNER UP
Breville BES870XL Barista Express Espresso Machine
Our Rating
Much like our Top Pick, our next machine also comes from Breville. Their BES870XL Barista Express Espresso Machine is great for any budding barista.
Its stylish yet professional design makes it look as if it should belong in a trendy high-street coffee house. This machine isn't the cheapest on our list but comes equipped with lots of high-end features to make it worth the price tag.
It's a semi-automatic machine with temperature control and intelligent dose-controlled grinding (between 19 and 22 grams per dose) that works great for adjusting coffee flavor. The machine also has a swivel-action steam wand which is specially designed to make preparing lattes much easier. 
The Barista Express Machine is larger than others on this list and will take up a little more room in your kitchen. But if you have the room for it, it's a great addition to any latte lover's home.
Pros:
The built-in grinder takes a whole bean and turns it into a latte in a matter of minutes
Automatic hands-free dosing
Separate steaming wand perfect for lattes
Fashionable appearance
Cons:
More expensive than similar models on the market
Larger than other options on this list
RUNNER UP
Mr. Coffee BVMC-EL1 Cafe Latte Machine
Our Rating
Our last addition to this list is yet another product from Mr. Coffee. Their BVMC-EL1 Cafe Latte model is one of the smallest on our list, but its compact footprint makes it ideal for students and those living in smaller spaces.
It's also lightweight and can be stored away easily. This machine is fully automated, meaning your coffee will be prepared and your milk will be frothed in just one touch of a button.
Despite its small size, it still has a 24-ounce capacity so it can prepare several cups of joe at once, making it ideal for entertaining guests or just caffeinating the whole family. 
This machine is quick and easy to clean up, as the brew basket is dishwasher safe. However, all other components will need to be cleaned by hand to ensure the longevity of your machine. 
Pros:  
One-touch automatic system makes it fool-proof
24-ounce capacity brews several drinks at one time
Powerful milk frother built-in
Automatically shuts off when your drink is ready
Cons:
Not all components are dishwasher safe
Latte Machines Buying Guide
Before deciding which latte machine you're going to buy, you need to consider a few things first such as which type is most suitable for your needs, what features it comes with, how much it costs and how easy it is to clean.
With so many options on the market right now, it can be overwhelming and time-consuming to try to figure out which is the perfect machine.
So to help you out here is our fab-brew-lous Buyers Guide which provides a rundown of important factors to take into account before making a purchase.  
Type of Machine
Automatic/Semi-Automatic Latte Machines
Automatic and semi-automatic coffee machines are a great option if it's your first coffee machine purchase as they're very easy to use. They're super convenient and don't require much effort from you, which is perfect if you're not a morning person.
Fully automatic machines do all the work for you, including controlling the pump. However, semi-automatic machines still give you the ability to control the pump. Semi-automatic machines are great if you're particular about taste as you can prevent over-dilution and achieve optimum taste. 
Super-Automatic Latte Machines
Super-automatic machines are ideal for the busy morning person who requires a quick cup at the touch of a button.
They're even easier to use than automatic and semi-automatic machines as just one click is needed and the intelligent machine will do all of the work for you making them perfect for office spaces and those with a busy schedule. 
However, if you're a coffee connoisseur, this may not be the right type of machine for you. These machines can over-dilute your coffee easily and tend to make cups that lack strength and flavor. Super-automatic latte machines are for those who care about convenience more than taste.
Coffee Pod Latte Machines
The most recent addition to the coffee machine market is one that involves the use of pods or capsules that are brewed with pre-grind coffee beans. These pod machines are becoming increasingly popular due to their convenience and efficiency.
Many users love them as you can choose specific brands and flavors easily and some big-chain coffee companies have released their best love coffees in pod form, so you'll never need to splash out on a take-out cup of joe again.
Coffee pod machines also tend to be more affordable and compact, making them ideal for students and those living in small spaces. They require little to no brewing knowledge but the taste may not be up to par compared with the other two types of machines. 
Features
There are lots of coffee machines on the market with tons of fancy features and gadgets, but this doesn't necessarily mean that they're the best. Instead, it's best to figure out what features are most important to you and go from there.
If you're looking for something super convenient and quick, we suggest opting for a user-friendly one-touch machine. If you like to be experimental with the taste of your brew, there are machines that provide flexibility and variety. If you're a coffee brewing novice, we recommend going for a machine that's less complicated are easy to operate.
Some machines are specifically designed for those with extended knowledge of the coffee brewing process and require you to know the correct measurements and temperatures to properly process coffee.
Size and Capacity
If you have limited countertop space in your kitchen, don't choose a giant machine that takes up lots of surface area as you'll probably end up eventually storing it in the pantry and forgetting that it exists. Instead, choose one suitable for the size of your kitchen and don't overwhelm the space with a bulky machine.
The size of the components of the machine is just as important as the overall size. If you have a large family or plan on using your machine in an office space, opting for one with a large water reservoir is the way to go.
The larger the water tank, the less often you'll have to refill it. Removable water tanks are also a great option as you can simply detach them and fill them up at the sink with ease.
Cleaning and Maintenance
What's the point in owning a maintenance-free coffee machine if it's a time-consuming hassle to clean? That's why we recommend opting for a machine that comes fitted with a de-scaler.
De-scalers help to remove leftover minerals from the machine and some even sanitize the water tank too. If you let leftover coffee grinds accumulate over time, this will eventually negatively affect the taste and quality of your brew. 
Grinder
No, we're not referring to the dating app. Most coffee experts will agree that the best grinder to choose would be a noiseless ceramic one, these are often used in professional capacities and provide a high-quality grind.
The most common grinders are made from stainless steel and are certainly better than nothing. Keep in mind that if you end up choosing a machine that isn't fitted with a grinder, you'll need to buy your own. 
Appearance
As well as practicality, aesthetics are also important. Choosing the right design and style of the machine will depend on your decor taste and the style of your kitchen. If your kitchen is designed in a traditional farmhouse style, we recommend looking at conventional machines as these tend to have a rustic charm.
If your kitchen is ultra-modern and kitted out with all of the latest shiny gadgets and gizmos, there are plenty of contemporary and almost futuristic looking coffee machines on the market. 
Price and Warranty
You'll need to decide how much you're willing to fork out on a new coffee machine. Machines can vary massively in price starting from just a hundred bucks and high-end models can cost thousands of dollars.
If you're purely looking for convenience, a cheaper model should work just fine. However, if taste and brew quality is important to you, we recommend investing in as high a quality machine as you can afford because you'll taste the difference.
As some machines can be very expensive, it's a good idea to check if they come with a good warranty to protect your investment.
Frequently Asked Questions 
Can all coffee machines make lattes?
No, not all coffee machines can make lattes, although every machine on our list can. The only machines able to make lattes must contain a milk frother or steaming wand.
If your machine doesn't come with either of these, you can purchase a handheld milk frother but these are a lot more hassle and time-consuming. 
Will I need to descale my coffee machine?
Yes! De-scaling your machine is crucial to its longevity. Many machines breakdown due to a build-up of limescale.
If you live in a hard water area, you're going to need to de-scale your machine more regularly than those living in soft water areas.
Some machines have added features to make de-scaling easier, we recommend checking with the manufacturer to see if yours is hassle-free. 
How long will my machine take to heat up?
Most machines only take a couple of minutes to heat up, no longer than a normal kettle or pan.
However, if you have a large machine with a double boiler, you'll need more patience as these can sometimes take up to a half-hour to heat up.