As an Amazon Associate I earn from qualifying purchases. When you use our links, we may earn an affiliate commission. Learn more.
There's nothing better than starting your day with a piping hot cup of joe. But for some people, the bitter taste of black coffee does more harm than good.
And that's where coffee creamers come in handy.
Although most people prefer the richer consistency of liquid creamers, powdered products will always reign supreme in terms of practicality. There's no need to refrigerate them, you can store them in your pantry, and you can even enjoy them while traveling.
But let's face it, the issue of the bland taste isn't negligible; some powdered coffee creamers taste terrible!
The good news is, that you can still find quality products that taste luscious without impacting your health. Here's our carefully curated list of the best-powdered coffee creamers.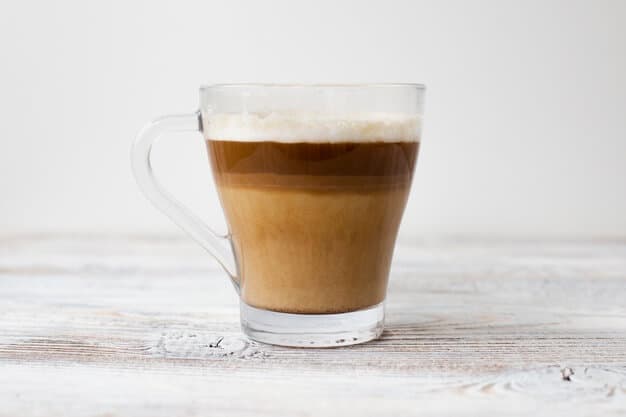 What goes into the making of each creamer? How does it taste? Does it give a pleasantly thick texture? These are questions that we'll answer in each of the following reviews.
Best powdered coffee creamer comparison table
Best Powdered Creamer
Nestle Coffee Mate Creamer
Pros:
Excellent shelf life (2 years when unopened)

Natural, delicious taste

The 12-pack offer saves lots of money

Free from cholesterol, lactose, and gluten

It comes in six flavors
Cons:
Not 100% dairy-free

It contains a moderate amount of refined sugars and hydrogenated oils
Buy on Amazon
We earn a commission if you make a purchase, at no additional cost to you.
11/10/2023 06:10 pm GMT
Our Pick
Vital Proteins Collagen Coffee Creamer
$31.00
$24.79 ($2.34 / Ounce)
Pros:
The collagen content rejuvenates your skin and strengthens your hair and nails

Healthy fats improve the taste while helping you lose weight

It contains only 1 gram of natural coconut sugar

Gluten-free

Dairy-free

Approved for paleo, keto, and whole30 diets.
Cons:
Slightly more expensive than most creamers

Some people might not like the coconut taste
Buy on Amazon
We earn a commission if you make a purchase, at no additional cost to you.
11/10/2023 06:27 pm GMT
Best Non-Dairy Creamer
Laird Superfood Non-Dairy Creamer
Pros:
Contain about 72 healthy minerals

Made with organic coconut milk powder

It doesn't contain any artificial sweeteners

This keto coffee creamer is suitable for keto diets

It gives a unique, natural taste

Non-dairy creamer
Cons:
It doesn't dissolve easily

Not creamy enough

Expensive
Buy on Amazon
We earn a commission if you make a purchase, at no additional cost to you.
11/10/2023 05:45 pm GMT
5 Best Powdered Coffee Creamers
Get Your FREE Coffee Brewing Cheat Sheet!
This free cheat sheet will improve your coffee brew by providing quick information on brew ratio, grind size, optimal brewing time, and more.
No spam. Unsubscribe any time.
How to choose the right powdered coffee creamer for you
If you can't make up your mind on which creamer to buy, this section should narrow down your options.
Steer Clear of Those Ingredients
We're sure you've heard dozens of nutritionists claiming that coffee creamers are bad for your health. Sadly, this is somewhat true. Unless you want to dig your own grave, you should avoid the following ingredients.
Sugar
Sugar, aka the "white death," is one of the top risk factors for obesity and several chronic conditions, namely type 2 diabetes and heart disease. But let's leave that medical jargon for professionals, shall we? We want to talk about a far more common side effect — depression.
Yes, you read that right. Sugar does boost your mood, but only for a short period.
When its effect fades away, you'll unconsciously crave it again to enjoy the same euphoria. These mood swings may mess up your nervous system and mental health with time.
Casein
If a coffee creamer is labeled "non-dairy creamer" does this mean it'll be safe for lactose intolerant people? Not necessarily!
You can't trust these sparkling labels; you'll have to squint at the ingredient list, searching for a compound called "casein."
Casein is the main protein found in mammal milk. If you can't digest lactose, you'll probably have a hard time dealing with casein, too.
To ensure safety, only purchase non-dairy coffee creamers that contain plant-based milk, such as coconut or soy milk. These dairy-free products should also be ideal for vegans.
And Say Yes to Those Ingredients
Have you got down your no-no list? Well, here's the beneficial one!
MCT Oil
Short for medium-chain triglyceride, MCT oil is a group of coconut-derived oils.
When added to coffee creamers, MCT oil will boost your energy, help you lose weight, and fight bacterial infections. These benefits make them highly indispensable for ketogenic diets.
There's only one thing you might not appreciate in these compounds — the taste. Some people can't stand the coconut aftertaste. Then again, it's a unique experience that you should try.
Natural Extracts
If you're saying no to sugar, does this mean you'll have to settle for bitter coffee? Of course not! You can add any natural extracts you like. French vanilla, caramel, cinnamon, and coconuts are among our favorites.
Mixability and Convenience
If you decide to go for healthy coffee creamer, bear in mind that you may need to invest in a frother. Sufficing with a spoon will leave you with an unsightly cup of clumpy coffee.
The clumping issue becomes especially apparent for creamers that contain a considerable amount of minerals. And because some of these minerals are insoluble, you'll have to put up with a slightly grainy texture.
If you want a hassle-free experience, you'll have to trade off the healthy benefits by choosing mainstream trademarks, such as Coffee-Mate and Bulletproof InstaMix.
Frequently Asked Questions
What is the healthiest powdered coffee creamer?
Laird superfood coffee is the healthiest powdered coffee creamer because it contains mineral-rich sea algae called Aquamin.
Aquamin contains 72 beneficial minerals, making it one of the world's most nutritious food sources.
Are coffee creamers bad for you?
It depends. Not all coffee creamers are created equal.
Some brands pack an awful lot of artificial sweeteners, harmful fats, and deleterious additives in order to improve coffee's taste and consistency.
Other manufacturers cater to health-conscious consumers who don't mind trading off the satisfying taste for a healthier creamer.
What are healthy alternatives to coffee creamers?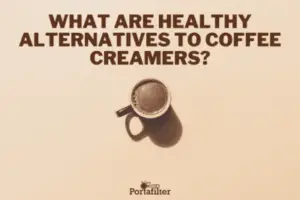 If you're still skeptical about the health effects of coffee creamers, you can substitute them with several natural options.
Cinnamon comes first with its impeccable ability to defy the coffee's bitterness. Its sweet notes are highly valued by people who don't want to mess up their diet plans. Plus, its high antioxidant content will protect your body against oxidative stress.
Honey comes next with its naturally thick consistency that mimics that of full cream milk. And of course, it packs your coffee with various vitamins, minerals, and other health-boosting compounds.
Although it may sound strange, some people like to use apple cider vinegar to make their cup of joe taste like a sweet apple pie!
The list is pretty endless, to be honest. Choosing an option comes down to your personal preferences and dietary goals more than anything else.
How should I store powdered creamers?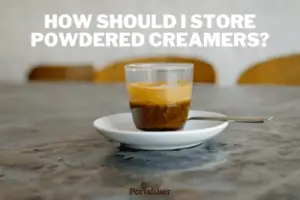 Make sure the package is tightly closed after each use. Then, put the package in a cool, dry place, unless the manufacturer states otherwise.
Always pay attention to how your creamer tastes. If you notice any off odors or flavors, immediately discard your package and get a new one.
Is Powdered Creamer Better Than Liquid?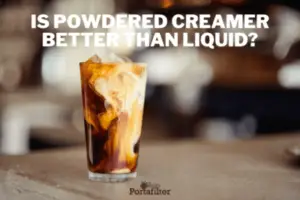 The main difference between powdered creamer and liquid is shelf life. Powdered creamers have a longer shelf life than liquids and can be stored in your pantry for at least eighteen months without experiencing any changes in taste or smell whereas liquid creamers will likely go bad within two weeks of opening the bottle.
And if you don't refrigerate them, that period will shrink to a couple of days at best which means that you can't use them while traveling.
Flavor and Calories
Liquid creamers often excel in terms of flavor. And because they're physically similar to milk, they also give the same satisfying creaminess.
Powdered creamers are pretty tricky in this regard.
By default, brands equip the powdered packages with a whopping amount of artificial sweeteners and food colorings to mimic milk's natural taste and consistency. Consuming too much of these products will take its toll on your weight and overall health.
The good news is several brands, like the ones we reviewed earlier, have been producing healthy powdered creamers with no sugars or artificial compounds. But of course, these creamers won't taste as luscious.
Hi everyone, my name is Brooke and I'm a Barista and freelance writer. I love brewing coffee and my favorite coffee drink is without doubt an Americano (espresso with added hot water). When I'm not busy making or writing about coffee you'll find me hanging out at the beach with friends in California where I am currently residing. Follow me on:
Linkedin
Get Your FREE Coffee Brewing Cheat Sheet!
This free cheat sheet will improve your coffee brew by providing quick information on brew ratio, grind size, optimal brewing time, and more.
No spam. Unsubscribe any time.