The experience of crafting a cup of coffee from start to finish can be amazing for professional and home baristas alike, but unfortunately, it's not always convenient. 
The morning rush hour can have you scrambling to find your keys and get to work on time, meaning the last thing you want to have to do is grind and prepare your caffeine fix from scratch.
Similarly, after a long, hard day, it can be nice to have your afternoon pick-me-up prepared automatically at the touch of a button. 
That's where super-automatic espresso machines come in. 
Super-automatic espresso machines are fully-automatic coffee machines that are designed to do the vast majority of the work for you in terms of preparing your cup of coffee, from grinding the coffee beans to pouring the brewed coffee.
We've listed the 5 best super-automatic espresso machines on the market to make your coffee-making routine as quick and stress-free as possible. Our buyers' guide and FAQ section below will guide you through the process of making the best purchase to suit your home and individual requirements. 
Best Super Automatic Espresso Machine Comparison Table
The Best Super Automatic Espresso Machine of 2022
De'Longhi ESAM3300 Magnifica
De'Longhi's ESAM3300 is one of the most highly reviewed and recommended super-automatic espresso machines on the market.
Heating up in just 60 seconds and featuring a compact, patented boiler for powerful and even heat distribution, this machine is sure to revolutionize your daily coffee routine.
Best Super-Automatic Espresso Machine
Included with the ESAM3300 is an integrated, professional burr grinder, complete with 13 adjustable settings and a second compartment for pre-ground coffee beans. The machine's unique beans-to-brew system grinds the coffee beans immediately before brewing for the freshest tasting and smelling results. 
The ESAM3300 is capable of brewing espresso, cappuccino, americano, and latte coffee, along with many other options, thanks to the manual milk-frothing system, so you can be certain that this machine will cater to your own coffee preferences, as well as those of your friends and family. 
The twin brewing cycle feature allows for two cups of coffee to be brewed at once for added convenience. 
This machine features a simple, yet inclusive control panel of easy-to-use push buttons and rotary dials. These controls allow the user to easily and incrementally adjust the temperature, strength, and volume of their cup of coffee without any need for fuss or compromise. 
Best of all, combinations of settings can be saved to the machine's memory, meaning that you can save your perfect coffee formula to the machine for future use, eliminating the need to input the settings for every use. 
The convenience of De'Longhi's ESAM3300 is further enhanced by its removable brewing system, waste compartment and water reservoir, and stainless steel build, all of which enable easy cleaning. 
This machine measures 11 x 15.3 x 14.4 inches and is suitable for cups measuring up to 4.25 inches in height. 
Pros
Heats up in 60 seconds 
Features integrated, professional burr grinder
Easy-to-use control panel 
Saveable setting combinations 
Manual milk frothing system for cappuccinos and lattes 
Easy cleaning due to the removable brewing system and stainless steel design
Cons
Makes a loud noise during operation
Gaggia Brera Super Automatic Espresso Machine
The Gaggia Brera super-automatic espresso machine is another product that combines automated speed and efficiency with high-quality results. 
Made of durable, sleek stainless steel and measuring 10 x 15.5 x 11.5 inches, this machine is compact enough to fit neatly and look great in most kitchen spaces. The machine is also available in a choice of all-silver or silver and black color schemes for added aesthetic flexibility.
Also Great
The interface is extremely user-friendly, featuring push-button controls, an LED display, and illuminated icons. 
The included ceramic burr grinder allows for whole or pre-ground coffee grinding while Gaggia's Adapting System means that the Brera machine will adapt its grinding process to reflect your preferences based on your use of the machine.
Gaggia's Brera machine also features a Pannarello Steam Wand for making cappuccinos and lattes. The wand produces steam on demand in under ten seconds and also doubles as a hot water dispenser for tea and coffee. 
The accessibility of this machine is a big selling point, with important features such as the water reservoir and drip box pulling out from the front of the machine. Moreover, the brewing system is fully removable for easy cleaning. 
Pros
Compact dimensions
Durable and sleek stainless steel design 
User-friendly interface 
Includes ceramic burr grinder 
Features automatic adapting system  
Includes Panarello steam wand/water dispenser 
Easy feature accessibility 
Easy cleaning
Cons
Water and coffee reservoirs are relatively small
Philips 3200 Series Fully Automatic Espresso Machine
If you're looking for a high-performing, super automatic espresso machine that is compact enough to fit into tight kitchen spaces, Phillips' 3200 series fully automatic espresso machine may be the one for you! 
Measuring 9.7 x 14.6 x 17 inches, this machine is relatively tall but still narrow enough to fit into smaller spaces. 
Philips 3200 Series Fully Automatic Espresso Machine
The Philips 3200 LatteGo is an excellent option for coffee lovers who want to brew a caffe latte at the press of a button and have a minimal fuss with cleaning up afterward.
Pros:
Compact width measurement
Brews 5 different kinds of coffee
LatteGo milk frothing system
Intuitive touch display
Buy on Amazon
Buy on Philips
We earn a commission if you make a purchase, at no additional cost to you.
05/02/2022 01:02 pm GMT
This machine is capable of brewing not just espresso and americano, but also cappuccino, latte, and macchiato coffees thanks to its LatteGo milk frothing system, which combines milk and air in the machine's milk frothing chamber and adds it to your coffee automatically with no need for manual wand handling. 
The included ceramic grinder with built-in aroma seal features an incremental 12-step adjusting system so you can precisely specify your preferred level of grinding. 
Phillips' intuitive, visually detailed touch display makes it easy to select your coffee and adjust the strength and cup size of your coffee with a single touch. 
When it comes to cleaning, Phillips facilitates the process with the machine's fully removable brewing system and AquaClean, dishwasher safe filter. 
This product comes with a measuring scoop, AquaClean filter, grease tube, LatteGo storage lid, and water hardness test strip to set you up for success with your new espresso machine.
Pros
Compact width measurement 
Brews 5 different kinds of coffee
LatteGo milk frothing system 
Intuitive touch display 
Ceramic grinder with aroma seal
Easy cleaning due to the removable brewing system and AquaClean filter 
Measuring scoop, grease tube, storage lid, and water hardness strip included
Cons
The milk foaming system is very loud
Saeco Xelsis Super Automatic Espresso Machine
Saeco's Xelsis super-automatic espresso machine uses advanced brewing technology to deliver superior flavor and a simplified coffee-making experience. 
At 23.43 x 14.49 x 20.47 inches, the Xelsis is narrow enough to slot neatly into your kitchen space, and the classic stainless steel design ensures this machine will look great in your home. However, the benefits of the Xelsis run much deeper than the aesthetics. 
Saeco Xelsis Super Espresso Machine, Made in Italy
Pros:
Full automation provides for a quick and easy espresso shot. This is complemented by the built-in milk reservoir, which you only need to replenish, then the machine gives it the perfect form
It has a sturdy frame and prime quality components, so these coffee machines will live with you for long
Finally, it's quite easy to clean up and maintain a coffee maker.
Cons:
It's a pricey machine (to be expected for commercial Italian espresso machines)
Buy on Amazon
We earn a commission if you make a purchase, at no additional cost to you.
05/02/2022 05:14 am GMT
The included grinder is made of 100% ceramic for durability, high-precision performance, and incredible taste. 
Saeco's detachable milk carafe ensures the highest quality for your milk-based coffee drinks, including latte, cappuccino, and macchiato. The powder option means you can also make decaffeinated coffee if you wish. 
Meanwhile, the water purifying technology incorporated in this machine means that your coffee will taste better than ever thanks to the ion exchange technology and micro-porous, AquaClean filtration system. 
The user interface is bold and simple, with clearly labeled push buttons to select your coffee type and a visually helpful digital display to help you monitor the process. 
The blissful convenience of the Saeco Xelsis is added to by the super-fast boiler technology and removable brewing system.
Pros
Stylish and durable stainless steel design
100% ceramic coffee grinder 
Detachable milk carafe for milk steaming 
Uses water purification technology
Bold and simple user interface 
Removable brewing system for easier cleaning
Cons
High maintenance in terms of internal cleaning
Breville Oracle Touch Fully Automatic Espresso Machine
The Oracle Touch fully automatic espresso machine from Breville employs complete automation to radically simplify your coffee routine. 
At 14.7 x 14.5 x 17.6 inches, this machine is a little bulkier than the others on this list, but what it lacks in compactness, it more than makes up for with its attractive and easy-to-clean stainless steel build and impressive set of features. 
The touchscreen interface allows you to swipe to select your coffee and includes the ability to save and customize 8 coffee settings. The simple one-touch power button adds to the ease-of-use of the machine.
The Oracle Touch's triple heat system combines a dedicated steam boiler, espresso boiler, and heated group head for increased thermal stability, which is enhanced by the use of digital temperature control technology. These features combine to ensure that your coffee always reaches the perfect temperature to a close degree of accuracy. 
The conical burr grinder tamps, grinds, and doses your coffee automatically and is adjustable to your preference. The grind quality is complemented by the machine's use of optimal water pressure technology, which ensures even and smooth-tasting extraction.
This machine includes a micro-foam steaming wand, which is also adjustable, allowing you to select the perfect temperature and texture for your lattes and cappuccinos. 
Pros
Simple, touchscreen user interface
Triple heat system for thermal stability
Digital temperature control
Adjustable, conical burr grinder for automatic tamping, dosing, and grinding
Optimal water pressure technology 
Adjustable micro-foam steaming wand
Cons
Reported issues with finding replacement filters
Get 50% Off Your First Bag Of Coffee!
This delicious, immune-boosting, healthy, low-acid, USDA organic certified is our favorite coffee. Our friends at Lifeboost offer our readers 50% off for all first time customers. So give it a try today, and see why it's our go-to!
SAVE 50% NOW
Super Automatic Espresso Machines Buying Guide
If you're still not sure which super automatic espresso machine is the one for you, read on!
This buyers guide has been put together to highlight all the important features to consider when purchasing a super automatic espresso machine, so you can be confident that you're making the right choice.
Dimensions
Because espresso machines can be sizeable appliances, it's worth checking the dimensions of your preferred machine before making your purchase. 
If you have plenty of space in your kitchen, the dimensions of your espresso machine may not be a particular concern. However, if you have limited space to work with, a narrower machine with smaller width and depth dimensions may be more appropriate as it will take up less space on your countertop. 
Ease of Use
The primary purpose of investing in a super automatic espresso machine is to make your life easier, so it's important to make sure that the machine you choose is as easy to use as possible. 
The most important feature for ease-of-use will be the user interface. 
Features such as simple push buttons and rotary dials will be familiar to most users, and will therefore make your machine easy to understand and operate. 
Digital and touchscreen displays can also be visually helpful, as can icon illumination, as these features draw attention to the relevant settings. 
Accessibility is another important factor in the ease-of-use of an espresso machine. Where possible, select an espresso machine where the detachable features pull out from the front, as this will minimize any handling difficulties. 
Grinder
All super automatic espresso machines will have an integrated grinder. However, not all grinders are made equal, so it's important to decide what kind of grinder you want to be incorporated in your espresso machine.
The key features to look for at in a grinder are the build, material, and adjustability. 
Burr grinders are the most common type of coffee grinder for espresso machines, but they come in either conical or flat builds. 
Both these types of burr grinders provide high-quality grinds, although a flat grinder is more likely to retain coffee remnants. 
The two main types of material used in burr grinders are steel and ceramic. Again, both of these materials are capable of producing great results, so which one appeals to you will largely come down to your own priorities. 
Stainless steel is a highly durable material. It is rust-resistant, so you don't need to worry about your blades rusting during or after cleaning. Stainless steel will also initially provide you with a high-precision grind due to the sharpness of the blades. However, steel blades are likely to dull over time. 
Ceramic blades are less impact-resistant than steel, but they have the added advantage of not becoming dull with use. Some coffee lovers also claim that ceramic blades improve the taste of coffee, although this is quite subjective. 
Lastly, you will want to consider the adjustability of your grinder. The inclusion of adjustable settings for coffee grinding is a useful feature because it allows you to fine-tune the grinding process to your specific tastes. 
If the idea of dealing with additional settings is not appealing to you, some grinders adjust automatically to reflect your use of the machine, so you don't even have to change the settings yourself. 
Milk Steaming Features
If you enjoy milk-based coffee drinks such as cappuccino and latte, the milk-steaming features of your super automatic espresso machine will naturally be extremely important to you. 
Although the purpose of a super automatic espresso machine is to minimize the amount of manual handling required, some users still like to be somewhat involved in the coffee-making process. If this sounds like you, a machine with a steaming wand may be the ideal option for you, as this will allow you to control the steaming process yourself with the help of a few adjustable settings. 
However, if this isn't your cup of tea (or rather, coffee), some super automatic espresso machines include more hands-free milk-steaming systems that steam and dispense the milk automatically. 
Additional Features
Since super automatic espresso machines are designed to simplify the coffee-making process for you, many such machines include additional features to further facilitate your experience. 
Removable filters are a very useful additional feature, the inclusion of which will mean that you won't need to purchase a filter separately before starting to use your new machine. 
A measuring scoop can also be a helpful tool for ensuring the consistency of your brew. 
A water hardness testing strip is a frequently forgotten but incredibly useful addition to your purchase. These strips will help you to measure the calcium content of your water to ensure the best possible tasting coffee. 
The inclusion of a grease tube, meanwhile, will help you to make sure that your machine is properly lubricated so that it performs optimally for as long as possible.
Frequently Asked Questions
Is a super-automatic espresso machine worth the money?
Because super-automatic espresso machines tend to be more expensive than traditional espresso machines, it's understandable that you might be wondering whether a super-automatic espresso machine is really worth the extra money.
This is a question that can only really be answered on an individual basis depending on your personal lifestyle and priorities, but the incredible time and energy-saving properties of super-automatic espresso machines definitely make them worth considering. 
Ultimately, if your priorities when it comes to coffee-making are saving time and reducing the amount of manual work needed to make a cup of coffee, a super-automatic espresso machine will most definitely be worth the extra money you spend.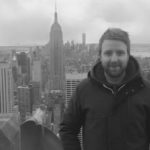 Adam
Hailing from the United Kingdom, Adam has a wealth of experience in building websites including researching, designing, content creation and website optimisation. Adam and his team were instrumental in helping create the master plan for Portafilter and subsequently designing and launching the site.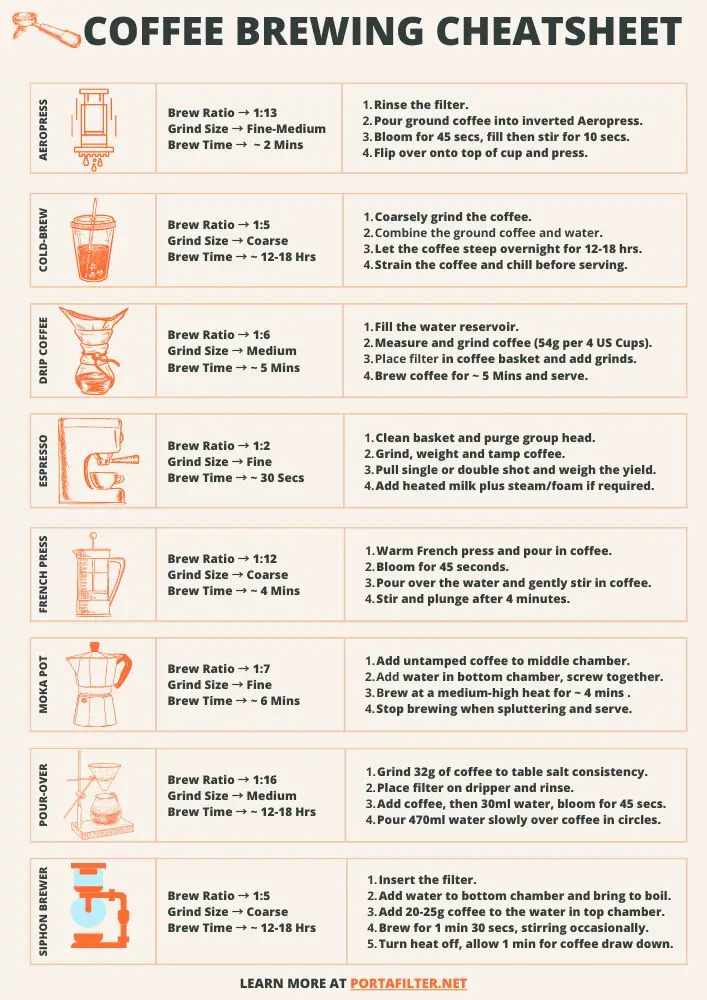 Get Our FREE Coffee Brewing Cheat Sheet
This free cheat sheet will improve your coffee brew by providing quick information on brew ratio, grind size, optimal brewing time, and more!
No spam. Unsubscribe any time.