I received my Breville Barista Express as a birthday present a little over two years ago.
Since then I've used it almost every single day. In this review, I will share with you why it has become my favorite espresso machine and what I have learned from pulling over 2,000 espresso shots with my beloved Breville.
Our Pick
If you're a home barista who enjoys tinkering with the settings on your machine in pursuit of the perfect espresso shot without breaking the bank, then the Barista Express is an ideal choice for you.
Heating system: Thermojet (30-60 secs)
Grinder: Built-in burr grinder with 18 settings
Display: Analog
Milk Frothing: One hole steam wand
Pros:
4 choices of portafilter baskets

Variety of grind sizes

Automatic espresso extraction

Tamper included

Tamper storage
Cons:
Small hopper

Vague "grind amount" dial
Buy on Amazon
We earn a commission if you make a purchase, at no additional cost to you.
07/03/2022 08:50 am GMT
Are there better espresso machines on the market? Sure. 
So why should you buy the Breville Barista Express? Because it's, without doubt, the best value espresso machine on the market today.
Breville BES870XL Barista Express Review
Breville Background
Breville is an Australian company that was founded in 1932, by Bill O'Brien and Harry Norville. The brand name was created by mixing their last names together.
They are best known for their home appliances, coffee machines, and coffee makers which today are sold in over seventy countries.
4 different portafilter baskets to choose from!
With the Breville BES870XL Barista Express comes a set of 4 portafilter baskets:
Single-walled, single shot
Single-walled, double shot
Double-walled, single shot
Double-walled double shot
If you're a beginner brewer or a no-fuss consumer, double-walled portafilters are a great tool to have in your arsenal. Double-walled portafilter baskets can extract consistently good shots every time.
However, the quality of espresso they extract is limited. This is because double-walled baskets were designed for home baristas with budget grinders, which are usually incapable of brewing fine enough grounds for espresso.
On the other hand, you can use the single-walled portafilter baskets once you've gotten the hang of extraction or if you're already an experienced barista.
Single-walled portafilter baskets have the potential to extract quality espresso that surpasses their double-walled counterparts. However, like a double-edged sword, single-walled portafilter baskets can extract bad espresso as well if you've dialed in a faulty espresso recipe.
Built-in burr grinder
The built-in burr grinder is what makes the Breville BES870XL Barista Express an iconic machine. If you don't already have a grinder, this espresso machine saves you about $300 on buying a separate grinder.
Personally, I think the hopper is too small. If you're a heavy coffee drinker or live in a large coffee-drinking household, you'd better be ready to refill the hopper often.
Because the grinder's size is compromised, I think the grinder lacks the power to accommodate such large amounts of coffee on a daily basis. A larger, more powerful grinder would be a worthwhile investment if you plan to make pull lots of shots every day.
The grind amount dial on the Breville BES870XL Barista Express is vague, so it requires some experimentation before you get the hang of it. Besides the grind amount dial is the filter size button that allows you to switch your dose size between single and double shot baskets.
Regardless, you should always measure the mass of coffee in your portafilter using a tared scale.
It's a good habit to practice, to ensure you're pulling consistent shots. It also helps you to figure out and fine-tune your dose as you dial in your espresso recipe. Of course, you can skip this step if you're not too concerned about the flavors in your cuppa.
Espresso extraction
Like an automatic espresso machine, the Breville BES870XL Barista Express automatically extracts espresso for you at the press of a button. They have two options, depending on which size of portafilter basket you use – single and double shot.
They also have a "program" button that allows you to adjust the brew time and the output of the extraction.
The Breville BES870XL Barista Express also has a pre-infusion function. The group head dispenses a little hot water over the coffee grounds at low pressure. What pre-infusion does is increase your chances to extract good-tasting espresso.
This is an especially useful function for beginner brewers who are learning to dial in their espresso recipes.
Tamper and storage
The Barista BES870XL Barista Express also comes with a tamper, which also saves you money on buying a separate tamper. The espresso machine itself has a tamper storage space, so your tamper will always be in one place with your machine.
People Also Ask
How long does Breville Barista Express last?
With its polished stainless-steel construction and Italian-made parts, the Express is a durable model that you can expect to last somewhere between 5 to 10 years. To increase the life span of your coffee machine you should always keep it clean and well maintained  (see details below on how to keep your machine clean).
Which Breville espresso machine is the best?
It really depends on you. Different people have different needs, so we'll need different things for our different lifestyles.
Lots of people tend to get swayed by the fancy bells and whistles. Sometimes, the best machine might be the simplest one for you. Or, it might actually be the one with the bells and whistles.
Before you buy something, do your research. If you're thinking about buying a Breville machine, go to their website and check out their machines. Check out some coffee forums, read reviews, and think through your decision. Is this the machine you need? If yes, then it's the best machine for you.
Which is better DeLonghi or Breville?
Generally, in our opinion, Breville machines are better than DeLonghi. If you're a home barista with some experience and a bigger budget, Breville is your best bet out of the two. On the other hand, if you're just starting to figure out espresso and you have a tighter budget, DeLonghi machines just do the job.
How do I fix the Breville Barista Express?
Do not attempt to fix the Breville Barista Express on your own if you're not well-versed with the inner workings of the machine. The best solution is to send it to a technician or Breville customer service center. If you require help locating a technician you can contact Breville's customer help service.
How do you fix low pressure on a Breville espresso machine?
Before using any espresso machine, it needs to be adequately warmed up. Aside from heating up water, the machine also builds up pressure during warm-up. After switching on the Breville machine, you should wait till all the buttons light up. This indicates the machine is ready for use.
How to clean Breville Barista Express?
There are two lights that will illuminate when you need to clean and/or descale your Breville Barista Express. Simply follow the instructions in the manual (see link below) and in no time your machine will be back up and running. Once you've had our Barista Express for a few months it will be time to do a full clean of the machine using the Breville Espresso Detox Pack which you can find here.
How do you take apart a Breville Barista Express?
Please do not attempt to take apart a Breville BES870XL Barista Express. There is absolutely no reason to take apart a costly piece of good equipment unless you're salvaging it for parts.
Can you make regular coffee with Breville Barista Express?
Let me ask you right back: what is "regular" coffee?
There are several different kinds of coffee out there – instant, espresso, Turkish, pour-over, Aeropress… What the Breville BES870XL Barista Express does is pull espresso shots, so it makes espresso coffee. You can add water to your espresso shot to make a long black/americano, or you could steam a pitcher of milk and make a latte/flat white/cappuccino. You can also drink the espresso shot on its own – if extracted correctly, it's really tasty!
Where to find the Breville Barista Express Manual?
Personally, I found the Breville Barista express manual very useful. I initially used the summary instructions they provide to get started and after that, I referred to the cleaning instructions and troubleshooting section a couple of times. You can find and download a copy of the user manual here.
Best settings for Breville Barista Express?
There are a couple of settings that are really important to get right if you want to make perfect coffee every time. You should set your grind amount to grind 16-18 grams (0.56 – 0.63 ounces) of espresso for a double shot and then adjust the grind setting so that you hit the sweet spot in pressure while extracting your coffee.
My current setup is with the grind dial at 12 o'clock and the coarseness set to 4 which is working perfectly for me. You will need to experiment with these based on the types of beans you are using and your personal preferences in terms of espresso strength.
Try Our Favorite Coffee Beans!
This Ethiopian Yirgacheffe is a unique organically grown coffee with a truly exotic flavor with pleasant acidity. The Yirgacheffe coffee region in southern Ethiopia produces distinctively floral and fruit-toned coffees from traditional varieties of Arabica long grown in the region from wild coffee trees.
Find out more!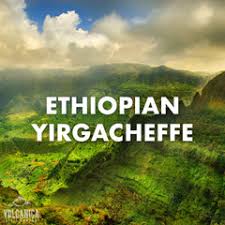 Should I buy the Breville Barista Express?
The Breville Barista Express offers amazing value for money and with its 15 bars of pressure can pull a pretty mean shot as well. If you don't already own a grinder then buying the BES870xl will save you around $300!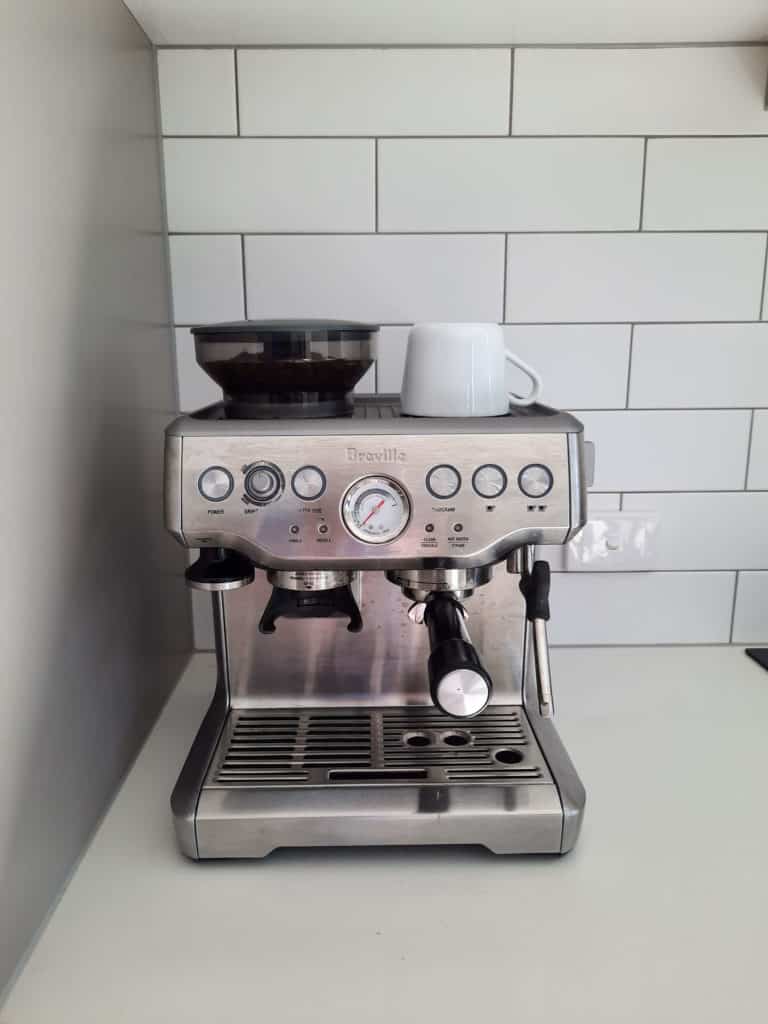 Overall it's a great semi-automatic espresso machine for the home barista who likes some freedom to experiment and hone their coffee-making skills. I've had so much fun with my own machine over the past two years and would highly recommend the Barista Express based on my personal experience using it at home.
READ NEXT: Breville Barista Express vs Pro
Get Your FREE Coffee Brewing Cheat Sheet!
This free cheat sheet will improve your coffee brew by providing quick information on brew ratio, grind size, optimal brewing time, and more.
No spam. Unsubscribe any time.