Portafilter helps coffee lovers brew like a barista. When you use our links, we may earn an affiliate commission. Learn more.
Whether you would like to work in the coffee industry or just want to learn how to create the perfect espresso shot at home, going to a coffee school can teach you all of the barista basics.
In Brisbane, five great places offer coffee training with hands-on experience and provide you with a nationally recognized statement of proficiency.
Are you looking to improve your coffee-making skills? Here are five fantastic barista courses that teach everything from grinding gourmet coffee beans to pouring techniques to cleaning and operating a coffee machine.
Free Barista Classes Brisbane – The Web Grind
You don't have to pay a lot of money for coffee training. Online learning is free at The Web Grind. They offer a series of videos about coffee making called The Fun & Flavorful Course.
If attending class in person is not an option, this is a great way to learn barista basics without leaving the house.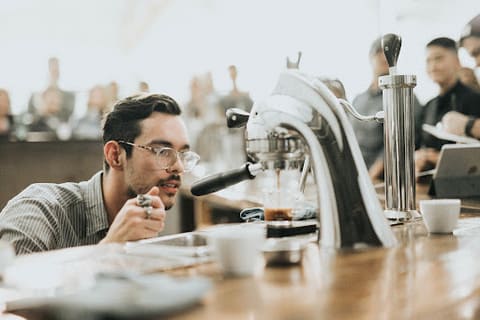 There are five Web Grind online coffee workshops.
The first is an introduction to coffee beans. The second of the coffee classes focus on how to make the six major types of coffee drinks.
Two more focus on milk frothing and latte art, and the last focuses on espresso coffee machine care.
Suppose you have no prior experience as a barista.
In that case, these five videos can help you familiarize yourself with essential skills that could help get you on the ground floor, including how to understand the different brewing times required by different types of coffee.
Best Barista Course Brisbane – Red Balloon
The best course content in Brisbane is offered at Red Balloon, a registered training organization that provides a 3-hours of hands-on intensive barista training.
Industry-trained professionals teach this course, and it is very affordable at $79.00 per person.
This course is also taught frequently, on Mondays, Wednesdays, and Fridays.
Each student is provided with a commercial espresso machine to learn all of the cutting edge tricks for impressing friends and family with your perfect cup of coffee.
This three-hour course does not offer a certificate unless you sign up for additional two hours that focus on how to serve espresso coffee to customers. This is called the half-day course, and it focuses on the practical tasks you would need to have to work in a cafe.
Get Your FREE Coffee Brewing Cheat Sheet!
This free cheat sheet will improve your coffee brew by providing quick information on brew ratio, grind size, optimal brewing time, and more.
No spam. Unsubscribe any time.
If you want to be better at making coffee at home, then the course at Veneziano Coffee Roasters is the affordable coffee training you are looking for.
This company also offers online learning called the Home Barista series, which provides barista basics and the opportunity to learn the art of milk texturing.
The tickets for the online events are offered at Eventbrite, so you need to keep checking.
Veneziano is a coffee company known for offering coffee courses right in their cafes.
This coffee chain is known for its friendly, thoroughly informed barista training using the very best equipment and within WBC guidelines in Brisbane.
Whether you want to get a job in the coffee industry or simply become a better beverage maker through direct observation, Veneziano is one of the best places to familiarize yourself with coffee.
In addition, the cafe offers tastings of the latest micro-lots, so you do get exposed to the latest tastes and trends that are interesting to Australian coffee drinkers.
The Australian Barista School offers a fun, intense, and reasonably-priced course for everyone, but it is geared to helping people get jobs in the coffee industry.
The Australian government recognizes this school as a registered training organization, and it is an excellent place for job seekers to get their accreditation.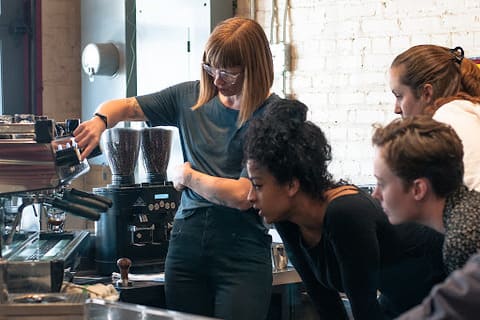 The five-hour-long course teaches students how to make the designer espresso coffee that you would find in many cafes. At the end of the 5-hour barista course, each student receives a nationally recognized statement of attainment that states the units of completed competency.
This coffee course is also the perfect choice for people who have no previous experience using espresso machines. Students learn to identify roasts, set machine temperature, and tamp grounds.
Latte art and how to serve espresso coffee are also taught. It is a fun, informative coffee training course for aspiring pros and coffee lovers alike.
Barista Course Brisbane TAFE
You can obtain relevant qualifications by training at TAFE for authentic training in a college atmosphere. The TAFE in Brisbane offers practical training and accreditation for those seeking barista jobs. However, primarily it intends to teach the pro secrets of making good coffee.
There is an introductory 3-hour coffee training course that anyone can take.
Still, if you would like the nationally recognized statement that is almost guaranteed to get you any job you want, you need to be at the level of their 5-hour course. 
Many practical things are taught in this course, such as hygienic practices, froth milk, and recommended coffee drinks for customers.
Many who acquire their accreditation often quickly find employment in the Brisbane area, where there is lots of need for skilled, qualified cafe workers.
FAQS
Here are a few common questions people frequently ask about becoming a barista in Brisbane or Queensland.
How Do I Become A Barista in Qld?
You don't require any formal qualification to become a barista in Qld. You could possibly get a job just by expressing enthusiasm and obtaining some hands-on experience from a 3-hour course focused on how to use and maintain a coffee machine. Some courses offer a 5-hour course that comes with a certificate.
How Old Do You Have to Be to Take Brisbane Coffee Courses?
You must be 14 years of age to register for in-person coffee classes. In Queensland, it is quite possible to get a job in a retail or food business if you are 13 or 14, so it may be helpful for a youngster to take a barista course.
If you are 11 or 12, you can take on delivery work, as in delivering the coffee.
Will My Barista Accreditation be Recognized by The Australian Government?
Some schools provide a nationally recognized statement that the government approves of, which can help you get a barista job anywhere in Australia.
This accreditation generally lists all skills acquired while taking the five-hour accredited coffee course. There is generally no accreditation offered for the 3-hour courses that are offered. 
What is Milk Texturing?
Milk texturing is the fine art of knowing how to froth milk so that it will lay a certain way in a cup. It is like making a liquid canvas for latte art. Beautiful milk textures can be achieved using 2% milk.
The latest trend for using textured milk is a designer beverage blend of oat milk and omega-3 oil such as canola or sunflower seed oil.
Summary
The best coffee-making school for you will be the one that best fulfills your intentions. Are they about working in the coffee industry? If so, getting accreditation at TAFE or The Australian Barista school is recommended.
If you need to stay home to learn about coffee, Veneziano Coffee Roasters, and The Web Grind are good choices. The Web Grind is an excellent place for those who want to learn new skills at an advanced level for free.
However, if you are a fierce coffee lover who just wants to know more about making the perfect cup and wants to attend a course in person, you can't go wrong with the immersive experience offered at the Red Balloon.
Get Your FREE Coffee Brewing Cheat Sheet!
This free cheat sheet will improve your coffee brew by providing quick information on brew ratio, grind size, optimal brewing time, and more.
No spam. Unsubscribe any time.