Portafilter helps coffee lovers brew like a barista. When you use our links, we may earn an affiliate commission. Learn more.
Coffee drinkers can be very particular about their coffee, so learning to make the perfect espresso shot is key to making a delicious coffee beverage. As with any skill, getting good at something takes effort, energy, and time.
This begs the question, is barista training worth it?
Barista training is worth it because it makes it easier to learn the necessary skills and techniques to master the art of making a perfect espresso shot. Additional opportunities may also present if the proper skills are acquired and perfected.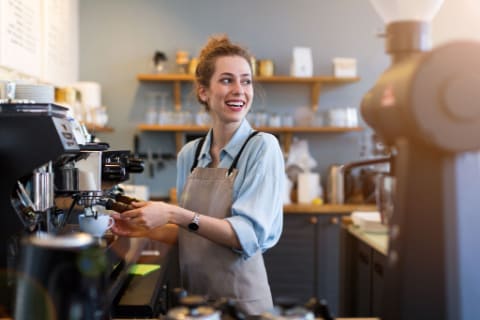 If you love coffee, a barista can be your ideal career.
But you will need to learn the basics of coffee making first. Please keep reading to learn the advantages of education and training and how it helps you become a skilled and reliable barista.
How Does a Barista Benefit From Training?
Training allows baristas to learn the essential skills needed to make coffee. This includes elements like; perfecting espresso-making, making latte art, and working with all types of machines. It also adds credibility, making it easier to land a job at the end of the course.
Education and training are beneficial if you want to become a barista. What that training looks like and how it can benefit may vary.
Getting Started
Both in-person and online barista training courses can range in cost. Some programs include a certificate upon completion. You can also learn barista skills through Youtube videos and Google searches.
Start with the internet if you are still considering whether becoming a barista is worth it. Look up terms and become familiar with the vocabulary of becoming a barista.
Consider the following when beginning your search:
How many different types of coffee machines are there?
Are there different kinds of espresso beans?
What are the steps to make an espresso shot?
What are the different types of drinks made with espresso shots?
This will let you know how challenging this kind of work may be and whether or not it is something for you to pursue.
Barista Training and Pay
Training also adds to your credibility and boosts your resume, making you stand out from others applying for the same position. Having the skills and knowledge before getting hired shows commitment and will often result in a higher starting wage.
Barista pay will also depend upon each establishment, with well-known chains paying more than independent cafes and coffee bars. Regardless of where you work, if you are making a solid shot of espresso and making custom drinks that encourage the customer to return, higher tips can also be earned.
Learn How To Improve
The barista benefits from taking training courses because you will know what to expect as a professional barista and how to move forward in improving your skills.
Whether making espresso at home or in a cafe, learning how to use the equipment, taking orders, and personalizing drinks take practice. Knowing what to correct and how to correct it is essential.
It lets you know what coffee brewing you are doing well and where you need more training.
Lots Of Fun
There is a lot of fun learning how to become a barista. You get to work alongside others who are learning just as you are. You can share what's working and what's not working. You will also be able to taste and enjoy both the good and the bad shots.
Doing a job well done is fun.
Doing it with others is even more fun.
But doing something to become good at it is the most enjoyable because you can earn bragging rights and take pride in your ability.
What Are the Benefits Of Doing Barista Education and Training?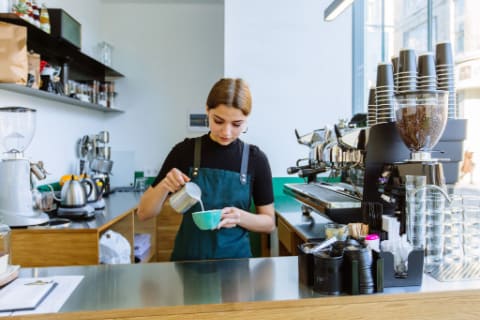 Barista training provides the skills needed to work in the industry. A quality course will provide certification. This can be used to strengthen your resume, giving you a better chance of landing a job.
Plus, learning how to make a perfect coffee is fun 🙂
Many may think being a barista is being able to make a cup of coffee. Sure, in its simplest form, that's a barista. But as the coffee industry grows in popularity and revenue, it's becoming a craft industry rooted in art and science.
The art of brewing the perfect cup of espresso is based on technique and product quality.
The science of growing, farming, and manufacturing the perfect coffee bean to make the perfect cup of espresso.
There are now several online programs, as well as in-person opportunities, to become a well-trained barista.
These programs offer courses and certifications as well.
Some certificates being offered include operating a specific type of espresso machine, how espresso beans are grown and manufactured, the art of steaming milk, creating latte art, and how coffee and coffee production is perceived in a world marked for global change.
Get Your FREE Coffee Brewing Cheat Sheet!
This free cheat sheet will improve your coffee brew by providing quick information on brew ratio, grind size, optimal brewing time, and more.
No spam. Unsubscribe any time.
How Long Does It Take to Be A Good Barista?
You can learn basic barista skills within a few months. But it might take a year to master coffee making. Getting more hands-on experience and lots of practice are the best ways to speed up the learning process.
A barista course will help you gain the needed skills and boost your confidence.
As with any skill, the more training you get, the more knowledgeable you become and the more authority you gain.
There is much to be said for practical and hands-on experience.
The more you do something or practice, the better you get. But barista training programs offer additional knowledge and skills to understand better why what you do makes a difference.
Ultimately, combining experience with training enables you to gain confidence. And bottom line, your confidence in your ability to make the best cup of coffee matters to your customer.
A well-trained barista means that you are:
Dependable in making good coffee consistently.
Understand the importance of what makes up a specific drink.
Willing to customize drinks according to customer preference.
Maintain friendly customer service.
Are Barista Courses Worth It?
Yes. Barista courses can save time, helping you learn the skills faster. Often, these certifications will be required for those wanting to pursue a career in coffee shops or restaurants. This qualification can elevate your application, making finding a job in the hospitality industry easier.
Barista training will also make the most difference for those interested in owning their own business– whether a coffee shop, coffee truck, cafe, or restaurant.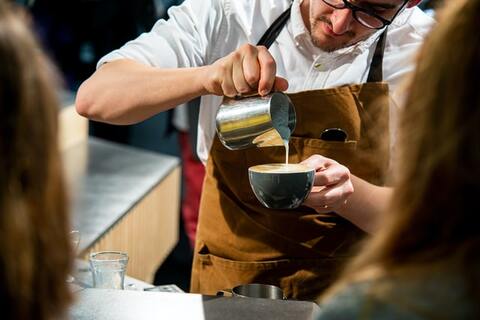 Sure, beginning baristas may be high school students working part-time. Or the college student thrives on coffee to get through their degree requirements.
Or they could be the one who starts as a barista to learn a specific skill based on their interest in all things coffee. A little bit of interest, a strong will, and desire can grow into a well-developed and profitable business plan.
A business plan is based not only on experience but expertise as someone well trained and educated in making the best cup of coffee and the happiest customers.
Get Your FREE Coffee Brewing Cheat Sheet!
This free cheat sheet will improve your coffee brew by providing quick information on brew ratio, grind size, optimal brewing time, and more.
No spam. Unsubscribe any time.