Portafilter helps coffee lovers brew like a barista. When you use our links, we may earn an affiliate commission. Learn more.
There's no doubt that Jura coffee machines have now become an indispensable kitchen staple, without which we could become stuck in a sluggish world.
But just like your Jura machine gives you delectable cups of coffee, you too need to put in some effort to ensure its smooth functioning.
Since coffee is primarily composed of water (loaded with minerals like calcium, magnesium, and sulfites), you should consider regularly descaling your coffee maker to prevent any mineral buildup.
Today we will be reviewing Jura descaling tablets which are made for this sole purpose. Let's get started!
Jura Descaling Tablets, 36 Pack
Your Jura coffee machines boiler is often left vulnerable to mineral scale buildup, which may affect your coffee in any of the following ways:
Since the water cannot reach its optimal temperature, most of the flavor would be left out of your freshly brewed cups
Mineral scale buildup may eventually lead to clogging. In some cases, the Jura machine may stop working altogether
The temperature of your coffee won't be ideal for consumption
Jura has specially curated these 2 phase descaling tablets for their automatic coffee machines to overcome these problems.
Our Top Pick
Jura Descaling Tablets, 36 Pack
These descaling tablets will gently remove scale from your Jura coffee machine, prolonging the life of the machine and ensuring your coffee tastes great too!
Pros:
Prolongs the life of your Jura coffee machine.

Ensures maximum coffee flavor.

Easy to use.
Cons:
For use on Jura & Capresso Super Automatic coffee machines only.
Buy Now
We earn a commission if you make a purchase, at no additional cost to you.
They are made from a mixture of various organic and inorganic acids, which aid in the removal of calcium deposits and debris.
Aside from carrying out highly effective descaling, these descaling tablets also extend the service life of your coffee machine. They are square to facilitate an even dislocation in water and come in a color combination of blue and white.
They are easily soluble in water and contain extracts of sodium bicarbonate and maleic acid. Their dissolution time is roughly around 3-5 minutes, depending on the temperature of the water.
You can use them in other areas where you want to get rid of calcium deposits, such as kettles and boilers.
On top of this, Jura also offers a 30-day satisfaction guarantee and claims that only nine descaling tablets are enough for descaling Jura coffee machines up to 3 times.
Jura 66281 Decalcifying / Descaling Tablet (9 tablets)
This 9-pack of decalcifying tablets helps fight limescale. Even though calcium carbonate adds to the flavor of the coffee to some extent, an excess amount leads to an undesirable aftertaste in water. It doesn't allow the coffee aromas to develop ultimately.
Limescale also narrows down the pipes of your coffee machines as it gets deposited on the inner walls prohibiting the heating process and increasing power consumption.
Also Great
Jura 66281 Decalcifying / Descaling Tablet (9 tablets)
Extend the service life of your Jura coffee maker with these descaling tablets which gently remove scale without damaging your machine.
Pros:
Extends the service life of your Jura coffee maker

Designed specifically for use with Jura machines
Cons:
9 pack doesn't last as long as the 36 pack
Buy Now
We earn a commission if you make a purchase, at no additional cost to you.
You should carry out the descaling operation in two phases:
Phase 1: Eject all of the scale residues out of the coffee machine.
Phase 2: Apply a protective layer to the fluid system for long-term corrosion protection of the pipes.
These descaling tablets guarantee complete hygiene and are phosphate-free, which is a step towards sustainability.
These work with all the Jura coffee machines, including the Jura-Capresso fully automatic coffee & espresso centers: Impressa machines, Z series, S series, Avantgarde, F7/F8/F60, and E series.
You will no longer have to pay for costly repairs.
Instead, just run a few decalcifying cycles and bring your coffee machine back to life. Jura offers this product in the following configurations : 
A box of 3×3 descaling tablets in a blister 
Jar of 36 descaling tablets 
Bucket of 120 descaling tablets
Check them out here. 
Note– Always use lukewarm water to ensure that the descaling tablets dissolve rapidly.
Get Your FREE Coffee Brewing Cheat Sheet!
This free cheat sheet will improve your coffee brew by providing quick information on brew ratio, grind size, optimal brewing time, and more.
No spam. Unsubscribe any time.
Jura Descaling Tablets Alternative
While some individuals lean towards using citric acid for descaling, many have also reported that Oust works just fine and is a cheaper alternative.
You can also backflush by adding a fragment of a dishwasher tablet now and then. 
That said, the chance of wrecking Jura automatic coffee machines also increases as you start to use non-proprietary descales with it. 
Therefore, we advise you to always stick to the Jura descaling tablets as they were designed to work with Jura automatic machines. 
FAQs
Can I use Jura cleaning tablets for descaling?
No. The Jura cleaning tablets typically go in the brewing unit, whereas the descaling tablet is carried out by decalcifying tablets that come along with every Jura coffee machine. The cleaning tablets are also smaller in comparison and are used when the Jura machine shows an alert. 
The usual frequency varies from 2-3 months, depending on the user.
Both of these tablets have different functions and are aimed at cleaning other components. Cleaning is always to be carried out after using a descaling tablet.
The whole process significantly improves the coffee taste if done regularly.
How do you use Jura descaling tablets?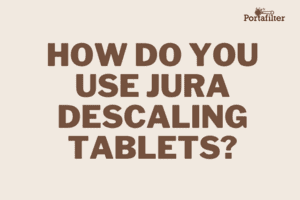 Take three descaling tablets and pour them in around 500ml of lukewarm water. While the beans dissolve, remove the filter from your coffee machine if it has one. 
Now tap on the maintenance button of your Jura coffee machine and navigate to 'filter,' and change the setting to 'no.' This will activate the decalcifying program. Make sure that your grounds are empty and there's no water in the tank. 
Now start the program by adding your solution into the tank and press start. Place two jugs beneath the outlets and simply wait till the timer ticks off. The descaling process is now complete.
How often should I descale my Jura?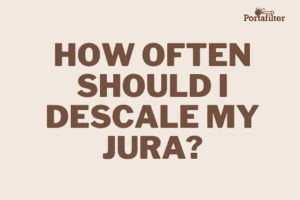 The recommended frequency is around once every month if you want your coffee machine to stay in a pristine condition. Another way to see this is by the volume of water used, i.e., 50 liters. 
Once your Jura machine hits this mark, you should conduct the descaling process to avoid scale residue buildup. If you happen to have an inbuilt filter, then you can go without descaling for 2-3 months.
What is Jura descaling?
This process involves using a descaling tablet developed to remove all the excess scale residue built upon the walls of your pipes and the fluid system. 
This process entails using Jura descaling tablets to clean the brewing system, followed by using cleaning tablets to clean the brewing unit.
Get Your FREE Coffee Brewing Cheat Sheet!
This free cheat sheet will improve your coffee brew by providing quick information on brew ratio, grind size, optimal brewing time, and more.
No spam. Unsubscribe any time.