If you're on the lookout for a top-notch automatic coffee machine for home, this guide is all you need.
The Jura E6 will give you a perfectly brewed espresso every single time.
With all the perks of a super-automatic espresso machine, the E6 is every coffee lover's dream come true.
So if you want a banging cup of coffee every time you wake up without heading to the store, tag along!
This article is the ultimate guide to Jura E6.
We'll walk you through everything, including the highs and lows of the machine, as well as alternative automatic espresso machines.
Jura Coffee Machine E6
Nothing screams wake up more than a cup of flavorful espresso. And the Jura E6 is your professional barista at home.
The E6 will make your coffee exactly the way you like it with its sleek design and fully automated functions.
Our Top Pick
Jura E6 Coffee Machine
A Super-Automatic espresso has never tasted better, thanks to the combination of the P.E.P brewing technology and the new Aroma G3 grinder. The new brewing unit and grinder combo significantly improve the fragrance, flavor, and crema of espresso. 
The Jura E6 not only makes excellent espresso, but it also makes excellent 

cappuccinos and lattes

. For consumers seeking ease, quality, and consistency, the E6 is ideal.
Jura E6 Best Price
Buy On Amazon
We earn a commission if you make a purchase, at no additional cost to you.
E6 platinum brings you everything you expect from any other Jura and more.
The pulse extraction process is a Jura classic that has changed the game in homebrewing. However, the Intelligent Water System has taken things to the next level.
With its high-resolution color TFT display and technological innovation, the creators have left no room for disappointment.
Pros
Customizable coffee brewing settings
User-friendly design
Wireless operation
Aroma + grinder
Fine foam 
TFT display technology
Cons
Milk temperature isn't as hot as we would have liked
Jura E6 Review
Jura E series has taken the espresso brewing process by storm. With its user-friendly interface and pulse extraction process, every cup of coffee is a cup of perfection. 
The Jura E6 is an excellent espresso machine overall.
However, there are a few unique features that set it apart from other Jura coffee machines.
Key Features
Design
The Jura E6 fits in your kitchen like a beautiful piece of furniture. Its futuristic user-friendly design is the perfect accessory your kitchen needs.
It's not only a highly functional and beautiful coffee machine, but it's also a complete package. With its TFT color display, you know precisely what you're doing.
But it's not just all about the looks.
Jura machines use CLEARYL intelligent water filters, making sure your coffee has the best possible flavor profile.
This water filter is also the best defense against limescale.
A bonus to the water filter is the intelligent water system and RFID technology. Both these features make for an unbeatable machine that will last you for years and years to come.
With a machine with all those perks, it isn't wrong to say that the Jura E6 automatic coffee machine has a one-of-a-kind design.
Professional Aroma Grinder
A mean cup of coffee is all you need to stay awake in the morning.
But most of us don't have the time every morning.
What if I told you that there's a way to have fantastic coffee drinks every morning without being late to work?
If you think that's impossible, think again.
The Jura E6 is the solution if you're constantly having to choose between your morning coffee and being punctual.
How does the Jura E6 do all that?
With its professional aroma grinder, making coffee takes no longer than half the time. But it doesn't end with that.
This update is also the reason why the machine produces little to no noise.
However, the main highlight is the improved flavor profile of the coffee has gone to the next level. The new grinder cuts at a different angle, releasing more oils and the signature aroma of fresh coffee beans like never before.
Pulse Extraction Process
The Jura E6 is specially designed for the pulse extraction process to optimize the coffee extraction time from the coffee grounds.
Depending on the type of coffee you select, it forces hot water through the ground coffee. The result is an excellent coffee without taking as long as most expensive coffee makers.
Pulse Extraction comes with eight intensity levels.
So whether you're in for an espresso or an Americano, this espresso machine will give you the perfect blend. All these perks and much more have made the Jura E6 the most formidable coffee machine in the business.
Artificial Intelligence
What happens when brewing coffee meets artificial intelligence. The result is Jura E6. The creators of the coffee machine introduced AI into the brewing unit to give you the best home coffee experience.
The Jura E6 comes with an intelligent water system, one of the key features that extend your machine's life.
It lets you detect the hardness of the water you use by providing water testing strips. All you need to do now is fit the water filter in the machine and let the machine do the hard work.
Start by following the straightforward fitting instructions for the filter.
Next, the machine will give you the prompt to input your water hardness from the strip test.
The water filter will do the rest.
The best part is that even the descaling doesn't need to be done as frequently. Your machine will be a lot cleaner than ever before. Jura E6 is a truly self-sufficient coffee machine, and you don't need to make much of an effort.
Claris Filter Cartridge
Jura's cartridge is one of the main selling points of the machine. In addition, your device will filter water every time you fix yourself a new coffee.
So you get supreme water quality which makes for a mean cup of coffee.
A good filter doesn't only give your coffee the best taste; it also increases the life of your coffee machine. These filters are specifically designed for the Jura E6 coffee machines and give you the best possible machine maintenance.
Plus, these automatic espresso machines filters have the most effortless application. Just place them directly into the water tank, and your work is done.
Claris filter cartridges have neutral pH.
One cartridge, and you get fresh coffee water, unmatched aroma, and extended machine life. Now say goodbye to limescale build-up and enjoy minimum maintenance.
These Claris filter cartridges help the machine take good care of itself.
One-Touch Operating Panel
A Jura coffee machine is incomplete without a one-touch operation.
So it's only natural that the Jura E6 comes with a one-touch cappuccino function which will make your life a breeze. Just set up exactly how you like your morning coffee the first time you make it.
Save your settings, and the Jura E6 will remember your choices.
Then, the next time you feel like having a cup of coffee, all you'll need to do is use the touch screen to make your coffee, and you'll have yourself a cup in no time.
But that's not it.
You can use this single-touch operation to make multiple cups at the same time. You can even sync this operation to your android if more than one user is in your house.
So enjoy the easiest coffee-making experience without compromising on the flavor.
Jura E6 Milk System
The Jura E6 milk system is remarkable both in terms of frothing and cleaning. Have you ever wondered why your cappuccino turns flat within minutes?
The reason is milk froth.
With Jura E6, consider this problem solved. Jura E6 comes with fine froth technology, which is the reason behind the thick foam.
So your coffee can sit there while you work without losing its luxurious froth. The premium coffee experience is now just a few touches away.
That's not the only noteworthy thing about the Jura E6 milk system.
The machine is also largely self-sufficient when it comes to maintenance. Every time you make a milk drink machine will prompt a clean.
Just follow the instructions on the screen step by step, and you'll always have a clean machine.
The milk nozzle is also dishwasher safe, so there's nothing but minimal maintenance required.
Using The Jura E6 Espresso Machine
Setting up the coffee machine might look like an intimidating task at first.
However, the Jura E6 is just as easy as using your mobile phone, if not easier. There are a few extra steps, but they're primarily self-explanatory.
Here's the ultimate guide to getting used to your Jura E6 for the first time.
Machine Set-up
Before running the coffee maker for the first time, we strongly advise you to clean it a bit along with checking the water hardness.
The second most important thing is to make sure all the containers are filled up.
The container for the ground coffee and water should be completely clean and fitted in the right place.
Otherwise, the computer will keep disturbing you, and the machine might not even start.
Additionally, you should also know not to make any drink containing sparkling water or milk if using the machine for the first time. Anything fancy on the test run of the device may cause some form of damage to it.
Finally, all the detailed instructions are printed on the instructions manual that comes with the machine.
You can also choose to follow the instructions displayed on the TFT screen.
Basic Operation
First off, fill the coffee bean container and lock it in place.
Second off, fill up the water tank, mount it on the coffee machine again and lock it in place.
Before every use, ensure your water tank and coffee grounds container are filled.
If you're making a milk drink, you'll want to connect a stainless steel milk container with the help of a pipe.
Connect one end of the line to the milk frother and the other to the milk container, and you're good to go.
You must use a vacuum milk container or a milk cooler to keep it at the optimal temperature of 4°C-8°C.
Using The Screen
Once all the compartments are filled up, it takes a few taps on the touch screen. Just scroll through and look for the coffee drink you want to enjoy.
Once you've made this selection, a screen representing coffee strengths will appear, select the coffee strength you like, and following this, the Z6 will dispense a default amount of water.
You can easily change the water level settings if you want to.
If you want to modify the default machine settings to your taste, the process is pretty straightforward.
Head over to the programming menu. You can make any changes in your coffee settings from here.
Total Brewing Capacity
The main feature of the Jura E6 is its dual spout.
This way, the coffee maker can brew two cups of coffee with a single prompt. The total brewing capacity of Jura E6 is approximately 63.6 ounces or around 7-8 cups, depending on what size cups you use.
Understanding the Prompts
When the machine starts, you'll see a "Welcome to Jura" message displayed.
This greeting will be followed by another message saying, "the machine is heating." Once the machine is hot enough to start making your coffee, a third message stating "the machine is rinsing" will be displayed on the screen.
After these three initial messages, you can start making your coffee.
All other machine prompts are pretty self-explanatory and will differ depending on the machine operation you choose.
Specifications
The most notable specifications of the Jura E6 are as follows:
Model Number: 15070
Display: Colored
Types of Specialty Coffees: 7
Number of Grinders: 1
Coffee Strengths Available: 5
Total Brewing Capacity: 5g-16g
Milk Frothing System: HP1
Powder Chute (Ground Coffee): N/A
Smart Connect Compatibility: Yes
Warranty: 2 Years
Things We Didn't Like
Although there's very little to complain about the Jura E6, everything has its shortcomings. Here are a few of the weaknesses of E6 that we noticed:
The milk frother of the machine isn't at par with professional standards
The housing is plastic
Pre-ground coffee and pods aren't compatible with it
It can make only seven different types of specialty coffees
The coffee grounds hopper can only work with one kind of coffee bean at a time.
How To Clean Jura E6?
Something that will increase your coffee machine's life is good maintenance and frequent machine cleaning. The best practice is to make sure your coffee maker gets cleaned after every use.
The best part is that Jura has a set of prompts and protocols that remind you exactly what your coffee maker needs. There are instructions for everything ranging from descaling, rinsing, changing water, and much more.
Apart from automatic machine cleaning, you also need to clean your drip tray and coffee grounds container by hand. However, when you're cleaning the coffee grounds container, make sure the machine is turned on. Otherwise, your counter won't reset back to zero.
The most challenging part of machine maintenance, however, is descaling. You'll have to remove the filter cartridge and leave it in descaling tablets for hours on end. Finally, rinse it towards the end of the process.
Get 50% Off Your First Bag Of Coffee!
This delicious, immune-boosting, healthy, low-acid, USDA organic certified is our favorite coffee. Our friends at Lifeboost offer our readers 50% off for all first time customers. So give it a try today, and see why it's our go-to!
SAVE 50% NOW
Jura E6 Alternatives
The Jura E6 is undoubtedly the best coffee maker you could have in your home. However, there are a few other coffee machines that are excellent alternatives.
Jura E6 vs S8
The Jura S8 is another versatile Jura machine known to make 15 specialty coffee drinks. It comes complete with pulse extraction and fine froth technology. So whether it's espresso shots or milk-based drinks, Jurs S8 can do it all to perfection.
It also has a state-of-the-art Arome 3 grinder, so your coffee is ground to perfection.
All these features and much more make the Jura S8 an unbeatable alternative to the E6.
Jura E8 vs E6
The Jura E6 and the Jura E8 are more or less pretty similar, apart from a few key differences. The E8 is all black, whereas the E6 is a combination of black and other colors. The E8 also uses pulse extraction, giving you a rich coffee experience. And finally, the E8 comes with a larger tank, and this means more coffee for you.
Jura Z8 vs E6
Are you searching for a coffee machine that makes a wide variety of specialty coffee drinks while giving you maximum convenience?
You might want to consider the Jura Z8.
Like the E6, Jura Z8 comes packed with classic Jura features. The Z8 stands out above the rest because of its one-touch Americano feature.
That's something you're missing out on with the Jura E6.
People Also Ask
How to Use the Jura E6?
The Jura E6 is a pretty straightforward machine. Start by plugging in the device and filling up the coffee water containers. Make sure the milk pipe is secured and turn on the machine. After that, just follow the instructions on display, and you'll have your coffee in no time.
How to Use Ground Coffee in Jura E6?
Jura E6 is a bean-to-cup coffee machine, meaning there's no option for pre-ground coffee. Other than that, the Jura E6 is top of the line when it comes to bean-to-cup coffee.
Jura E6 How to Save Drink Settings?
To personalize your coffee, you need to head over to the 'expert mode' from the digital panel. You'll be able to change the amount of water, coffee strength, and temperature of your drinks. Every time you make your drink after that, your machine will know exactly what drink to make.
Does Jura E6 Have Smart Connect?
Yes, Jura E6 coffee machines have the Smart Connect feature. You can control your coffee maker with your android device as well.
Is Jura E6 Worth Buying?
The Jura E6 in itself is a revolution in home coffee brewing. It's effortless, it's quick, it requires very little maintenance, and you get yourself a mean cup of coffee every time. 
It might seem a little expensive in the first look, but with its outstanding features, it's worth every dollar.
Mark
G'day from Australia! I'm Mark, the Chief Editor of Portafilter. I'm super passionate about everything coffee related and love to spend endless hours mastering pulling the perfect shot on my Breville Barista Express.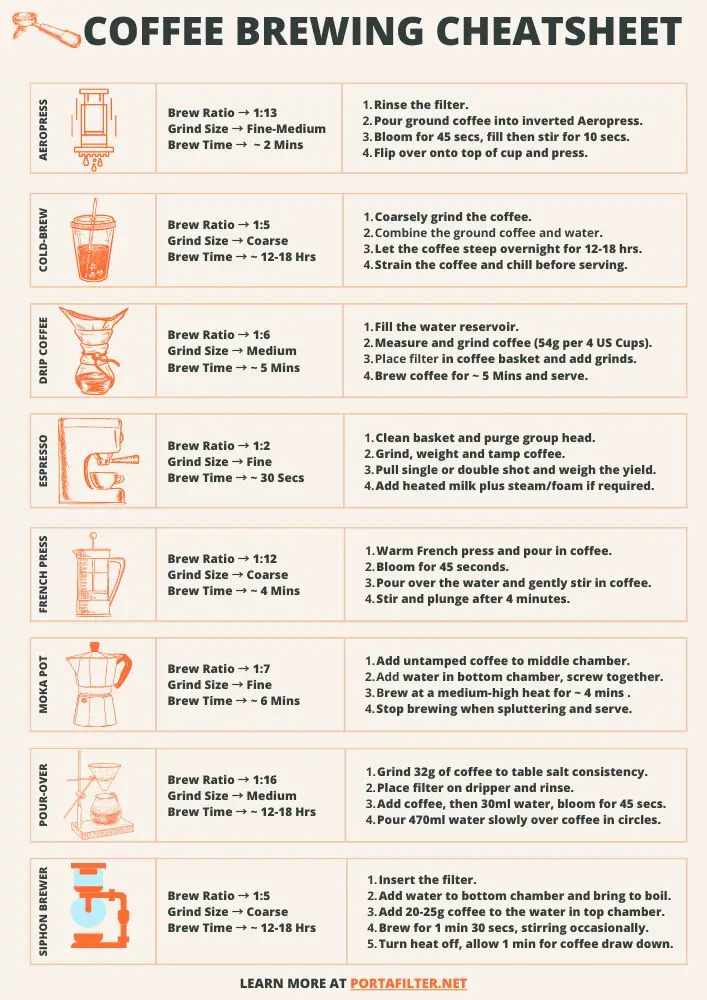 Get Our FREE Coffee Brewing Cheat Sheet
This free cheat sheet will improve your coffee brew by providing quick information on brew ratio, grind size, optimal brewing time, and more!
No spam. Unsubscribe any time.