Caffeine addicts look forward to their daily cup of coffee.
While these appliances are more expensive, the ideal ones may enable you to make barista-quality coffee drinks at home, such as lattes, espressos, and cortados, without having to spend $5 a day at your local Starbucks.
Several coffee machines can also make mochas and lattes, making them ideally suited for preparing various coffee drinks.
Brewing the perfect cup of coffee is a difficult task, but you can always rely on the finest coffee makers to get the job done.
If you're not entirely obsessed with coffee, a decent pour-over system might be enough to motivate you to get out of bed every morning.
However, if you're a coffee fanatic like us who can't get enough of drip, there's a coffee machine for you. Yes, we're talking about Jura E8!
The Jura E8 Automatic Coffee Machine is the perfect blend of adaptability, quality, and enjoyment, ensuring crushing results that will please even the most demanding coffee lovers' senses.
Jura E8 Coffee Machine
The Jura E8 is a modern bean-to-cup equipment that is small, lightweight, simple to operate and maintain, and, most importantly, makes excellent coffee in the form of espresso and dairy drinks.
The Professional Aroma G3 Grinder produces excellent grinding results, while cutting-edge brewing methods fully enhance coffee aromas.
Our Top Pick
Jura E8 Coffee Machine
The Jura E8 Espresso Machine is a one-of-a-kind Jura innovation that provides a hassle-free ownership experience. The super-automatic coffee machine features options ranging from ristrettos to flat white coffee drinks, thanks to its one-touch brewing feature. 
Check Jura E8 Price
Buy On Amazon
We earn a commission if you make a purchase, at no additional cost to you.
Trendy barista favorites taste better than ever due to the airy, fluffy hot milk foam.
The revolutionary E8 features 17 various specialties, ranging from an exquisite espresso to a popular cortado.
A redesigned fluid system can also produce long, mild specialties like café Latte and lungo Barista to professional barista levels.
You can use the Extra Shot function to enhance the flavor of a cappuccino, plain white, or latte macchiato for those who prefer it more robust.
Pros
It offers a simple and easy-to-use UI.
The Jura E8 can make 15 different beverages
The coffee machine has a self-rinsing feature for easier cleaning
One of the best machines for maintaining taste consistency
The coffee machine includes two nozzles that generate foamy coffee cups at the same time
Cons
Expensive
The milk frother mechanism was initially a little complicated to use
It just has one Thermoblock heater system
JURA E8 REVIEW
Does the Jura E8 make good coffee?
Do you want a quick response? It certainly does.
The espresso, latte frappuccino, and mocha are all delicious. Since the milk frother only has one option, it can't produce untextured, steamed milk while producing wonderfully foamy milk.
The simple appearance complements the primary functioning. You get a giant LCD screen right after unwrapping it, with up to 15 distinct product possibilities. 
Available options include ristretto, flat white, milk and hot water, espresso cappuccino, and even macchiato.
While the Jura E8 can produce a good latte macchiato by settling the milk foam, it can't make standard lattes.
The more unusual beverages on the menu, such as cortado and flat white, felt more like little cappuccinos than they should be.
The 'core' beverages are all outstanding.
We'd say this is more of a gadget for coffee enthusiasts than true coffee connoisseurs. The Jura E8 makes a total of 11 beverages for those taking a note.
Jura uses its Aroma G3 grinder in its semi-automatic espresso machines.
The Jura E8, on the other hand, takes it a step further and uses a more improved feature of the Aroma G3.
This version of the grinder is two times faster than the previous one. It also grinds the coffee quickly while maintaining as much flavor and quality as possible.
The delectable scents are kept within the bean hopper with an aroma-preserving lid while the IPBAS (Intelligent Pre-Brew Aroma System) assures optimum absorption.
A Thermoblock heating unit inhibits heat loss, so there's no burning, no hot part, and weird flavor.
In terms of pure value for money, this coffee machine is not expensive.
Its attractive appearance is complemented by espresso and milk froth that exceeds expectations for a super-automatic espresso machine. 
The Jura espresso machine ticks all the boxes:
Superior craftsmanship
A wide choice of settings and cleaning routines
An intelligently designed and straightforward operation.
The Jura E8's additional Smart Connect wireless adapter, on the other hand, makes it a must-have for tech-savvy coffee lovers.
You can use an app on your smartphone or iPad to connect wirelessly to your coffee maker and customize it from anywhere.
Are you prepared to bring your coffee into the twenty-first century?
Key Features
Design
With dimensions of 30cm (W) x 35cm (D) x 33cm (H), the Jura E8 is a small bean-to-cup machine (H).
When it comes to build quality, the Jura E8 appears to have gone all out. However, because the function of the single boiler is split between heating the water and the milk, brewing takes a while.
A 6-level G3 grinder pulverizes the beans into powder inside the Jura E8's casing, followed by a Thermoblock heater that rapidly heats the water and milk.
All of this is contained within a stainless steel solid body featuring plastic components and an LCD digital screen.
On the top, a TFT-LCD screen shows all of the possible beverage features and options.
The Jura E8 includes six buttons that relate to on-screen choices rather than depending on a touch interface.
While some users prefer a touchscreen interface, we like the buttons to prevent fingerprint smudges from appearing on the screen. 
After all, this is a high-end coffee machine, so it should look the part.
For the water and milk, the Jura Z8 has two separate boilers. So, while your coffee is brewing, you can froth some lovely cream.
Intelligent Water System
The smart filter is simple to set up, and you'll find one provided with the coffee maker to get you started.
They are expensive to buy, so keep that in mind when deciding, as they will need to be replaced regularly.
The great news is that you won't need to frequently descale your E8 if you install an intelligent filter because it will remove pollutants and minerals from the water.
The Clearyl Smart filter sends filter usage details to your Jura Z6 via radio-frequency identification.
E8 ensures that water is filtered before preparing your coffee, protecting your coffee machine and negating the need for descaling.
Standing pre-filtered water is never kept in the water tank, where it might become unclean very rapidly.
It filters out toxic metals and compounds that affect smell and taste, such as chlorine, in addition to calcium, which leads to limescale build-up.
The water retains minerals that are beneficial to one's health. 
As a consequence, you'll have pure water for ideal short specialty coffees and the best limescale control in your coffee machine.
Coffee is 98 percent water, thanks to the clever water filter. As a result, high-quality water is critical to achieving the most outstanding possible quality of coffee.
Aroma G3 Grinder and Pulse Extraction Process P.E.P
JURA provides a fresh-ground, never-capsulated bean-to-cup experience.
Fresh coffee beans are ground quickly and softly in the six-level Aroma G3 grinder shortly before brewing, preserving the most incredible aroma.
Hot water is pushed through the pre-ground coffee in brief scheduled intervals during extraction.
Too much extraction, which is a severe possibility in many automatic espresso machines, is avoided this way.
Brewing fine grind sizes at high temperatures is frequently an undesirable condition.
The Pulse Extraction Process P.E.P, on the other hand, guarantees a premium and pure extraction procedure, ensuring that you may enjoy exquisite shots at the touch of a button.
You'll get a richer taste, more cream, and superior in-cup temperatures with Pulse Extraction Process P.E.P. 
Milk System
The Jura E8's milk system is essentially a pick-up milk pipe system with a precise milk foam frother control to guarantee you make the famous barista specialty.
You can adjust the amount of the fine foam in your milk-based beverages with the dial.
On the side, there is a single immovable wand with a rotating dial that allows you to choose between two milk textures.
Jura's Fine-Foam Technology takes over, helping in the dispensing of the most concentrated foam possible.
The same wand also dispenses hot water for green tea and other beverages.
The Jura E8, however, does not distinguish between a milk and a water boiler. As a result, you can't brew and froth at the same time. 
The Jura E8 coffee machine's automated pump produces flawless microfoam at the touch of a button.
It's one of the most impressive aspects of this super-automatic espresso machine.
Using the Jura E8 Coffee Machine
The Jura E8 highly automated espresso machine has eight preset levels for coffee strength, which are more nuanced than the five provided on most other super-automatic machines.
You can also change the amount of water on a sliding scale from 0.5 to 2.7 ounces.
We like it, especially since most super-automatics have a lower limit of slightly under an ounce.
That is the standard, not the minimum, for espresso.
Based on the beans you choose and how they react to different temperatures, you can increase the quality by reducing the water content to 0.7 ounces.
The second temperature choice will be pretty nice for individuals with steely tongues who always find coffee beverages from most super-automatic coffee machines lukewarm.
Those who prefer it hotter can increase the setting to "high."
There's no way to go higher than that because you'd hit the natural limit for making coffee. Any hotter, and the beans will burn.
Using the Jura E8 to Make Milk Froth – From the milk channel and an extra spout, milk froth and espresso doppio mix together. The center outlet dispenses only short specialty coffees without milk, as is customary. 
You may also make two espressos or other dairy beverages simultaneously, thanks to the dual spouts. Unfortunately, making two milky specialties at the same time is not possible.
Not only does the Jura espresso machine pour hot water for tea, but it does it at three different temperatures. Perfect for tea lovers too!
Additionally, your tea is always produced with filtered water, which adds to the efficiency. As a result, the flavor of the tea is more subtle and aromatic.
Jura E8 Specifications
| | |
| --- | --- |
| Type | Bean to Cup |
| Serving Capacity | 60 TO 80 CUPS |
| Model | E8 |
| Application | Hotels, corporate offices, cafeteria |
| Machine Type | Automatic machine |
| Usage/Application | Home, office, restaurant |
| Packaging Type | Boxes |
| Machine Weight | 20 kg (44 lbs) |
| Available Colors | Black |
| Available Models | JURA E8 |
| Brand | JURA |
| Material | SS, MS, Aluminum, Imported plastic |
| Capacity | 0-50 cups per day |
| Coffee Type | Espresso doppio, cappuccino, cafe latte macchiato, black coffee |
Things We Didn't Like 
Any automatic espresso maker, regardless of price, will have certain flaws. That's the cost of comfort when using one-touch software. The Jura E8 is no different.
To begin with, if you enjoy the process of pulling shots (of coffee in general), the Jura E8 is not for you. It will make everything too simple.
Also, if you like your coffee black, you're missing out on some of the E8's nicest features.
This Jura coffee maker is known for its velvety, frothy milk. If you don't put that in your coffee regularly, there are cheaper alternatives available.
A jammed bean hopper is another issue that may arise.
If you use oily beans, there's a considerable possibility you'll come across this. The oil from the beans builds up in the burr grinder, causing blockages.
If you use beans that aren't as greasy, you can avoid this.
Oily beans aren't a sign of high quality. The burr grinder also makes a lot of noise. If you are a morning person who needs their coffee first thing in the morning, you might wake up others still sleeping. Of course, this is a minor gripe that may or may not affect everyone in the same way.
Get 50% Off Your First Bag Of Coffee!
This delicious, immune-boosting, healthy, low-acid, USDA organic certified is our favorite coffee. Our friends at Lifeboost offer our readers 50% off for all first time customers. So give it a try today, and see why it's our go-to!
SAVE 50% NOW
Jura E8 Cleaning
If the Jura E8 hasn't been mentioned enough in this review, it's easy to clean. You can expel hot water via your pipes with the push of a button.
The Jura E8 will typically take care of itself by performing rinse sessions when you initially turn it on, ten minutes after preparing any milk-based drinks, and once more when you turn it off.
After each usage, Jura suggests cleaning the milk dispenser more thoroughly. 
Cleaning the milk dispenser entails filling the cleaning container provided by Jura with their labeled cleaning solution and then passing 250mL of it through the hot milk frother.
Finally, Jura recommends disassembling and rinsing the frother.
How to Clean Jura E8?
There are rinsing and cleaning capabilities for coffee and lattes and the milk system, which you must flush after each use.
You can either set the coffee machine to remind you to start the cleanup or rely on your memory.
The manufacturer suggests thoroughly washing the milk system at the end of each usage session.
You can do this by performing the cleaning container technique we explained using Jura's detergent and unplugging and disassembling the fine foam frother to hand-wash it.
The Jura espresso machine automatically rinses the coffee system when it is turned on or off.
After 80 servings, a deeper clean is required, and the machine will remind you to do so. In this operation of about 20-minutes,
Jura suggests using its own branded products.
How to Descale Jura E8?
Descaling is not required when using the Jura Claris Smart water filter and replacing it regularly.
It's still a good idea to descale if your water has a lot of limescale or if you haven't used the equipment in a long time.
Jura descaling tablets are highly recommended.
This cleaning chemical is specifically designed for your coffee maker, ensuring that water pipes are not harmed.
Just put the descaling pills in water, pour the water into the water tank, and begin the program.
Descaling also prevents the coffee machine's warranty from being void due to improper cleaning agents.
Alternatives
Jura E8 vs S8
The biggest difference between the Jura E8 and S8 designs is how the controls are adjusted.
Since the E8 lacks a touchscreen, you must rely on the buttons. 
Meanwhile, the S8 has an LCD panel on which you can select the coffee variety, intensity, and volume by touching it. The use of a touchscreen is convenient.
The Jura E8 is known to have a tea-brewing capability that the S8 lacks.
If you or your family members consume both coffee and tea, this is excellent news. In addition, the E8 creates latte macchiato, whereas its competitor sells cafe latte. In this scenario, which one you should choose is determined by your personal preferences.
Finally, the E8 lacks a water level indicator, while the S8 has one.
The water indicator is essential since it indicates how much water remains inside the water tank and if you should refill it right away or later.
The Jura E8 comes out on top by a hair, thanks to the tea-brewing feature.
Jura E6 vs E8
Even though the variations between the two automatic espresso machines are minor, the price difference is significant.
The Jura E6 can create espresso, great coffee, and cappuccino, among other specialty drinks.
The Jura E8, on the other hand, can prepare over 16 different specialized cocktails. Espresso coffee, latte macchiato, flat whites, and other similar beverages fall under this category. 
In addition, the Jura E8 includes a high-performance pump that produces a rich and smooth crema at 15 bars of pressure.
It also features eight pre-programmed levels of coffee strength and six levels of scent selections.
Should I Buy A Jura E8 Espresso Machine?
The Jura E8 is top of the line in terms of product features and coffee flavoring.
This is reflected in the price as well. It's well worth the money, and we like the variety of specialty coffee drinks it can produce right out of the box.
The Jura E8 stands out from the competition, thanks to its attractive appearance, programming features for various beverage modes, and regular maintenance functions.
Some features found in higher-end versions, like ceramic grinders and multiple heating elements, may be lacking. It never fails to deliver a fantastic user experience.
Get yourself a Jura E8 and make your favorite coffee at home!
Mark
G'day from Australia! I'm Mark, the Chief Editor of Portafilter. I'm super passionate about everything coffee related and love to spend endless hours mastering pulling the perfect shot on my Breville Barista Express.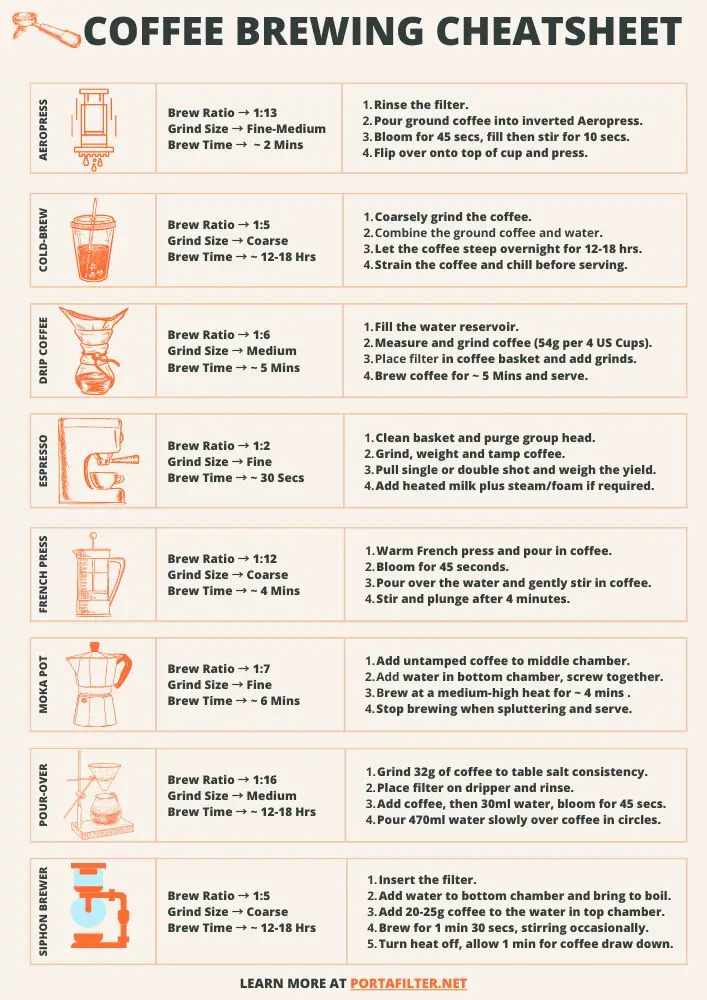 Get Our FREE Coffee Brewing Cheat Sheet
This free cheat sheet will improve your coffee brew by providing quick information on brew ratio, grind size, optimal brewing time, and more!
No spam. Unsubscribe any time.