One hundred and fifty million Americans agree that coffee is the fuel one needs to start the day just right. The first beverage of the day has to be perfect.
High-quality and innovative Jura coffee machines have been satisfying even the toughest of coffee connoisseurs. In this article, we will review the Jura S8.
This coffee maker is the perfect amalgamation of Jura's compact class and premium segment.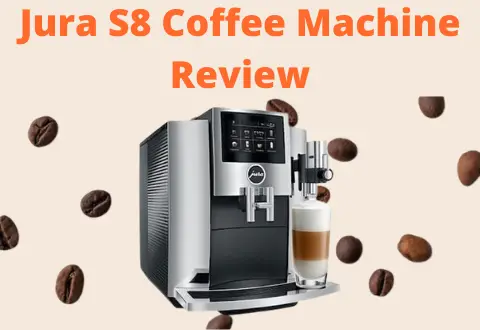 So, does the Jura S8 bring together design simplicity and deliver a luxurious taste explosion? Let's find out!
Jura S8 Coffee Machine
Jura S8 comprises a specially designed, easy operating mechanism. However, don't be fooled by its compactness; the Jura S8 offers a full range of specialty coffees – 15, to be exact.
Whether you like to begin your day with a perfect espresso, macchiato, or cappuccino, the Jura S8 provides the highest quality coffee with just a few clicks.
Our Top Pick
Jura S8 Coffee Machine
The Jura S8 is an intelligent machine with a wide range of abilities. It makes excellent coffee, has a stunning appearance, and is a high-tech machine built for success. The beautiful S8 can produce a wide range of specialty coffees, from espresso to macchiato, to the highest possible standard. 
Check Jura S8 Price
Buy on Amazon
We earn a commission if you make a purchase, at no additional cost to you.
The S8 model's integrated high-resolution touchscreen, twice as fast Multi-level Aroma G3 grinder, fine foam technology, and Pulse Extraction Process (P.E.P.®) are only some of the ingenious features that set apart the Jura S8 super-automatic coffee machine from the rest.
Pros
It is a medium-sized coffee machine with technology and features that rival more premium Jura offerings like GIGA.
Results in a rich and smooth crema, thanks to its 15 bar high-performance pump.
Allows you to customize and program brewing strength, water temperature, etc.
The thermal block heating system allows for short heating-up times.
Includes a pre-ground beans bypass for when you crave the occasional decaf.
Integrated maintenance cycles make it easy to clean.
Animated touch screen display is easy to use, even for beginners.
It is compatible with JURA Operating Experience (J.O.E.®), allowing coffee makers to operate the espresso machine from mobile devices.
Cons
The Jura S8 is quite expensive.
This automatic espresso machine needs regular maintenance.
The cup platform is not ideal for bulkier cups and glasses.
Jura S8 Review
This Jura coffee machine is compact, weighing only 22.1 lbs. (without the tank) at a height of 13.7 inches, which makes it relatively easy to move around in the kitchen if need be.
It is available in two color variations, moonlight silver, and chrome.
Both colors complement varying kitchen design schemes and become a stylish addition to your countertops.
Despite its compact size, Jura S8 does not skimp on functional variety.
With its 15 specialties, you can create barista-quality coffee with just a touch – which takes us to our next favorite feature, the animated graphic interface.
The graphics and animation showing every step of espresso preparation make it a breeze to use, even if this is the first automatic espresso machine you have owned.
Therefore, if you are looking for barista-quality coffee in the morning without going to coffee shops but lack time with manual coffee makers, the S8 is for you.
Moreover, programming the pre-set drinks to your preference is pretty simple too.
You can either press the P icon or hold any displayed drinks. The S8 allows you to adjust between ten coffee strengths, water volume, amount of milk, and brewing temperature.
You can also set the type of milk (foamed or steamed) and crema you prefer with the dial on the frother.
We love that the Jura S8 can add these customized recipes to the home page as and when you like.
Adding customized recipes is possible even if you enjoy two versions of the same beverage, say an espresso. A great feature if you are a household with more than one coffee drinker.
The S8 has a new professional fine foam frother.
It provides excellent textured milk foam for milk and milk foam specialty coffees like a latte macchiato.
Moreover, the award-winning Pulse Extraction Process (P.E.P®) ensures optimum extraction time and gives you consistently luxurious espresso whenever you desire.
Regular coffee drinkers will notice (and appreciate) the difference the P.E.P® makes in taste quality compared to any other super-automatic espresso machine.
Jura S8's Aroma Grinder is twice as fast as its previous built-in varieties and (much to our pleasant surprise) quiet.
The burr grinder not only works quickly but preserves maximum coffee aroma.
Jura S8's water tank has a smart filter with RFID technology.
This intelligent water system (IWS) allows scaling prevention, resulting in a purer, great-tasting coffee every time.
Furthermore, Jura makes cleaning the espresso machine straightforward and efficient than other similar machines available in the market.
The Jura S8 coffee machine is compatible with the JURA Operating Experience (J.O.E), which allows you to use the coffee machine with your smart device.
However, this particular model is not pre-equipped with Smart Connect, you have to, and you have to buy the receiver separately as an optional accessory.
Key Features
The Jura S8 coffee machine is chock full of superb features. Let us look at them in detail.
Design 
The Jura S8 design has stayed true to its predecessors in terms of quality. Its Swiss design is sleek, modern, and easy to navigate.
The Jura S8 bean container lid is made out of chrome rather than plastic lids used in coffee machines of other brands.
The chrome lid is heavy on purpose, as it works perfectly to seal the freshness of the whole beans.
Right at the back of the bean hopper lid, you can see two panels.
The left is the powder chute for grinds, usually missing on premium mid-segment Jura machines, and the right side houses the grind setting dial.
The pre-ground bypass allows you to have decaffeinated or numerous coffees without changing the whole beans in the hopper.
You can find the water tank on the left side with a holding capacity of 63.6 fluid ounces.
The tank houses a smart water filter with an RFID chip.
The intelligent water system and the CLARIS smart filter ensure a purer tasting coffee because of scaling prevention.
At the front, you can find a 4.3-inch touchscreen, from where you can select your brewing process.
We found the touchscreen very user-friendly.
You can use the two spouts in the middle to pour one or two cups, as need be. You can find the milk spout separately on the side connected to the milk system.
You can make milk-based drinks without replacing the cup because the steam wand can pour out the water, coffee, and milk.
You can adjust the height of the spouts to your liking.
The drip tray just below the spouts connects to the drawer that holds the grounds. The grounds are dry and look like pucks, great for a mess-free clean-up.
Multi-Level Aroma G3 Grinder 
When it comes to brewing performance, there are not many espresso machines that rival the S8.
Thanks to this super-automatic coffee machine's revolutionary Multi-Level Aroma G3 Grinder, the espresso beans retain their aroma for high-quality coffee.
The burr grinder is not only fast but quiet, a quality we found much needed for a coffee maker that you usually operate early in the morning.
The burr grinder blades are set at such an angle that they grind the oily beans while retaining maximum flavor, free of any burnt taste.
The burr grinder is also pretty easy to clean.
Pulse Extraction Process 
The Pulse Extraction Process is a patented tech that works in the same way as a pre-infusion. The P.E.P® wets the quality ground coffee with hot water after regular intervals. 
This wetting causes the grounds to swell, triggering the aroma compounds for smooth-tasting coffee flavor in every cup.
Jura S8 Milk Frother
Compared to milk frothers on other coffee machines, the Jura S8 milk frother does an excellent job. The frother connects to a milk container of your choice through a tube.
Please note that the S8 does not house a milk container, which works well since the milk will go bad – fast.
The frother produces in fine-textured foam and steamed milk as the varying coffee beverages require.
What we found rather impressive is that as you choose different coffee specialties, the frother pours milk first or after the espresso shot, as needed for the recipe.
This function is not available in all Jura coffee makers.
Get 50% Off Your First Bag Of Coffee!
This delicious, immune-boosting, healthy, low-acid, USDA organic certified is our favorite coffee. Our friends at Lifeboost offer our readers 50% off for all first time customers. So give it a try today, and see why it's our go-to!
SAVE 50% NOW
Using the Jura S8 Automatic Coffee Machine
With the innovative Jura S8 interface, you can brew up to 15 specialty drinks in less than 60 seconds with just a gentle touch, so full marks for ease of use.
Let's talk about the preprogrammed drinks first. For black coffee, you have preset one-touch brewing for espresso, ristretto, and coffee, which you can choose for a single or double shot.
For milk-based coffee beverages, you can brew caffè latte, cappuccino, espresso macchiato, flat white, and latte macchiato.
Moreover, you can also make milk foam, heat milk for hot chocolate, or heat water that you can use to make green tea.
Eight of the most common drinks are displayed on the home screen, while you can press the button on the top-right to access the rest.
All of the preset brew options are also 100% customizable.
For setting your preferences, you can press "P" on the home screen and then click on the drink of your choice.
From there, you can go to the product settings (you can also replace, delete, rename, or double up the chosen product), and choose between ten coffee strength settings based on how strong or mild you like the flavor.
You also select your choice of coffee volume and set the temperature to high, normal, or low.
For milk-based drinks like a flat white, you also get the added setting for milk (in time). If you prefer more milk, you can add a few seconds by sliding your finger over the display.
The S8 also has a mid-preparation cancel button that you can press if your cup is overflowing due to a wrong setting.
You can also operate the Jura machine through your smartphone tablet using the J.O.E. smartphone/tablet app.
The app lets you make the preset drinks or customize them just like you would through the fully automatic espresso machine touchscreen. 
Another neat feature is that you can use voice commands to use the espresso machine through the app.
You can also use the "Order" feature on the app to stack up drinks for more significant gatherings.
Press each one, and you have great coffee on the go.
Jura S8 Specifications
Article number: 15210
Color: Moonlight Silver/ Chrome
Water tank capacity: 63.6 oz. (removable)
The coffee grounds container holds 16 servings
Bean container hold capacity: 9.9 0z.
Weight: 22.1 lbs.
Stand-by power: 0 Watt
Width x Height x Depth: 11 x 13.7 x 17.5 inches
Cable length: 3.6 ft. (approx.)
Voltage/ Power: 120 V~
Human Interface Input: 4.3" Touchscreen color display
Design and materials: Amber / white cup illumination
Pulse Extraction Process (P.E.P.®) and Multi-level Aroma G3 grinder include for superior brew taste
Completely customizable one-touch function
Adjustable coffee, water, and milk spouts: Yes
Things We Didn't Like
If we are blunt, for a mid-range coffee machine, the Jura S8 is relatively expensive.
Whether or not it's worth the money purely depends on perspective. Coffee lovers who will make regular use of the espresso machine might overlook the price of this fully automatic coffee machine as it comes with extensive functions.
However, even though the S8 is reasonably easy to clean, add upkeep to what you pay.
The cleaning products, like the milk cleaning fluid and the cleaning tablets, are pretty expensive.
Another drawback that we noted is that the cup platform is not very broad, and it is pretty easy to topple bulkier mugs.
So, if you like to have your coffee in a more oversized mug, you may need to be careful.
Jura S8 Cleaning and Maintenance
Despite rather pricey cleaning products, cleaning and maintaining the S8 couldn't be easier if they tried.
We loved how we could just pop the cleaning tablet in the filler funnel, and the espresso machine cleans itself for us.
The coffee grounds container and drip tray are easy to remove and replace.
The used coffee is stored in a solid puck, so removal is not messy at all. With the intelligent filter, you won't need to descale, and you will get a reminder for when it's time to change it.
Cleaning the milk frother is just as simple.
Place the cleaning solution on one side of the small tray intended for the frother. Submerge the tube intake in the solution and place the other part of the tray under the frother nozzle.
The further will exit any milk residue.
Jura S8 Alternatives
We also researched how some other Jura coffee machines compare to the S8.
Jura E8 vs S8
| | | |
| --- | --- | --- |
| | Jura S8 | Jura E8 |
| Brew Time: | Less than 60 seconds | Less than 60 seconds |
| Coffee spout: | Height-adjustable | Height and width adjustable |
| Drink options: | 15 specialty coffees | 17 specialty coffees |
| Display: | Integrated 4.3" HR color touchscreen display that displays 8 of the 15 specialty coffees on the home page | 2.8" color display and six buttons. An intelligent display system that shows 2 to 4 of the user's preferred brews on the screen. |
| Menu settings: | Ten strength settings | Eight strength settings |
| Weight: | 22.1 lbs | 21.1 lbs |
| Price: | Check Latest Price | Check Latest Price |
Jura Z6 vs S8
| | | |
| --- | --- | --- |
| | Jura S8 | Jura Z6 |
| Coffee grounds capacity: | 16 servings | 20 servings |
| Coffee spout: | Twin spouts at the front for black coffee and a separate spout on the side for milk-based coffees | Height and width adjustable dual spouts at the front |
| Description: | The S8 is a mid-range compact model with various features of more premium products. | |
| Display: | Smart color touchscreen display which allows one-touch brewing | |
| Power saving: | 0 Watt standby power | The Z6 Save Energy mode conserves energy by turning off the espresso machine after 10 minutes of use |
| Water tank capacity: | | 81 fluid ounces |
| Weight: | 22.1 lbs | 25.4 lbs |
| Price: | Check Latest Price | Check Latest Price |
Jura S8 vs Z8
| | | |
| --- | --- | --- |
| | Jura S8 | Jura Z8 |
| Summary: | Jura S8 is relatively expensive but worth the cost when it comes to added features and functionality. The S8 is a compact, fantastic machine, reasonably easy to move around. | Z8 is not a budget-friendly option and is on the pricier side when compared to an S8. You can prepare coffee and milk simultaneously thanks to its two heating systems and two pumps. |
| Drink options: | S8 allows you 15 varying specialty coffees, including hot milk and hot water for green tea. | You can select up to 21 different specialty coffees on the touchscreen display |
| Program settings: | You can program the S8 to up to three coffee brewing temperatures for the perfect coffee. The S8 displays when to add water, fill the bean hopper, replace the smart water filter, or empty the drip tray. | Z8 actively monitors the bean hopper, indicating when it is low on supply. Additionally, it also has a maintenance status display. |
| Weight: | 22.1 lbs | 30.0 lbs |
| Price: | Check Latest Price | Check Latest Price |
FAQs
Does Jura S8 make hot coffee?
Yes, the Jura S8 does make hot coffee, that too at the touch of a button.
Out of the 15 preset specialty drinks, you can choose a coffee or 2 x coffee. Simply click the button on the touchscreen display and place the cup under the center nozzles.
The Jura S8 grinds the beans fresh for you, resulting in the best tasting coffee from a fully automatic coffee machine. You can also set the coffee strength, volume, and temperature as per your liking, thanks to easy customization options from Jura.
How do you make a Jura S8 cappuccino?
To make a Jura S8 cappuccino, place the cup under the right-hand side nozzle. You can adjust the nozzle height to suit your cup. 
Once the cup is placed, press the cappuccino option on the screen. You will see various settings displayed like coffee strength and volume along with milk. 
You can increase the milk volume by adding more seconds to the timer.
Since this is a cappuccino, high foam frothy milk will first be poured into the cup, followed by espresso. The foam sits nicely on top of the coffee, making sure it stays warm underneath.
Can Jura S8 make tea?
No, the Jura S8 cannot make tea. However, it can heat water for green tea, which is one of its 15 specialty drinks. So, if you are a green tea drinker, this machine will help you make several coffee drink variations as well as green tea.
Final Verdict
For a few consumers, the Jura S8 may be on the pricier side.
However, its compact design with various premium Jura machine features makes it worth the money.
Its ease of use, specialty drink coffee variety, simple cleaning and maintenance, and most importantly, the superior coffee taste make it a great buy if you cannot afford to go for the pricier lines from Jura.
Mark
G'day from Australia! I'm Mark, the Chief Editor of Portafilter. I'm super passionate about everything coffee related and love to spend endless hours mastering pulling the perfect shot on my Breville Barista Express.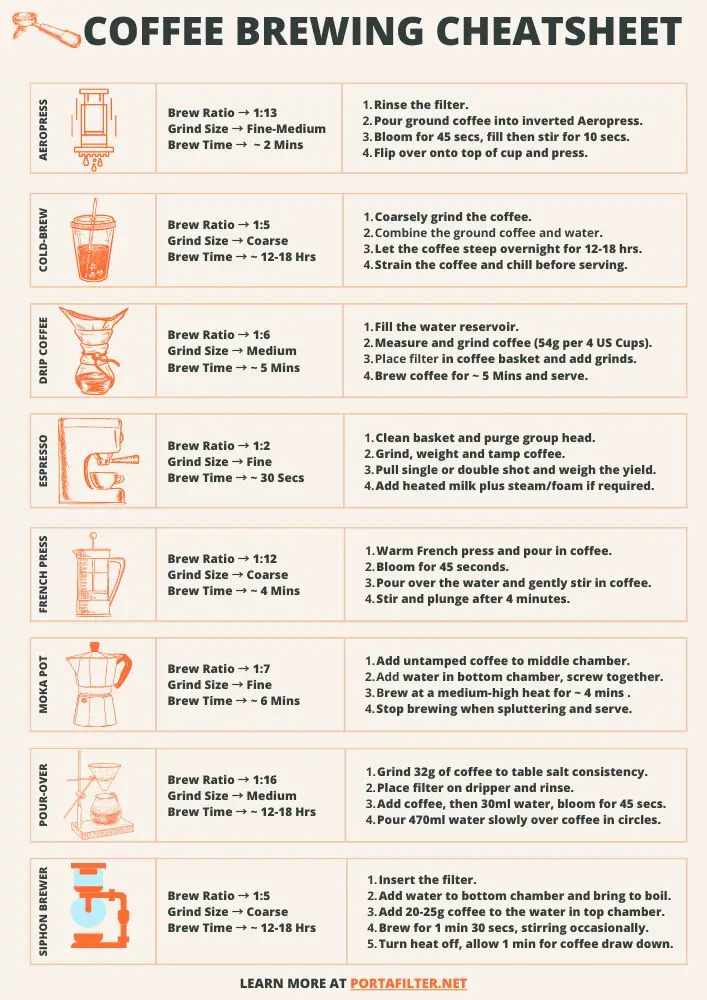 Get Our FREE Coffee Brewing Cheat Sheet
This free cheat sheet will improve your coffee brew by providing quick information on brew ratio, grind size, optimal brewing time, and more!
No spam. Unsubscribe any time.