Portafilter helps coffee lovers brew like a barista. When you use our links, we may earn an affiliate commission. Learn more.
My Top Pick
The Lelit Bianca has features that you would not expect such an affordable model to have. With this lever machine, you get accurate flow control in a dual boiler espresso machine designed especially for home baristas. It gives perfect control and temperature stability.
Pros:
Durable and excellent build quality

The rotary pump is super quiet

Dual-loop PID temperature control
Cons:
Requires regular cleaning

Takes up to 30 minutes to heat up
We earn a commission if you make a purchase, at no additional cost to you.
Choosing a "forever" coffee machine is a big leap. It is a decision that you only want to make once and is also a significant investment. So, are you looking for a coffee machine that you can rely on for churning out delicious drinks without having to run it through repairs every month?
The Lelit Bianca is a pioneer among coffee machines. Start your mornings with a delicious cup of espresso made with the affordable Lelit Bianca. It is packed with high-end features with a unique design.
At first glance, its complex design might mislead buyers into thinking that it is designed solely for professionals. However, that is not the case.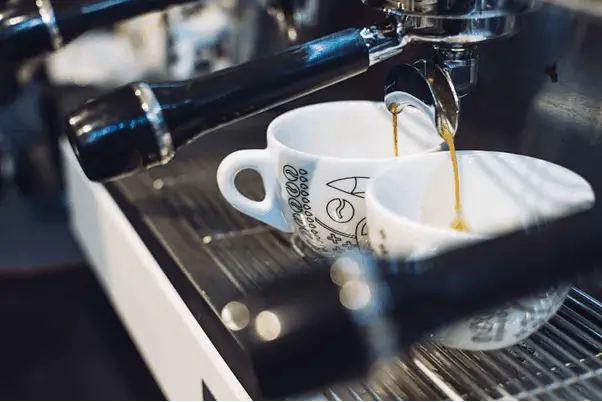 This semi-automatic espresso machine lets its users control every aspect of making coffee. Find out whether the Lelit Bianca is what you are looking for and if it will meet all your needs.
Lelit Bianca Review
Lelit is an Italian company. They make a line of coffee makers of varied designs and features. They are popular for their high-tech models made with standard components of superior quality.
This is one of their best and is the most sought-after product because of its customization options.
Design
The Lelit Bianca stands out from most coffee makers because of its eye-catching looks. It will make a statement piece in any kitchen.
It has been beautifully crafted with walnut accents and smooth curves.
The outer surface is polished with stainless steel, which accentuates the whole look of the machine. The E61 group head feature allows it to be used out-of-the-box. Lelit Bianca is, however, more than just a good-looking home espresso machine.
The machine is designed in a way that enables users to steam their milk and pull a shot simultaneously. Thanks to its dual boiler feature! Furthermore, it also has a silent rotary pump, which ensures that it does not make a lot of noise when in use.
This model comes with a repositionable 2.5L water reservoir.
Other significant features in this machine are a short-timer, a PID temperature control, the option of manually controlling water flow, and a cool-touch stainless steel steam wand.
One thing that users should keep in mind before purchasing this well-designed machine is that it is extremely heavy. It weighs almost 26 kgs. So, you might want to decide where you're going to put it before bringing it home (to avoid unnecessary shifting).
Brewing Capacity
A dual boiler espresso machine with an outstanding E61 group will give you astonishing results while brewing coffee. Users can independently control the temperature that each coffee boiler maintains.
With a wide-diameter thermosyphon pipe, your coffee machine will always make sure that your coffee is warm.
You might be thinking, that these features are present in most espresso makers. So, what makes the Lelit Bianca stand out from the crowd?
A paddle-controlled valve equips the E61 group that lets users adjust the flow of the water and the brewing pressure according to their specific needs. Not only that, but the pressure gauge also tracks the pressure on the coffee puck at all times.
Imagine getting such advanced features at such an affordable price.
Lelit Bianca is like a dream come true for coffee lovers. The brew pressure profiling style gives users the privilege of several flavors and serves as yet another extraordinary tool.
User-Friendliness
Every user will have a smooth experience with the Lelic Bianca if used properly. It is a machine that gradually adjusts to its owner's needs. It can either be operated as a semi-automatic espresso machine, or you can manually control everything as you gain more experience. 
Anyone will easily be able to master the basics.
For beginners, it will feel like using any standard semi-automatic espresso machine. As you figure out the settings and working of the machine better, it will become more convenient with time.
If you want to pull a shot, then you will have to pull the paddle all the way to the right. As you progress and enhance your skills over time, you can manually adjust the water flow control and the brewing pressure.
This model comes with a high-res LCD display manufactured by the Lelit Control Center (LCC). Users can control everything using the display. All the functions that you can execute using the display are:
Set the infusion time
Adjust steam boiler power and brew temperatures
Check dose counter
Set the standby time
The Bianca comes with two wands, both of which are (hot and steam water wands) cool-touch designs. Thus, it prevents any risk of getting a burn.
Another unique feature that this machine has is that it is facilitated with a low water alert. That makes it a lot more convenient without a doubt. All these features collectively make Bianca an amazing espresso machine.
However, some users have reported one problem. Most people are in a hurry when they are making their morning coffee. With this machine, that becomes an issue because it takes almost 25 minutes to heat up.
A quick fix to this problem is to leave it on standby to fasten the process. The machine also gives you the option of turning off the boiler to save power when they are not brewing milk-based coffee.
Shot Profiling
The Lelit Bianca has the amazing feature of letting users adjust the shot brew pressure as they pull out a shot. You can increase and decrease the level of water flow by turning the paddle.
This feature is mostly found in really expensive models. So, getting such an amazing feature at such an affordable price makes this machine draw people's attention.
Frothing Milk 
The Lelit Bianca has a pretty efficient milk frother.
The machine's milk frothing system will definitely live up to your expectations. If you're someone who uses their home espresso machine for personal consumption, then its frothing system is much more than you need at such an affordable price.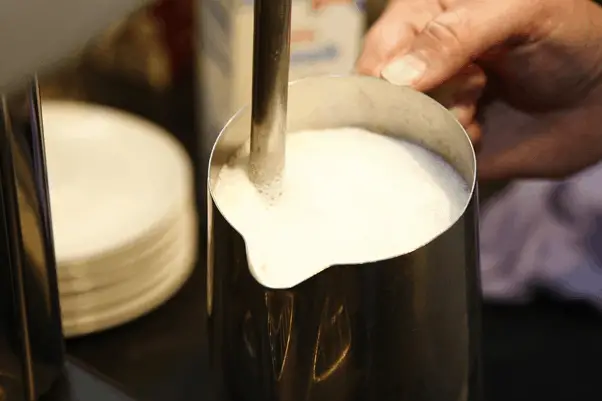 The espresso machine comes with a 1.5-liter stainless steel steam boiler.
Although it is not as much as you'd get in the expensive models, it is still more than adequate for home baristas. You can get up to 1.5 bars of steam brew pressure at the factory setting. If you need more than that, then you can increase the steam boiler power to reach up to 2 bars at the most.
In under 30 seconds, the machine can froth for two large lattes.
The Lelit Bianca package includes two steam wand tips. One of them comes with a smaller hole, and the other one comes with a larger hole. This allows users to steam at a pace, which is convenient for them, i.e., at a faster or slower rate depending on an individual's set of skills.
Build Quality 
Like every other Lelit coffee machine, Lelit Bianca has also been built with exceptional care. It is undoubtedly one of the most high-quality espresso makers. It's designed and built keeping the importance of a good structure in mind.
The smooth round corners add to the aesthetics of the machine.
Besides that, polished corners also protect users from getting hurt while using the machine in a hurry. The warm wooden accents on the feet and portafilter handle give the machine a very classy look.
The compact size of the machine is another remarkable feature.
The high weight of the machine is a sign that it is of excellent quality. It has been constructed with stainless steel boilers and other components. Even the cup warmer and the drip tray is made of stainless steel.
The wooden feet can be adjusted according to an individual's height preference and accessibility.
Thus, this feature is useful for getting a perfectly leveled machine. It is built in such a way that you can tilt the drip when you are using the plumbing kit.
The portafilter that has been installed in this model is exceptionally well-built.
Users can't help but talk about it.
Its unique design enhances the quality of the coffee and makes it more pleasurable. It does, however, make pulling the shots at once a tedious task.
Bianca also comes with a set of really helpful accessories that might perplex you initially, but you'll eventually figure out how to use each one of them. So, this machine, altogether, is one of the most loved espresso makers because of how cost-effective and multi-featured it is.
Maintenance
Cleaning and maintaining a Lelit Bianca is not a huge responsibility, but it sure requires some attention and care from its owners from time to time. If you own one of these beautiful babies, then it is suggested that you clean the steam wand and portafilter carefully after each use with your own hands.
If you use the machine on a regular basis, then it is better to give it a thorough cleaning weekly to ensure that the machine works efficiently for a long time.
Lelit itself recommends its users give Bianca a proper backflush once every month.
The best way of backflushing the machine is by using a special detergent and a proper blind filter. The blind filter forces the water back into the machine and flushes the entire system rigorously.
There is no special need for descaling the machine.
That is because Bianca comes with a proprietary cartridge that filters the water. However, if you think that your machine needs descaling after several uses, then go ahead.
Lelit Bianca is, therefore, undoubtedly one of the most affordable, easy-to-use, and easy-to-maintain home espresso machines available now. Regardless of that, if your machine has been working up for the last couple of days, then it is suggested that you consult an expert and seek advice.
Durability and Warranty
One look at the Coffee maker, and you'll be able to tell that it is going to last for years. However, machines can face issues at any point, notwithstanding how well they have been built.
Thus, it is crucial that you take proper and regular care of your machine to ensure that you do not have to invest all over again to replace this one.
Lelit is equipped in every way possible to avoid unnecessary malfunction.
In fact, the manufacturers use industry-standard parts that are easy to trace if such a need arises. They are all easily available if you ever have to replace them.
The company provides a two-year warranty allowance at the time of purchase. So, with proper maintenance, your Lelit Bianca can easily serve you delicious coffee for years.
Alternatives
So, is Lelit Bianca the best coffee maker, or are there other coffee machines you could use to achieve the same goals?
The honest answer is "Yes."
Let's take a look at some more popular alternatives.
Lelit Bianca vs Linea Mini 
Both of these machines have received tons of positive feedback from critics over the years. The Linea Mini is more suited for people who are into milk-based drinks, thanks to its larger steam boiler. Lelit Bianca on the other hand is better for enthusiasts who want to experience alternative ways of brewing.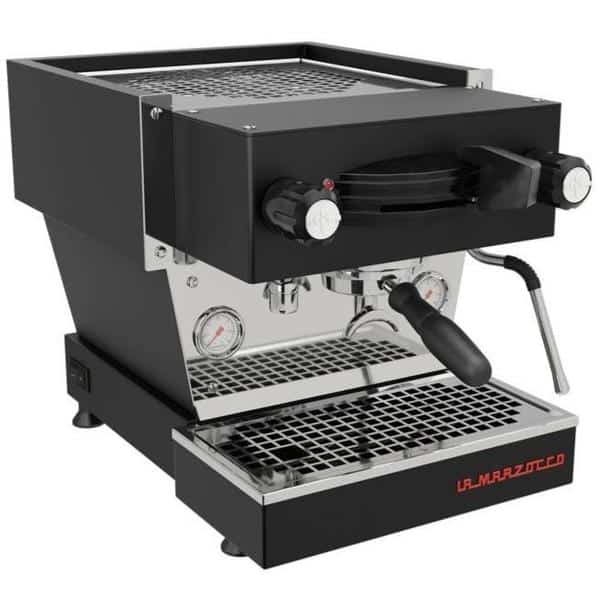 In terms of looks, Lelit Bianca takes the edge due to its walnut accent which gives it a rusty look. Feature-wise, Lelit Bianca outnumbers the Linea Mini due to its additional brew pressure gauge and one-of-a-kind profiling system.
Winner: Lelit Bianca  
Lelit Bianca vs Profitec Pro 700 
Both of these machines are semi-automatic and come with dual stainless steel boilers. They also have all the industry-leading features such as PID temperature control, Direct-connect, No-burn steam wand, E61 group heads, etc.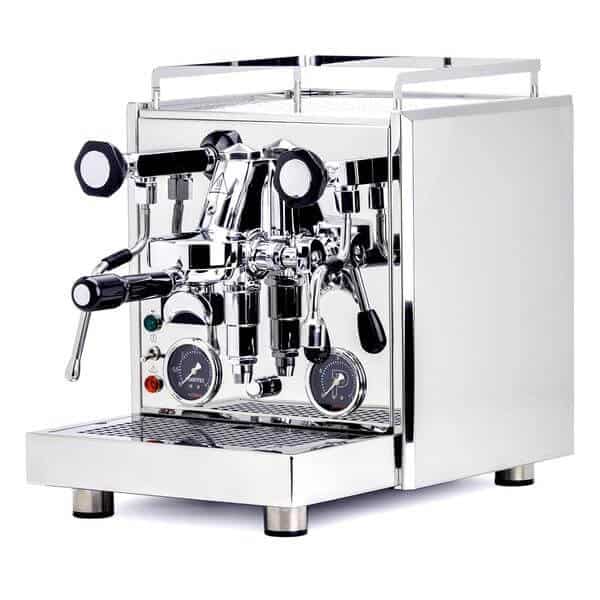 The size of the boiler is where they differ. The Profitec Pro 700 has a larger steam boiler power whereas the Lelit Bianca has a larger brew boiler. The Profitec Pro 700 also has a larger water tank which means you will be able to pull more shots of coffee at a stretch. 
Winner: Lelit Bianca (espresso-making) & Profitec Pro 700 (overall)
Lelit Bianca vs Rocket R58
Lelit Bianca comes at a lower price as compared to the Rocket R58. It also offers a greater degree of customization along with having a walnut finish.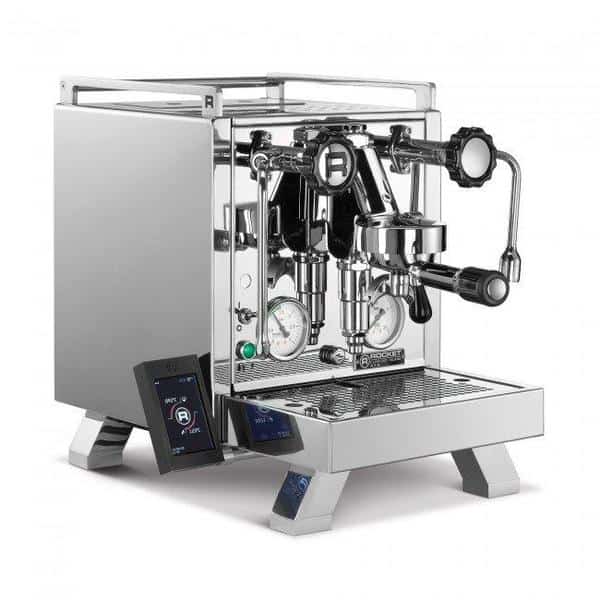 The flow control in Lelit Bianca will allow you to tailor your coffee better as per your requirements. Rocket R58 on the other hand, takes the win in terms of durability and maintenance due to its highly durable valves.
Winner: Lelit Bianca
Lelit Bianca vs ECM Synchronika
Both of these coffee machines come with PID temperature on the control and a stainless steel build. Low water sensors, shot timers, and steam pressure gauges are also common features.
The Lelit Bianca pulls ahead in terms of flow control while the ECM Synchronika has superior boiler capacity.
Winner: ECM Synchronika
Get Your FREE Coffee Brewing Cheat Sheet!
This free cheat sheet will improve your coffee brew by providing quick information on brew ratio, grind size, optimal brewing time, and more.
No spam. Unsubscribe any time.
Frequently Asked Questions
Where are Lelit espresso machines made?
All of the Lelit espresso machines are designed and made in their facilities in Italy. They implement the same techniques that are used while manufacturing bar machines, thus guaranteeing high quality without frills.
Who makes Lelit espresso machines?
Lelit espresso machines are made in Italy by Lelit. If you are looking for a long-term investment, then this is it. A well-maintained Lelit Bianca can last for as long as 25 years. If you want a coffee machine that will add to the aesthetic of your kitchen, Bianca is what you're looking for!
Who is Lelit Bianca the most useful for?
Lelit Bianca is most useful for a home barista who is keen on learning new techniques and experimenting with new flavors. If you are somebody who likes to take care of their belongings and does so every day, then this machine is a commitment that you're ready for. If you are. Otherwise, you are better off buying a normal coffee machine.
What is the optimum temperature for brewing coffee?
According to research and chemical studies, the most favorable water temperature for drip coffee is approximately 95-98 degrees Celcius. That is because colder water does not extract enough caffeine. However, brewing coffee in too hot water can increase the acidity level. So, anywhere between 95 and 98 C can help you make the best coffee.
Is Lelit Bianca worth it?
After extensive testing and analyzing tons of reviews across the web, we can confidently say that Lelit Bianca is totally worth it. It is highly versatile with its wide range of features. It can be conveniently used by pros as well as beginners.
It looks super classy on your kitchen slab and will surely catch everyone's attention who enters your kitchen.
But Lelit Bianca is more than just pretty. It gives its owners a rich experience of making and drinking coffee with its unique features like flow control, quiet rotary pump, and durability. No wonder it has received a lot of positive reviews from customers all over the world.
Among all the amazing things that the Lelit Bianca is, it is also great value-for-money.
This model backs the premium price tag by offering a boatload of features to make your life easier. Once you choose the Lelit Bianca, chances are you might never want to bring another coffee maker home!
Hi everyone, my name is Brooke and I'm a Barista and freelance writer. I love brewing coffee and my favorite coffee drink is without doubt an Americano (espresso with added hot water). When I'm not busy making or writing about coffee you'll find me hanging out at the beach with friends in California where I am currently residing. Follow me on:
Linkedin
Get Your FREE Coffee Brewing Cheat Sheet!
This free cheat sheet will improve your coffee brew by providing quick information on brew ratio, grind size, optimal brewing time, and more.
No spam. Unsubscribe any time.