As an Amazon Associate I earn from qualifying purchases. When you use our links, we may earn an affiliate commission. Learn more.
Coffee lovers will be passionate about supporting their favorite chains. As a result, both Starbucks and Coffee Bean have a strong fanbase. But how do these coffee shops stack up when compared objectively?
Should you choose Starbucks or Coffee Bean?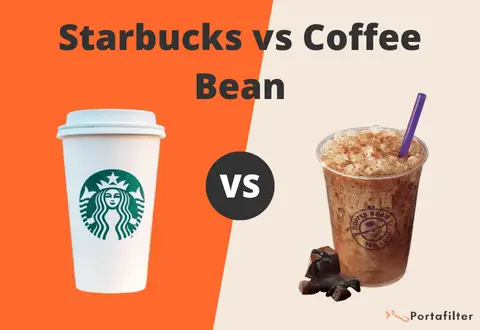 Starbucks has better coffee and is available at a broader range of locations. Starbucks also has a better rewards program, more menu options, and tends to have lower prices. Coffee Bean, though, has more healthy choices and takes more care when preparing its beans. 
Both of these chains have their strong points and weaknesses. By pitting them head-to-head, we'll be able to find out which one is right for you. Keep reading to see whether you should visit Starbucks or Coffee Bean.
Starbucks Vs. Coffee Bean: Overview
Starbucks
This company was first started in 1971 with a single location in Pike Place Market. Interestingly, the founders wanted a nautical theme for the restaurant, so they chose the green siren as their mascot. The name Starbucks comes from the classic novel Moby Dick, where Starbuck is the moral first mate.
Since its initial store, Starbucks has become one of the most well-known coffeehouses in the world. Their first non-American store was in 1996. Within years, they would enter the European market and China. Today, they have over 34,000 stores globally.
Coffee Bean
Coffee Bean was started in 1963. The founder was known for importing coffee and roasting it locally. Initially, it was based in Southern California. But it wasn't long before the brand started to expand. It moved overseas in 1996, with the first branch opening in Singapore.
Since then, it has rapidly expanded. There are currently over 1,000 stores around the world.
Starbucks Vs. Coffee Bean: Side By Side Comparison
This section will pit these coffee chains head-to-head across various categories. We'll be looking at the following:
Price
Coffee Quality
Menu
Availability
Health
Rewards Program
Coffee Flavor
Price
As we'll discuss later, these chains have many menu options. To keep things fair, we'll look at their standard coffee prices rather than any special orders. We'll also be looking at a regular size.
On the cheaper end, a tall Starbucks coffee will cost just $1.85. Usually, though, most tall-sized drinks will cost between $3 to $4. They also have a range of food items for you to purchase. Most of the bakery items will cost around $3.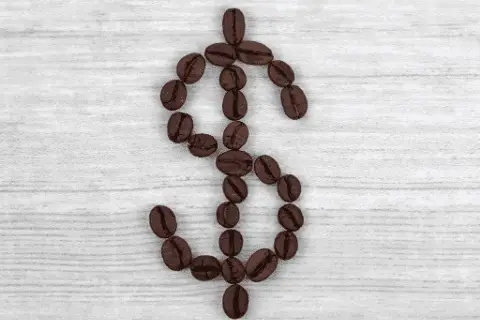 The cheapest item on the menu at Coffee Bean is $2.85. However, most of the options will cost $4.75. The Coffee Bean also has a few baked items for you that you can choose from. Most of these will cost between $2.5 to $4.
Winner: Starbucks
The drinks at Starbucks will be around $1 cheaper than those at Coffee Bean. Most of the food items will also be slightly more affordable at Starbucks. 
Coffee Quality
The quality of the beans will influence the way that the coffee tastes. Starbucks is widely known for using high-quality beans. The company prides itself on using high-quality, ethically-sourced coffee beans. This has allowed them to build a global network of coffee lovers.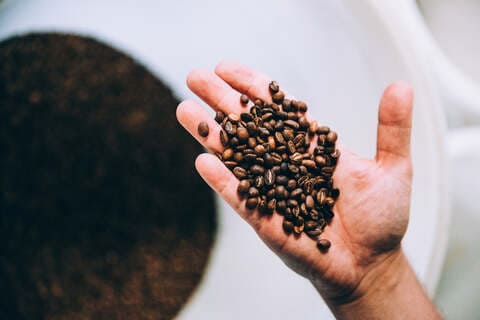 Coffee Bean is also known for its ethically-sourced coffee.
However, unlike Starbucks, they will change how they roast each batch, depending on where the beans originated. They also make a point of selecting the top one percent of beans for their Signature Range.
Winner: Coffee Bean
Their beans have been carefully selected from the top one percent Arabica beans, and the roast will vary depending on where they came from. This allows them to extract more flavor from the beans. 
Menu
Starbucks is known for its extensive menu. Here are some of the most popular items you can find at this coffee chain:
Coffee. As their main draw, they have an extensive range of coffee flavors. Each one can be customized to better suit the tastes of the customer. They have 24 types of coffee. In addition, you can order a hot chocolate or tea.
Cold drinks. Starbucks is well-known for its extensive Frappuccino, cold coffee, and cold tea range. There are over 40 varieties for you to choose from. This is on top of their soft drinks.
Breakfast items. They offer a range of sandwiches for customers to check out.
Baked items. Starbucks has several cakes and baked treats for you to try.
Lunch items. Several paninis and protein boxes are available to fill you up over lunch.
Coffee Bean also offers an extensive range of products that customers can explore. The categories they provide are:
Coffee. This is one of the biggest reasons why someone might visit this franchise. As a result, you can choose from plenty of options. They offer specialty drinks and seasonal drinks. Plus, they have a wide range of teas.
Ice Blended Drinks. You can either have straight ice blends or add additional flavoring. Some of these options can be suitable for kids. If you prefer, they provide cold brew coffee and tea.
Bakery. Coffee Bean offers a wide range of muffins, croissants, and bagels.
Breakfast. Coffee Bean offers a range of bacon and egg products for a filling breakfast.
Lunch. They have a small selection of sandwiches and wraps.
Winner: Starbucks
Though both cafes feature the same broad categories, Starbucks has a more comprehensive range of products. 
Availability
Starbucks is one of the world's most prolific coffee chains, with stores available in most parts of the world. To keep the comparison fair, let's focus on their presence in the United States.
Starbucks has 15,444 locations in the United States alone.
The number of Starbuck locations has grown substantially over the years. Because of this, anyone within the US is only 170 miles away from a Starbucks. Most Americans, though, are within a 20-mile radius of a Starbucks café.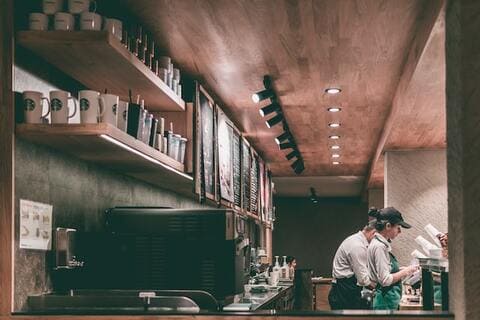 Depending on where you live, though, it might be a little harder to find a Coffee Bean. They only have 136 stores in the US, though they plan to grow that number to 500 over the coming years. There are only a few states where you can find Coffee Bean stores; these are:
California has the bulk of the stores, with 128 locations
New York and Oregon have one each
Arizona has six locations
Winner: Starbucks
This brand has a vast network that spans the whole United States and a presence in most countries worldwide. By comparison, the entire Coffee Bean franchise is less than 1/15th the size of the Starbucks presence in the US. 
Health
If you want to stick to a diet, you must consider which outlet will cater to your needs. Starbucks is known for having a high sugar content in its drinks. As a result, they don't have anything under 100 calories.
However, it will be easy to customize the order for a healthier approach. For example, you can use almond milk rather than cow's milk.
On the other hand, Coffee Bean has various options that can help you improve your health.
For example, they offer a range of Wellness Teas. These contain plenty of healthy anti-oxidants designed to naturally boost your immune system.
Furthermore, they are introducing a Lightened option to some of their most popular drinks. This changes how they are made, so you can enjoy the same flavors with less sugar and lower calories.
Winner:
Coffee Bean has a wider variety of products focused on well-being, making it easy to create a healthier order. 
Rewards Program
Both Starbucks and Coffee Bean offer a reward program. The Starbucks program gives you one point for every dollar you spend. Though if you use the app to pre-load, you'll be able to get two points.
If you want free customization to your coffee, you'll need 25 points. At 50 points, you can get a complimentary beverage. Once you reach 400 points, you can get a free piece of merchandise or a bag of coffee.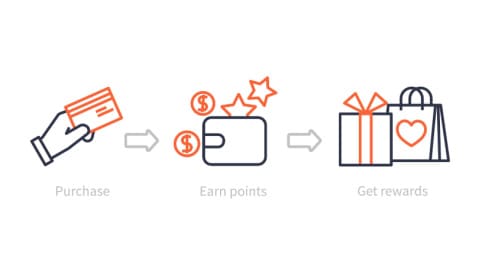 They routinely run events, like double points days, to make it easier to build your points balance. Starbucks also has games and challenges to help you get points.
On the other hand, Coffee Bean also gives you one point per dollar. The number of points it takes to get a free coffee or food item will vary depending on the number of points you can accrue. Here is how their system is structured:
Purple tier. At this level, you need 50 points to earn a free coffee.
Platinum. To achieve this tier, you'll need to get 300 points. You'll be able to get drinks at 40 points.
VIP. This is reached at 540 points. You'll need 40 points to get a free drink. Plus, a range of other prizes, like sweepstakes, is available.
Once you reach the Platinum or VIP tier, you'll need to get 240 points yearly to maintain that rank. Plus, there is a limited time to spend your points. They will expire within 30 days.
Winner: Starbucks
Starbucks offers more chances to earn points and has a broader range of items you can redeem your points. 
Coffee Flavor
Finally, one of the most critical elements is how the coffee tastes. However, this is the most challenging area to judge, as the way you prefer your coffee will be subjective. With that said, numerous people reported that Coffee Bean flavors were too weak, and the coffee tasted burnt.
However, many praise the brand. The most significant benefit is the quality of the syrup they use. According to reviews, this is significantly better than the options provided by Starbucks.
Plus, because they have less demand, the baristas can spend more time perfecting each customer's order.
Starbucks' taste can be equally divisive. Some refuse to drink the coffee, saying the brew is bitter.
Due to their enduring popularity, it's clear that these detractors are in the minority. Plus, the blend is consistently tweaked to improve the taste for customers.
Winner: Starbucks
With millions of coffees sold daily, Starbucks has generated a loyal fanbase who love the taste of their drinks. Though it's best to try each one for yourself and find which one you prefer. 
Get Your FREE Coffee Brewing Cheat Sheet!
This free cheat sheet will improve your coffee brew by providing quick information on brew ratio, grind size, optimal brewing time, and more.
No spam. Unsubscribe any time.
Final Thoughts
Ultimately, whether you prefer Starbucks or Coffee Bean is a personal choice. Some people will love the coffee and the numerous menu options offered by Starbucks.
Others are drawn to the smaller Coffee Bean chain and its healthier drink options. If you can, you should try both coffee chains before making a final decision on which is best.
Get Your FREE Coffee Brewing Cheat Sheet!
This free cheat sheet will improve your coffee brew by providing quick information on brew ratio, grind size, optimal brewing time, and more.
No spam. Unsubscribe any time.