Portafilter helps coffee lovers brew like a barista. When you use our links, we may earn an affiliate commission. Learn more.
In this article, I will share with you my review of the Breville 54mm bottomless portafilter after six months of extensive testing and use.
I originally purchased mine for occasional use to help improve my barista express skills however, as I will share in this review, I find myself using the Breville bottomless portafilter on an (almost) daily basis now!
Our Top Pick
The Breville 54mm portafilter is a must-have for any home barista looking to improve their coffee-making skills.
Watching the coffee extraction process with a naked portafilter is mesmerizing and will highlight any issues with your tamping and dosing in real-time.
Pros:
100% sandalwood portafilter handle looks great and is ergonomic too

Super helpful in diagnosing any issues with your grinding and tamping techniques

Improved coffee extraction with richer crema and enhanced coffee flavors

Includes a free portafilter basket which is really helpful because it saves you having to switch out the basket between portafilters
Cons:
If there are channels in your extracted coffee then you will experience some coffee spray during extraction

The bottomless portafilter is slightly more difficult to tamp (because it's harder to lay down on a flat surface)
Buy on Amazon
We earn a commission if you make a purchase, at no additional cost to you.
04/13/2023 01:15 pm GMT
Breville 54mm Bottomless Portafilter Review
In this article, I will share with you my thoughts after three months (and counting) of using the Breville 54mm portafilter with my Breville Barista Express machine.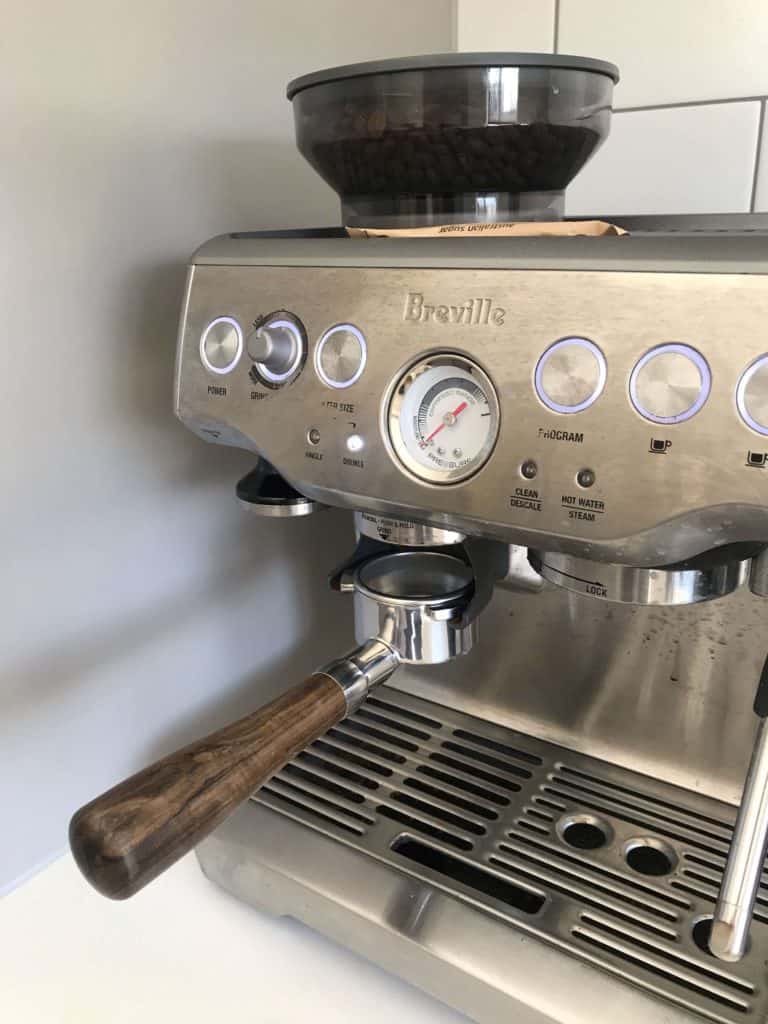 I have to be honest and say that I was both excited and nervous when I received my Breville bottomless portafilter. Why?
Because I was excited to improve my dosing and tamping skills while also a little nervous that it would expose my barista weaknesses and that I would be left feeling deflated. So much so that I actually waited almost a week before actually using it!
I'm happy to report that even from the first attempt of using the bottomless portafilter I had minimal channeling and saw an instant improvement in the richness of the crema on my espresso and also a surprisingly marked difference in the taste of the coffee (as independently verified by my wife lol).
The first thing that struck me when I received my Breville 54mm portafilter (thanks Amazon) was the sandalwood handle which not only looks stunning but is also more comfortable to handle than the standard plastic handle which came with my Breville Barista Express.
I was also pleasantly surprised to see that it included a portafilter basket as I hadn't paid attention when purchasing and wasn't expecting that. Why is this a positive? Well if you plan on alternating between using this bottomless portafilter and your spouted one it just saves you time and effort having to switch over the portafilter basket each time.
I always find it hard to judge the ACTUAL quality of a product when purchasing online and again I was impressed at the quality of this product which is built, in my opinion, to an equal or higher standard than the original Breville open portafilter.
So, what's it like to pull shots with a bottomless portafilter? After more than three months of using mine I can honestly say that I rarely use the spouted portafilter now because with the bottomless one:
The espresso tastes better (which I hadn't actually expected)
The crema is richer
It's an absolute pleasure to watch the coffee being extracted through a bottomless portafilter
It's easier and faster to clean
I have improved my barista skills and continuing to use it keeps my on my toes!
Features:
Sandalwood handle
Includes a portafilter basket
Compatible with the Breville Barista Express, Barista Touch, Barista Pro, Bambino Plus, Breville 800ESXL Duo-Temp Pro and Infuser.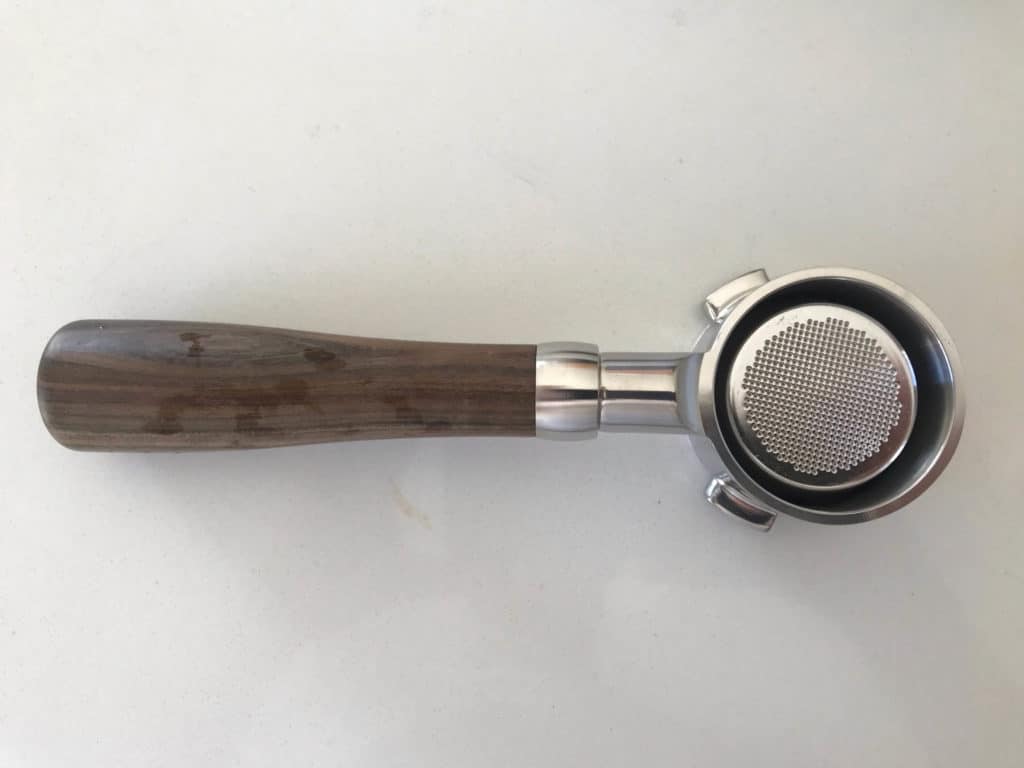 Specifications:
Wrap Up
---
Buy one! It's as simple as that. The Breville 54mm portafilter is a wonderful addition to any home baristas' equipment. I bought mine with the intention to use it occasionally however after more than 3 months of use I find myself using the Breville 870 bottomless portafilter on a daily basis for the reasons I have laid out in this review.
Get Your FREE Coffee Brewing Cheat Sheet!
This free cheat sheet will improve your coffee brew by providing quick information on brew ratio, grind size, optimal brewing time, and more.
No spam. Unsubscribe any time.