The process of removing caffeine from the coffee beans is called decaffeination. You can also use this process for some other products containing caffeine, including tea leaves and cocoa.
However, it's important to note that decaf coffee isn't wholly caffeine-free as it still has about one to two percent of the original caffeine content.
Nespresso offers its range of decaf coffee pods known as Nespresso Decaffeinato.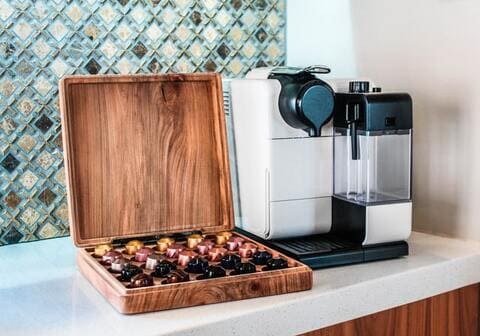 If you like to enjoy coffee without caffeine, the decaf coffee products will suit you the best. Let's discuss some of the best Nespresso decaf pods that you can use to enjoy a perfect cup of coffee.
Nespresso Decaf Pods 
Starbucks by Nespresso Dark Roast Decaf Espresso Capsules
Starbucks by Nespresso pods is our top pick because they're one of the best decaf coffee pods if you enjoy Starbucks coffee flavors from time to time.
Whether you need to fuel your late-night study sessions or want to enjoy Starbucks flavor to start your day, you can use these decaffeinato capsules at any time.
Best Nespresso Decaf Pods
This dark-roast and full-body drink feel like it's almost burnt, and if you like Starbucks coffees, this is what you would expect.
If you aren't used to the burnt and bitter Starbucks taste but like to enjoy a decaf espresso with rich flavors, you must try this decaf capsule.
These Nespresso decaffeinato capsules offer an intense taste with low acidity and a hint of caramel sweetness.
You'll start skipping your trips to coffee shops once you start brewing these decaffeinato capsules yourself.
These decaffeinato capsules work perfectly with the original Nespresso machines.
The pack of Starbucks by Nespresso Dark Roast Decaf Espresso offers 50 capsules, and each capsule allows you to brew 1.35 ounces of coffee.
All you need to do is select the ristretto or espresso brew size by popping in the Nespresso capsule.
This caramelly sweet intense coffee comes with an intensity level of 11. It offers a perfect taste with steamed milk, and you can enjoy it every day.
Specs
Number of decaffeinato capsules: 50
Intensity Level: 11
Source of Coffee: Asian Pacific and Latin America
Perfect for original line Nespresso machines including Creatista, KitchenAid, Lattissima, Expert, CitiZ, Pixie, and Essenza Mini.
Nespresso Decaf Espresso Pods
Lavazza Decaffeinato Dark Roast Capsule – Ricco Espresso
If you're a Lavazza coffee lover and want to understand what authentic espresso tastes like, we recommend trying real Italian coffee.
One of the optimal ways to achieve that is to use Lavazza Decaffeinato Dark Roast capsules. The company Lavazza takes pride in the quality of its coffee and bean products.
Budget Pick
The abundant crema and delicious flavor are the most notable qualities of these coffee capsules.
This product allows you to make smokey, nutty, and smooth espresso with some notes of caramel with an outstanding crema.
These capsules are among the best Nespresso decaffeinato capsules available in the market.
So, if you're searching for a product that can make coffee with rich and sweet flavor and aromatic fruity and cereal notes, look no further than these velvety decaffeinated dark roast pods.
During our test, we noticed that the intensity of these Nespresso decaffeinato capsules is a bit higher than what's mentioned on the product.
However, if you're someone who likes coffee with higher intensity, you'll love these pods.
One Lavazza decaffeinated coffee blend package allows you to make 60 coffee cups in total.
Remember that you can only brew these pods with the original line Nespresso machines.
Specs
Number of decaffeinato capsules: 60
Intensity Level: 6
Source of Coffee: Southeast Asia and Brazil (roasted and blended in Italy)
You'll need to use Nespresso's original line machines for brewing.
Get 50% Off Your First Bag Of Coffee!
This delicious, immune-boosting, healthy, low-acid, USDA organic certified is our favorite coffee. Our friends at Lifeboost offer our readers 50% off for all first time customers. So give it a try today, and see why it's our go-to!
SAVE 50% NOW
Nespresso Vertuo Decaf Pods
Nespresso VertuoLine Altissio Decaffeinato Espresso Dark Roast
This smooth decaffeinated coffee with an aromatic profile offers a rich flavor with cereal notes.
You can also add milk if you want to enjoy the hints of fresh nuts and a balance of flavors. The Nespresso VertuoLine Altissio Decaffeinato Espresso Dark Roast is created from Latin American and Costa Rican arabicas.
Best Nespresso Vertuo Decaf Pods
These VertuoLine coffee capsules offer a medium roast Nespresso blend with an intensity level of 9.
The package includes 50 pods, and each pod allows you to brew 1.35 ounces of tasty and flavorful coffee.
One of the best features of this product is that the used aluminum pods are 100 percent recyclable, which protects the environment. The pods also guarantee the freshness of coffee to have the best experience with every cup.
From Alto XL to espresso, Nespresso Vertuo offers a full range of coffee styles and cup sizes with Nespresso pods.
Remember that these VertuoLine capsules are Vertuo only, and you can't use them with any other original line machines.
Specs
Number of decaffeinato capsules: 50
Intensity Level: 9
Vertuo Only: Not compatible with Nespresso original line machines.
Source of Coffee: Latin American and Costa Rican Arabicas
FAQs
Are There Any Decaf Nespresso Pods?
Nespresso offers its own line of decaf blends including Intenso, Vivalto Lungo, Volluto Decaffeinato, and Arpreggio. All these blends come with different tastes and intensity levels. They offer similar colors to the original blends, including red, blue, gold, and purple.
Is Nespresso Decaf Really Decaf?
Nespresso removes caffeine content by using the decaffeination process. The level of caffeine in the decaffeinated coffees that Nespresso offers follows all the legal limits. But still, there are always some amounts of caffeine left (two to six milligrams per coffee cup). That's why decaffeinated coffees are never 100 percent caffeine-free.
How Can You Tell If a Nespresso Pod Is Decaf?
The decaffeinated boxes of the Nespresso pods always have "Decaffeinato" or "Decaffeinated" mentioned on them. So, the best way to make sure whether the coffee is decaffeinated or not is to look for these labels.
The Bottom Line
If you like coffee bitter and bold with Starbucks' smoky and burnt flavors, you should go with the Starbucks by Nespresso Dark Roast Decaf Espresso Capsules.
But if you want a medium roast Nespresso blend, the Nespresso VertuoLine Altissio Decaffeinato Espresso Dark Roast is the best option.
Lastly, if you're going to experience the authentic taste of Italian espresso, the Lavazza Decaffeinato Dark Roast Capsule Ricco Espresso will suit you the best.
Brooke Davis
Hi everyone, my name is Brooke and I'm a Barista and freelance writer. I love brewing coffee and my favorite coffee drink is without doubt an Americano (espresso with added hot water). When I'm not busy making or writing about coffee you'll find me hanging out at the beach with friends in California where I am currently residing.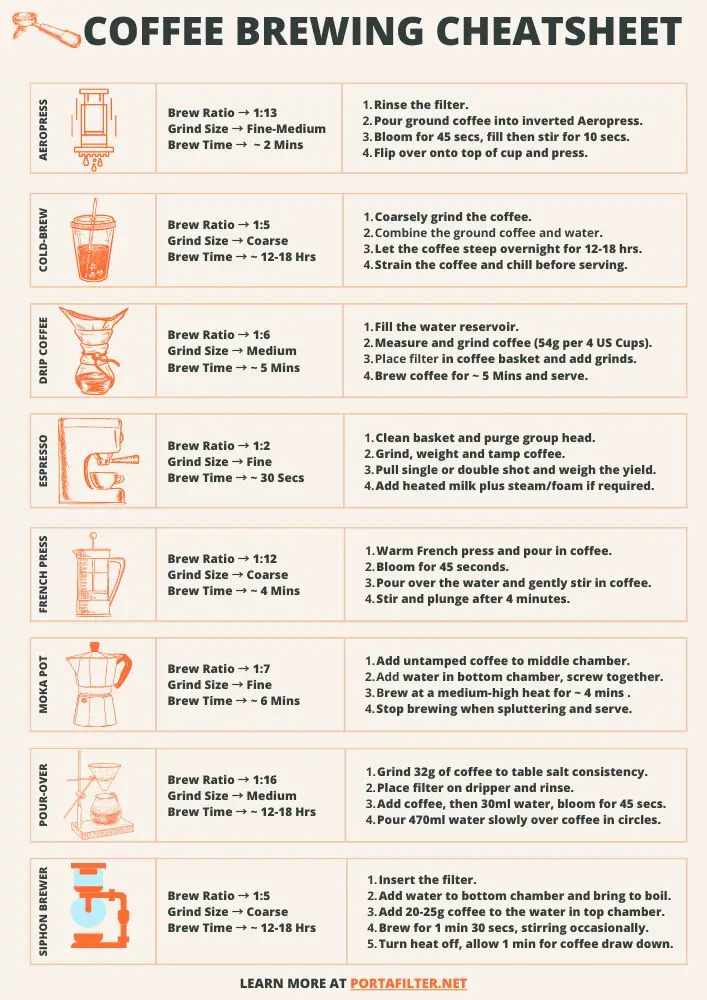 Get Our FREE Coffee Brewing Cheat Sheet
This free cheat sheet will improve your coffee brew by providing quick information on brew ratio, grind size, optimal brewing time, and more!
No spam. Unsubscribe any time.