Portafilter helps coffee lovers brew like a barista. When you use our links, we may earn an affiliate commission. Learn more.
Are you looking for an advanced barista course that grants accreditation? This is what you need to be ready to work in the coffee industry.
Or maybe you are a coffee enthusiast that just wants to learn a few basic skills. In either case, there is a barista school in Perth that has the training courses to suit you.
Free Barista Course Perth – The Web Grind
If you are looking for free barista courses in Perth, look no further than The Web Grind. This cafe offers a barista course online. This package of web training has five parts and covers all of the basics that you would find in an advanced barista course.
The Web Grind's online lessons have proved to be a trendy alternative to going to school.
There is no upfront payment and five great lessons that teach you how to use and clean a coffee machine, make designer coffee drinks and create latte art.
Whether you are looking for a job in the hospitality industry or are simply a coffee enthusiast, these five online courses will teach you basic coffee skills and food safety.
The best thing of all is you can watch these training courses on your cell phone or computer, whenever you want on your own time. The only drawback is that the best coffee-making courses in Perth offer hands-on experience.
The Australian Barista School is an acclaimed barista course in Perth that offers professional training. Its focus is on turning coffee connoisseurs into top-notch job-ready baristas.
This training course is recognized by the hospitality industry and the Australian government as the place to become an advanced barista.
However, just because it is well known for turning almost everyone who attends into coffee pros doesn't mean that the average coffee connoisseur can't participate. Some people attend espresso classes just to meet other people who love coffee.
Corporate workshops are also popular at the Australian Barista school, as they offer a way for employees to bond with each other. It also means that everybody gets to drink a better cup of coffee at work.
The course is designed for people of all skill levels. The learning starts from scratch, teaching students how to turn on and use the espresso machines, froth coffee drinks, and serve espresso coffee to customers or guests.
Get Your FREE Coffee Brewing Cheat Sheet!
This free cheat sheet will improve your coffee brew by providing quick information on brew ratio, grind size, optimal brewing time, and more.
No spam. Unsubscribe any time.
The Yahava Koffee Academy is a popular place in Perth to take barista courses for people at all skill levels. They offer 3 hours of introduction course for beginners on how to choose beans, steam milk, and make the top 5 coffees.
This barista school also offers a 2.5-hour variation of their standard coffee course called the barista induction course for students. This is so that teens(14 years and older) can prepare themselves for a summer job working in a cafe.
The advanced barista course is for everyone, including espresso lovers, the home barista, and the cafe owner who wants to learn the latest tricks for making espresso coffee and latte art.
The Yahava Koffee Academy hires only very experienced trainers for all courses taught here. Their teachers have significant knowledge about the quality of different coffee beans and brewing methods.
An unusual barista school in Perth is Barista School Perth which states very adamantly that it is not a believer in issuing certificates from the government and that it is hands-on training that makes the best baristas.
These barista trainers believe modern training is out of touch with the times.
However, they promise that the ATWORK Australia ESG Employment group recommends their training and is very much in demand at local hospital cafeterias and coffee shops.
The barista training at Barista School Perth is very cutting-edge and prides itself on running exciting and entertaining courses. Many coffee lovers enroll just to socialize with experienced baristas and meet fellow coffee lovers.
Learning coffee fundamentals is fun at Barista School Perth because it is part of a community of professionals who always offer tips to each other.
You will learn the basics, but you also get a taste of the latest and greatest coffee-making techniques.
Barista Course TAFE WA
In Western Australia, you can take a barista course at TAFE WA online or in person.
Aside from the 3-hour barista classes, TAFE offers training in hygiene, food safety, and food service courses that look good on the resume of anyone applying to be a professional server.
Certificates that can be acquired for free at TAFE include Hospitality, Kitchen Operations, Front of House, Operations, and Food and Beverage.
You will also learn to process cash and other payments using the latest business technology.
Home studies are also part of these free courses, so you may find yourself watching the online courses from Web Grind, which TAFE has adopted.
This series of five lessons show you how to turn on, use and clean an espresso machine, and create specialty drinks and latte art.
FAQS
How Do I Become A Barista in WA?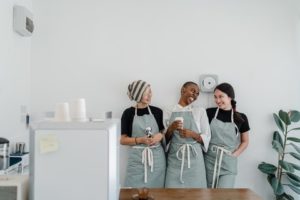 Becoming a barista in Western Australia is as simple as taking an advanced barista course at a facility like TAFE or their immersive training at Jessie's Cafe. Most barista courses offering a certificate take about 5 hours to complete (roughly half of a day.)
Taking a course in barista basics is recommended if you want to keep picking up part-time jobs in demand. Some cafes in Perth are willing to hire a worker without experience, as long as you are a coffee enthusiast and don't mind learning the aspiring barista coffee fundamentals.
Summary
A couple of factors could influence what kind of barista training is best for you. For instance, if you want that barista certification so you are job-ready after a class, then it is recommended that you attend TAFE, the Yahava Koffee Academy, or The Australian Barista school.
If the certification does not mean that much to you and you just want to meet other people who love espresso, you will enjoy Barista School Perth's off-beat atmosphere.
On the other hand, if you are more comfortable learning by yourself at home, the 5-lesson video course offered by Web Grind is a fantastic choice.
Get Your FREE Coffee Brewing Cheat Sheet!
This free cheat sheet will improve your coffee brew by providing quick information on brew ratio, grind size, optimal brewing time, and more.
No spam. Unsubscribe any time.