Portafilter helps coffee lovers brew like a barista. When you use our links, we may earn an affiliate commission. Learn more.
Whether you want to make your coffee look more aesthetic for the gram or make some money with your coffee-making skills, having barista training will always add some additional weight to your resume.
With over 400 million coffee drinkers daily in the USA, several people have shown interest in barista classes over the last few years.
Making the perfect coffee is an art, and you can master it with the correct training. So, here is a list of the five best barista training courses in Houston that will help you make coffee like a pro.
Coffee Barista Training Houston
1. Texas Coffee School
If you are chalking plans to open a new coffee business or want to enhance your coffee-making skills, then the Texas Coffee School training classes are what you need right now.
They provide a 3-day Coffee business master class for people who are new to the business.
This master class does not require you to have any prior training or skills. Not only that, this organization claims that the training is so effective that you will not need any other barista classes from anywhere else.
This Master Class includes:
Hands-on coffee training
Training on how to efficiently use advanced espresso machine and coffee brewing equipment
How to brew the popular coffee house drinks in the best way possible
Real coffee business owners and industry experts give specialized training about the coffee business to ensure that your business is a huge success
They emphasize teaching how to manage the businesses and maximize efficiency
They also provide relevant class notes and essential study material like latest equipment sourcing guides, recipe books, popular coffee designs, etc.
This detailed masterclass is undoubtedly one of the best and most helpful in all of Houston.
Over the last decade, Texas Coffee School barista trainers have also helped many people open up their coffee businesses successfully. They have a limited number of seats. So, wait no more and contact them to join the barista classes as soon as possible.
2. Tenfold Coffee Company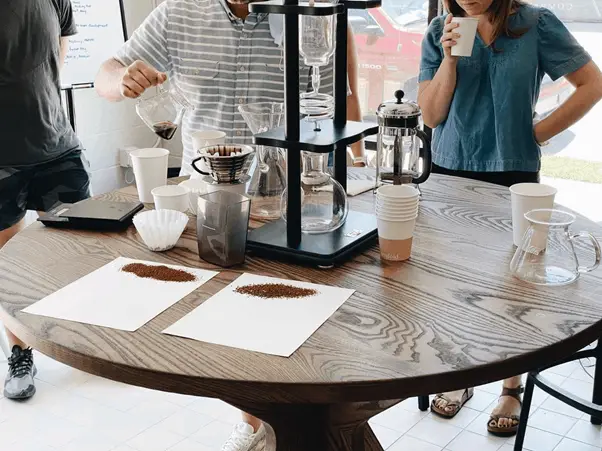 Tenfold Coffee Company has specially crafted educational and training classes for coffee makers to ensure a rich experience. Their curriculum includes:
Espresso extraction
Texturing milk and latte art
How to make the perfect filter coffee and tea
Developing a coffee palate
Proper communication skills
The dynamics of cold brewing
They also have a dedicated lab where they offer barista classes every Saturday. Guests can also attend free sessions if they register in advance through their portal. Reach them today by writing at [email protected] and get the best coffee brewing lessons.
3. Geva Coffee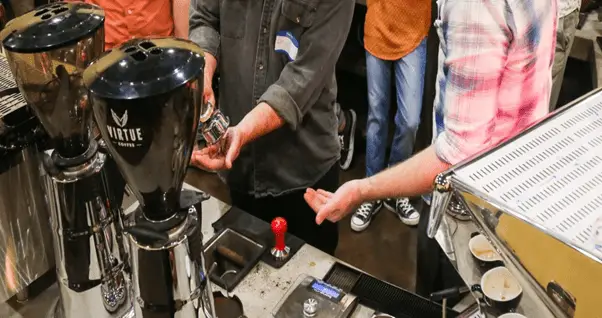 Learn all about brewing the best coffee from Geva Coffee training sessions. They teach everything starting from the fundamentals up to the advanced techniques used in brewing and roasting.
So, even if you have never touched an espresso machine before, you can still become a pro coffee brewer after attending their barista classes.
They provide beginner-friendly courses that include steaming milk, tamping and pulling espresso shots, texturing milk, all about the components of espresso machines, and how to take proper care of the espresso machine.
Besides that, they also introduce you to advanced courses like troubleshooting, environmental impact, common mistakes made while pulling shots, palate training, texture ratios, and different latte art pours (hanging heart, tulips, rosetta, etc).
Their barista training class can accommodate up to 6 people at once and is designed to be short and concise.
As a result, you can learn all there is to know about brewing coffee the right way in less than a week at really affordable prices.
Furthermore, they also provide a custom barista course Houston residents can tailor as per their requirements. Contact one of the barista trainers at 281-999-9929 at the earliest to get started!
4. Greenway Coffee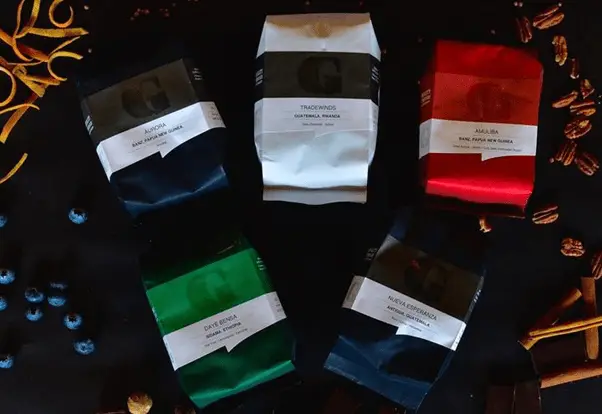 Greenway Coffee strives to provide the highest quality coffee to its customers every day. As a result, they make sure that their customers receive the most comprehensive training possible.
Whether you're a complete beginner or have some prior experience and training, these training classes will be fruitful for you.
Greenway Coffee teaches everything from beginner-friendly classes to sophisticated sessions. Contact them to take part in their barista classes and learn how to make coffee in a matter of weeks.
5. Blacksmith
Blacksmith's John Letoto gives a comprehensive barista training workshop. Letoto goes into the depth of the process of making coffee and teaches his students all the techniques in detail and imparts useful knowledge.
He covers all the four fundamental aspects of making coffee – roasting, brewing, espresso, and latte art.
Each class is kept for 20 students. The barista classes are affordable, long, and detail-oriented. He blends lectures and practicals in every class to provide students with hands-on coffee education.
According to Letoto, the most important piece of the latest equipment is not the espresso machine. He quotes, " A good grinder is always going to be the most important piece of equipment."
Register yourself for his barista classes before someone else takes your place!
FAQ's
How much does a barista training cost?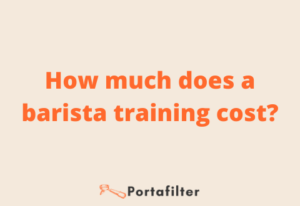 The first question that pops up in any rational person's head before taking up barista training classes is "How much do they cost?" On average, it costs around $200 to $800 for a 3-7 day class, depending on the needs of the students and the location.
The higher the level of skill you need to acquire, the more the price. 
What qualifications do I need to be a barista?
For starting your journey as a barista, you only need a high school degree or an equivalent. Some prior experience or knowledge about food is also appreciated. As for the enrolment, there is no minimum age limit on taking up a comprehensive barista training workshop.
However, it is suggested that participants should be at least 14 years old unless they are accompanied by a supervising guardian. This is to ensure a child-safe environment and to avoid the violation of certain rules and regulations. 
Get Your FREE Coffee Brewing Cheat Sheet!
This free cheat sheet will improve your coffee brew by providing quick information on brew ratio, grind size, optimal brewing time, and more.
No spam. Unsubscribe any time.
Wrap Up
So, with myriads of people thinking about taking up a fascinating job like that of a barista, there is a lot of competition in the world at the present moment.
To sum it all, taking up barista training can keep you ahead in the game.
A few years down the line, when you're succeeding at your job, you'll be proud of the decision that your younger self made.
All the barista trainers mentioned above are top-notch and well worth the time and financial investment!
Hi everyone, my name is Brooke and I'm a Barista and freelance writer. I love brewing coffee and my favorite coffee drink is without doubt an Americano (espresso with added hot water). When I'm not busy making or writing about coffee you'll find me hanging out at the beach with friends in California where I am currently residing. Follow me on:
Linkedin
Get Your FREE Coffee Brewing Cheat Sheet!
This free cheat sheet will improve your coffee brew by providing quick information on brew ratio, grind size, optimal brewing time, and more.
No spam. Unsubscribe any time.