Portafilter helps coffee lovers brew like a barista. When you use our links, we may earn an affiliate commission. Learn more.
Have you ever wondered what Starbucks barista employees make a month? For many years, Starbucks barista jobs paid minimum wage. The lowest Starbucks barista job pay is in Georgia and Wyoming at $7.25 US, and the highest is in Washington at $13.50 US hourly. 
However, in the fall of 2021, the famous coffee company realized that it was having problems attracting job seekers due to labor shortages.
Their answer was to raise their hourly pay to between $15.00 US and $17.00 US an hour, above the national average in most American states.
How Much Does A Starbucks Barista Make A Month?
Given that Starbucks offers its employees great benefits and, in some situations, additional compensation and perks if you are a college student, working as a Starbucks barista is no longer just a temporary low-paying gig.
Coffee service has been seen as a well-paying career choice in recent years, as the average Starbucks barista makes around $2000 a month.
How Much Does A Starbucks Barista Earn?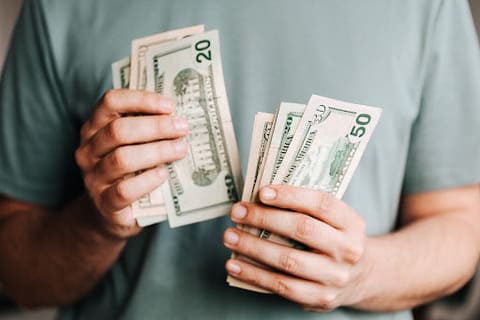 How much you can earn as a Starbucks barista is going to depend on several factors, including what country, state, or province you are in, how severe the labor shortage is in the area, and how many years of experience you have working as a Starbucks barista at another location.
If you have lots of Starbucks experience, don't be surprised if you are offered a job as a new manager.
One of the best ways to find out how much a Starbucks barista earns in your area is to visit your nearest outlet and ask the store manager what the pay is, as Starbucks salaries vary from city to city.
How Much Do Starbucks Barista Jobs Pay in The US?
According to a Starbucks salary report published on Indeed, the average total pay for a barista is $13.23 per hour. However, newcomers to the Starbucks fold in the United States and Canada may make much more in the summer of 2022.
Starbucks announced in USA Today on Wednesday, October 27th, 2021, that they were facing a labor shortage and that they were going to raise the pay for baristas to at least $15.00 an hour, and that by the summer of 2022, they were going to raise the barista hourly pay to $17.00.
What Are Starbucks Baristas' Salaries in Canada?
According to Glass Door, a Starbucks barista job in Canada pays an annual salary of $29,290 a year. Senior baristas paid an average of $30,0229. The company's lead baristas are paid an average salary of $36,983. New baristas generally start at an hourly pay of $15, which is the minimum wage in Ontario.
What Does The Average Starbucks Pay in London, England?
The average pay for Starbucks barista employees in London, England, is a bit lower than in the US. According to Food News UK, the average Starbucks barista makes £8.85, which is 11.35 per hour in US dollars.
There are many perks to working at a UK Starbucks, including 25 annual days leave, a cycle to work program, and a 30% discount on Starbucks drinks and merchandise.
What Does A Barista Make in The Switzerland Area?
Starbucks salaries for baristas in Switzerland are highest at CHF 22.00 an hour. That hourly pay is equivalent to $23.00 US.
According to GlassDoor, Starbucks employees in the Switzerland area get an hour of paid vacation time for every ten hours worked, full college tuition, and a share in Starbucks stocks.
What is The Barista Monthly Pay in The Philippines?
Some of the lowest-paid baristas globally are found in the Philippines.
The average Starbucks monthly pay is Php 11,705, 14% below the national average barista pay. Employees get a free meal every shift, whether they work part-time or full-time. Starbucks employees noted that in the Philippines, there was less flexibility with shift scheduling, long shifts on your feet, and few breaks.
Get Your FREE Coffee Brewing Cheat Sheet!
This free cheat sheet will improve your coffee brew by providing quick information on brew ratio, grind size, optimal brewing time, and more.
No spam. Unsubscribe any time.
Are Starbucks Baristas Allowed Tips?
Some Starbuck locations believe that the barista hourly wage should be enough for their employees and discourage any tipping. Those who allow tipping usually have a little plastic box by the cash, where appreciative customers drop a few coins.
Starbucks baristas usually split any tips with each other. There is no option to tip the Starbucks barista on their pin pads for debit or credit payments, and individual baristas are not allowed to accept tips or a gift.
What Do Other Positions at Starbucks Pay?
If you want to make more money than the average Starbucks barista, you can also apply to be a shift manager, supervisor, or general manager.
According to CareerBliss, this is what other Starbucks positions pay:
A Starbucks shift manager can start at $15.93 an hour.
A Starbucks supervisor makes $16.23 an hour.
A Starbucks general manager makes $18.32 an hour.
The great thing about Starbucks is that they always allow their employees to move up internally inside of the company so that they can make a higher amount per hour.
What Kind of Perks Can US Starbucks Employees Expect?
According to Starbucks salaries posted at Indeed, US Starbucks employees can expect financial perks such as an employee discount and a stock purchase plan.
They also offer tuition reimbursement for college student employees, paid time off, and a retirement plan investment. US Starbucks baristas also get a 30% discount on drinks.
Do Starbucks Employees Get Health Benefits?
Starbucks employees rated the company highly on Indeed when it comes to benefits. In the United States and Canada, health insurance, dental coverage, vision coverage, disability insurance, and life insurance were all offered along with the barista's hourly wage. 
Similar benefits were also offered in other countries like the United Kingdom, Switzerland, and the Philippines. Almost all Starbucks baristas in all countries are offered some kind of job security, a plan for advancement, and the option to participate in various company programs.
How Do Job Seekers Find A Starbucks Barista Job?
The easiest way to find a job as a Starbucks barista is to get online and go to a job website. Indeed, Glass Door and other job sites can help you find out the average Starbucks salary range in your area and if any barista positions are available.
Starbucks has a mass staff shortage right now, so it should be easy to get a job. So many franchises are desperate for Starbucks employees that they are now posting help wanted signs on their front windows and doors.
Also, be sure to scan for present job advertisements the next time you have a coffee at your nearest location because job openings are sometimes posted on bulletin boards.
Read next: Dutch Bros Vs Starbucks
The great thing for new workers is that no previous experience is required. Instead, they will thoroughly train you to be a Starbucks barista.
Can I Work at Starbucks for A Month?
You might be wondering if you could get a job as a Starbucks barista for one month to make quick cash. The answer is yes, but you might find yourself without scheduled shifts for those thirty days because completing your barista training might take as long as a month.
You will also find yourself without any of the great benefits accompanying Starbucks barista salaries.
Also, it is not a good idea to lie to any employer about how long you plan to work for them, as there is always the possibility that you will lose that last paycheck.
If they guess that you are just there to make a bit of cash and then leave, the shift supervisor might retaliate by not putting you on the schedule for shifts or limiting the number of shifts you work.
The Final Answer – Is Starbucks Barista Pay Worth it?
The answer as to whether or not it is worth it to work as a Starbucks barista is an absolute yes, especially if you are younger and are planning to work in Canada and the United States. The days of paying minimum wage for Starbucks barista employers are long over.
Labor shortages have raised the salary for the average Starbucks barista, with some new applicants being offered $17.00 US or more to take a position.
However, working as a Starbucks barista is worth your time because of the many benefits and advancement opportunities.
Except in the Philippines area, where the shift can last as long as twelve hours, Starbucks baristas elsewhere have very positive things to say about paid vacation days and working a very flexible schedule.
Get Your FREE Coffee Brewing Cheat Sheet!
This free cheat sheet will improve your coffee brew by providing quick information on brew ratio, grind size, optimal brewing time, and more.
No spam. Unsubscribe any time.