Portafilter helps coffee lovers brew like a barista. When you use our links, we may earn an affiliate commission. Learn more.
Los Angeles is a city of non-stop action, where most people are aspiring to become something. A city where people are passing through and always heading somewhere.
There is no time to sit down in the morning to chat over a long leisurely breakfast, but at the same time, L.A. has one of the most exciting coffee scenes in the country.
In the last couple of years, coffee shops in Los Angeles are blooming, with homegrown coffee companies developing quality chains all around the city.
But we also have the little coffee shops that roast their own coffee beans and offer an alternative space if you want to go undercover and be less mainstream.
We've created this great list of the 20 best coffee shops in L.A. The order will be descendant, leaving the suspense of those we consider the best for last.
If you're in the area and want to know where the best service coffee shops are in L.A., look no further!
Located in the heart of downtown Culver City, Santa Monica, and Manhattan Beach, it is one block away from the Citizen Public Market, where you can enjoy a variety of food stalls and offers for the palate.
Goodboybob has a great relationship with international producers and importers, and this is why you can find coffee beans from all over the world, one more sophisticated than the other.
The attention of the Los Angeles baristas is exceptional, and it shows that they are true coffee lovers, regardless of whether you're into hot steaming cups of coffee or an ice-cold brew.
They have a cozy terrace and great decor that's enticing. They make their own almond milk and are famous for their chapatis (flatbreads), proclaimed by some to be the best in the district.
19. Caffe Luxxe – Best for drip coffee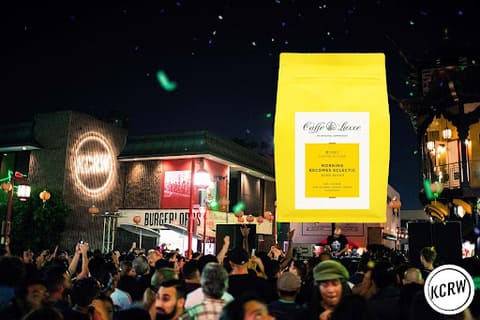 Mark Wain and Gary Chau are friends who share their passion for great coffee. These friends and business partners started the Luxxe coffee project in Santa Monica.
They've been in business since 2006 and have won a considerable number of awards.
They now have several locations in L.A., preserving the atmosphere of a local neighborhood family coffee roaster. You can't leave without trying their drip coffee, lattes, and their famous Caffe Nico.
Get Your FREE Coffee Brewing Cheat Sheet!
This free cheat sheet will improve your coffee brew by providing quick information on brew ratio, grind size, optimal brewing time, and more.
No spam. Unsubscribe any time.
If you want to try the experience of drinking authentic Colombian coffee, this is the right place.
The Boy & The Bear started in Villavicencio, Colombia, and they are rocking it now in Culver City. Andres Piñeros is its founder, and the goal has always been to serve only Colombian coffee. 
The decoration has magnificent contrasts.
They combine gray tones with abundant green, thanks to the plants placed around the space. The aroma and music are chill and cozy, making the wait easier while they prepare one of the best cold brew coffees.
This coffee shop is a family business focused on serving the community.
They create an atmosphere where people can drink, eat, read, laugh, and mingle. Maurice Harris, a local artist, and the founder, is in charge of the decor, which appeals to all the senses.
Locals consider it one of the most beautiful coffee shops in the city. So even if you are not a fan of coffee shops, it is worth visiting for its setup.
However, style is not the only strong point.
Bloom and Plume have amazing lattes with floral aromas. Their avocado toast and lavender latte are rated as one of the best in the city. The secret: they sweeten their drinks with a lavender syrup that drives everyone crazy.
Don't forget to try out their food as well!
Forget about the basic french toast. They have an incredible variety here, including their winner, the almond butter banana toast.
16. Tierra Mía – Best for Latin coffee
Founded in 2008 by Ulises Romero, Tierra Mía has taken over the southern area of Los Angeles. It has eight branches from Highland Park to Long Beach.
Known for its Latin American flavors, it's the only place where you can find a churro muffin, horchata frappes, lattes, or a Cafecito Cubano. 
Their food is also good, and we strongly recommend the breakfast burritos. Its mission is to provide the highest quality Latin-inspired coffee and pastries to its clients.
Eightfold boasts a minimalist design. It's super clean and serves fantastic coffee. It's located on Sunset Blvd. between Silver Lake and Downtown LA.
This coffee shop is unique because it has a Japanese influence, and it shows. They maximize the space and make the atmosphere comfortable and pleasant. 
Their menu has several products with matcha and chia, and they stand out for their cold brew with maple syrup and oat milk.
They also have a naughty Spanish Latte with sweetened condensed milk for all sugar lovers.
14. Urth Caffe – Best for espresso
Urth Caffe is like the granddaddy of all the other cafes that came after.
It has been in business since 1989 and is one of the first to offer organically grown, heirloom coffee.
Inspired by the European coffee shops, Urth Caffe was not only the first to serve a high-quality coffee but also a sustainable cuisine, promoting local ingredients on their menu. They cover all needs for a healthy lifestyle, from vegan food and gluten-free to dishes full of calories and flavor.
Even with a well-known reputation, they are always offering something new.
Try any dish from the extensive menu; everything there is delicious. Order the famous espresso drink, the Rude Awakening, if you need some caffeine for the day.
13. Maru Coffee – Best for pour-overs
Joonmo Kim and Jacob Park are the Korean-Americans responsible for creating Maru Caffe.
The name comes from the Korean word, "san mar ru," which means "mountaintop." It also directly connects to Jacob Park's childhood, who lived in a monastery located in the mountains of Korea.
Maru coffee looks like a sanctuary, with a minimalist style that gives the place a certain solemnity.
The quality of the coffee here is the best, making it the absolute protagonist. They are famous for their pour-overs, espresso tonic, and homemade syrups. They have an espresso bar in each location, one in the Arts District and a bigger one in Los Feliz.
Hilltop Coffee and Kitchen opened its doors in 2018, and in a short time, it became one of the favorite coffee shops for Angelenos.
Founded by Yonnie Hagos and Ajay Relan, born and raised in Los Angeles, it gives them an advantage in understanding what their customers need. They are focused on creating meeting spaces so that the community can connect.
Hilltop coffee is not shy about its breakfast sandwiches.
You can enjoy a delicious Crispy Chicken Sandwich or their Bangin' Breakfast Burritos with bacon, cheese, eggs, beans, and spicy sauce. Also, try out the espresso drinks, cappuccino, iced coffee, and caramel apple cider.
Located on Venice Beach and Culver City, this fantastic coffee shop brews some of the best coffees in Los Angeles.
Menotti's will delight you with a selective collection of vinyl records playing in the background as soon as you walk in. With incredible music and a vintage vibe, you will be ready to try one of the most delicious coffees in Los Angeles.
If something is outstanding in Menotti, it is without question, their lattes.
Christopher Alameda is Menotti's founder and three-time Latte Art World Championship winner. Their lattes are not only delicious but works of art. 
Don't go without trying their legendary Espresso & Tonic.
An iced beverage made with tonic water, a double shot of espresso, and a slice of orange peel. Enjoy it on the outdoor patio of the Venice location that has a refreshing view of the beach.
Cognoscenti Coffee Bar might not be flashy, but it is filled with new products to try and an extensive menu that meets everyone's expectations. Its founder, Yeekai Lim, is a Chinese architect who left his promising career to devote himself entirely to his passion: coffee.
Cognoscenti started as a pop-up in Highland Park and made a name in Culver City. The project is expanding with two more locations, in the Fashion District and Downtown LA.
Considered by many as one of the best coffee shops in Los Atheirgeles, Cognoscenti maintains a simple, classic coffee menu with high standards.
They gained a reputation for being expert bean tasters and offering a selection of the best roasters in the country (Commonwealth, Phil & Sebastian, and Kuma). Currently, they roast their own beans and offer a classic, simple, but high-quality menu.
Their prices are very reasonable, and they are the best place to go for a traditional latte, americano, single brews, iced teas, and fresh pastries. I'd say it's a coffee geek's paradise!
9. Copa Vida – Best for strawberry matcha latte
Copa Vida is proud to be a Specialty Coffee and Tea house, standing out as the best coffee shop in Pasadena. The team at Copa Vida puts effort into everything they do. They have unique cold brews, teas, and fresh-baked pastries.
Their commitment to offering different activities is also remarkable.
They host local artists and provide latte art workshops, tea tastings, and fantastic coffee samples at any time. Their goal is to give people many exciting activities and create a sense of community. So rest assured that something is always going on at Copa Vida.
They have put together a solid team of baristas, coffee, and tea lovers.
They also worked hard for an incredible network of contacts throughout the country to provide us with a great experience when it comes to coffee. Their team includes award-winning baristas and a tea expert certified by the WTE (World Tea Expo). 
The entire menu is fantastic.
But clients have a special affection for their chilaquiles and smoked salmon toast with scrambled eggs. The Strawberry Matcha Latte is also a must.
8. Blue Bottle – Best coffee quality
Blue Bottle is a franchise that started ten years ago in San Francisco and has been expanding with overwhelming success. They have several locations in LA, and their aim has always been to serve coffee within 48 hours of roasting.
Their commitment to serving good coffee borders on fanaticism.
James Freeman is the coffee nerd responsible for this fantastic franchise. They taste each coffee to determine the particular day it will reach its greatest flavor and are entirely determined to make your coffee experience out of this world.
They have several stores throughout the city, but the one on South Broadway in the heart of Downtown stands out.
In addition, they also have a bookstore that raises funds to help the Library Foundation of Los Angeles. So you can sip your favorite coffee while reading a book.
This space is a haven of peace and calm where you can recharge energies in the middle of the bustling city. It stands out for its innovative Cold Coffee Bar, where you can try new creations of cold brews and infusions from its passionate baristas.
Intelligentsia is another great pioneer of craft coffee in Los Angeles. Its origins date back to 1995 in Chicago, where they have six stores and five more throughout LA.
The coffee quality here is impressive.
Intelligentsia is proud to bring the best coffee beans from Mexico, Guatemala, Ethiopia, and many other places worldwide. They roast their coffee in a large vintage German roaster, giving an extra flavor to it. 
Each store has exquisite decor, creating a perfect space for everyone to enjoy the atmosphere.
They have a solid menu with specialty drinks and a delicious variety of pastries. Try the iced americano and the oat milk lattes.
6. Endorffine – Best for vanilla pandan latte
Endorffine looks more like a laboratory than a coffee shop, and this might have something to do with its founder, Jack Benchakul. He is a biochemist who worked on developing pharmaceutical products for cancer patients globally.
Today, Jack sits behind Endorffine's minimalist coffee bar and prepares every cup of coffee himself.
The bar's name comes from endorphin and caffeine, two chemical elements responsible for happiness in the brain. If you want to experience a bit of that happiness, we advise you to try their famous Vanilla Pandan Latte, the Thai iced coffee, and a variety of drinks sweetened with cane sugar.
You will find the most precise pour-overs of all coffee shops in LA.
Since it opened its first store in West Hollywood, Alfred has been a trendy coffee shop. Without a doubt, it is the most instagrammable coffee shop in Los Angeles.
The decor of all their coffee shops is beautiful and perfect for posing for a picture while having your favorite drink.
They have beautiful indoor and outdoor seating in all their shops and are famous for their vanilla lattes, made with real vanilla beans. Their success has been such that they now sell homemade vanilla syrup and have a wide variety of specialty drinks.
The Civil Coffee shop started as a humble spot in 2012. Alex and Alan Morales were nomads who served coffee in the back of their red pickup. They started the business with homemade espresso machines. Now, they have big coffee roasters all over the city. 
It's one of the most popular and stylish coffee shops in LA.
They are famous for their toasted sandwiches, breakfast sandwiches, incredible hot drinks, and the popular Figueroa – a specialty drink with espresso, milk, condensed milk, and cinnamon, decorated with a Maria cookie on top.
Located at the corner of Sunset and Fountain, Dinosaur Coffee is an independently-owned coffee shop in northwest Silver Lake. It is decorated in a minimalist style but preserves a light-hearted and fun vibe. It is a perfect place for the whole family and has earned an outstanding reputation through sheer effort.
They serve a variety of seasonal drinks and pastries.
The Coconut Cacao Cold Brew and the Sweet Baby Joe stand out on its menu. They have a fine selection of coffee beans from roasters like Terrain Coffee Project, Dagwood Coffee Co., and Four Barrel.
They also have a wide selection of brewed Song Tea.
The Dinosaur was recently sold to Woodcat, a specialty coffee bar with years in the market and an impressive reputation. People are excited about the new things that can come from this fusion.
2. Go Get Em Tiger – Best for almond macadamia latte
GGET has its roots based in Los Angeles. Kyle Glanville and Charles Babinski have built this great empire that enjoys the love and affection of locals.
It has nine locations all over the city and preserves a fresh style despite the years, and its continuing popularity is impressive.
Here the star of the house is the Almond Macadamia Latte, considered by many to be the best latte in America.
They make their own macadamia milk and roast their beans to bring you the best seasonal cold brew, accompanied by delicious pastries.
Their espresso drinks are remarkable, and it is the perfect place to go and grab your morning coffee.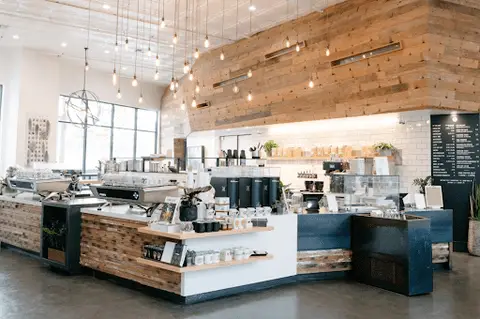 At Verve, everything is about quality. They opened their first store in Santa Cruz in 2007.
They are all over Los Angeles and even have a branch in Japan. Their secret is to provide the highest quality product, from the beans to the coffee that arrives at your table.
They grow coffee beans sustainably and pay farmers a premium for quality products.
The specialties at Verve are espresso classics, nitro cold brews, espresso-based drinks, and the best pour-over coffees you can imagine. They also have an excellent menu of seasonal pastries, and you can find them in various locations, from the Arts district to Manhattan Beach.
Honorable Mentions
If you're heading out to West Hollywood and want to get the real taste of L.A., this list should do the job for you. It was challenging to choose only 20 coffee shops since the coffee scene is constantly growing, and new and better initiatives come out every day. 
We'd like to end with a few honorable mentions that didn't make it onto this list but do provide excellent service and are well worth checking out: Patria Coffee, G&B, Alchemist, Dayglow, Sasquatch, Stumptown, and Aroma Cafe.
Resources:
https://www.theinfatuation.com/los-angeles/guides/los-angeles-coffee-shop-food
https://la.racked.com/maps/most-stylish-coffee-shops-los-angeles
https://dailybruin.com/2016/11/21/coffee-cultured-a-taste-of-the-los-angeles-coffee-scene
https://coffeeaffection.com/best-coffee-shops-in-la/
https://perfectdailygrind.com/2019/02/a-specialty-coffee-shop-tour-of-los-angeles-ca/
Get Your FREE Coffee Brewing Cheat Sheet!
This free cheat sheet will improve your coffee brew by providing quick information on brew ratio, grind size, optimal brewing time, and more.
No spam. Unsubscribe any time.