Portafilter helps coffee lovers brew like a barista. When you use our links, we may earn an affiliate commission. Learn more.
There are two types of coffee classes in the Sydney area. One is the registered training organization that can lead to a job, and the other is a more social type of barista course for coffee lovers. Online barista training is often free, making attending class convenient and easy.
Free Barista Course Sydney
If you are looking for free training, look no further than The Web Grind. This comprehensive online course teaches barista basics, from using an espresso machine to making a beautiful latte.
This free coffee-making course is not a registered training organization, but TAFE and the coffee industry recommend it.
This popular barista course is called the Fun & Flavorful course.
It consists of five podcasts. Each classroom session is devoted to different skills. The first is a general introduction, and the second focuses on making the most popular cafe drinks. 
You learn how to foam milk in the third and fourth classes and become a latte artist. The last one focuses on hygienic practices.
Aside from the price being right (absolutely free), this course is one of the best places for you to learn advanced coffee making and serve drinks like they do in espresso bars.
Its only drawback is that it is not hands-on training. You are not turning on the machine and operating a steam wand unless you have your own espresso machine at home.
Best Barista Course Sydney
The Australian Barista School is the best barista course in Sydney, and maybe all of Australia.
Train for five hours at this reputable training ground. You will receive your nationally recognized statement and enough relevant qualifications to get your place in a barista job right away.
In this five-hour classroom session, you will be able to operate an espresso machine. The training is delivered by experienced baristas.
You will see how a basic knowledge of coffee beans is essential to creating a perfect cup of coffee. You will learn about roasted light and dark beans, green beans, and how to make a cold brew.
How to froth milk, prepare and serve the top six coffee drinks and make beautiful latte art are also on the agenda.
The great thing about this barista course is it is not just for job seekers. Many coffee lovers attend to learn how to become a better home barista.
Get Your FREE Coffee Brewing Cheat Sheet!
This free cheat sheet will improve your coffee brew by providing quick information on brew ratio, grind size, optimal brewing time, and more.
No spam. Unsubscribe any time.
Cheapest Barista Course Sydney
Adrenaline in Sydney is a learning annex that offers a few different barista courses that are sometimes available. So it is worth checking back to the Adrenaline website now and then to stay current.
Their foundation class is 3 hours and is called The Hands-On Coffee Making Class.
They also offer an introductory coffee course for twice the price plus latte art for twice the price. Both provide hands-on experience with authentic coffee machines, so students can learn about adjusting grinds and temperatures and creating shots.
These courses are pretty social and don't offer an RTO barista certificate, but both teach you all of the essential skills and practical tasks needed to be one.
Hygienic practices, along with lots of advice about making great espresso coffee, experienced baristas teach every step of the way.
Barista Course Parramatta
The Parramatta Barista Course is considered an excellent training program for aspiring baristas who want to get a job.
However, this respected coffee class is also a wonderful place for experienced baristas to improve their skills and learn the latest coffee drinks and trends, especially when making latte art.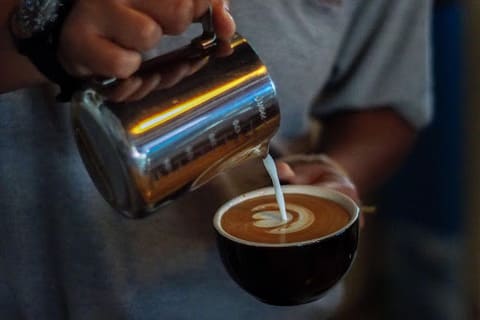 This immersive workshop takes place in a real coffee shop called the coffee galleria. The course has a particular emphasis on tasting coffees from all over the world.
Students learn to identify light from dark roasts and brew coffees according to their acidity to bring out savory notes.
This day-long coffee workshop is not run by a registered training organization, but it does teach all of the barista foundations.
You will learn about food safety and how to prepare and serve an espresso using commercial espresso machines.
Barista Course TAFE NSW
The TAFE NSW, a community college-like institution, offers part-time or full-time baristas courses. Each offers its own certificate to help job seekers get a job in the coffee industry.
TAFE offers a course in basic barista skills that focuses heavily on preparing work areas and learning how to use the espresso machine.
This is followed by a hands-on 3-hour course that augments the basic training program and another hour course that focuses on operating grinders and making specialty espresso beverages.
Three courses offered at TAFE allow you to upgrade your skills, including a certified course in catering operations and a certificate in hospitality. These would be desirable assets to any employer in the coffee industry. 
A dedicated Introduction to Cafe Skills also teaches you everything about working in a coffee shop. Finding a more tailored set of classes anywhere in New South Wales dedicated to espresso coffee making would be challenging.
Read next: Barista Courses Melbourne
FAQS
How Do I Become A Barista in Sydney?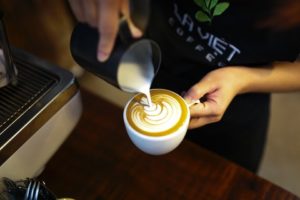 If you are pursuing a position as a barista in Sydney, you don't necessarily have to have any previous experience as a cafe worker. Most employers require a desire to work with people, an eagerness to learn, and a love of coffee.
However, you are most likely to land a job as a barista if you have trained with a registered training organization that offers accreditation, such as a TAFE barista basics course.
How Much is A Barista Course in Sydney?
The price of a barista course in Sydney varies depending on whether or not you will watch a free coffee course online or pay to go to coffee school. 
Some schools, like TAFE, may not charge you for specific certificates. The average price for a 3-hour course for coffee lovers is around $80.00. Accredited courses that last half a day generally cost $160 or slightly more.
Summary   
There is no shortage of places to get barista skills in Sydney. Both TAFE and the Web Grind offer free courses. If you don't want to attend classes, the Web Grind podcasts give you all of the barista basics you need to become a cafe worker or an at-home barista.
If you need the certificate of completion from an official RTO (registered training organization), the TAFE and The Australian Barista School have you covered. You can also get excellent training at non-accredited cafes, such as Parramatta and Adrenalin, which also presents the opportunity to meet new friends who are coffee lovers.
Get Your FREE Coffee Brewing Cheat Sheet!
This free cheat sheet will improve your coffee brew by providing quick information on brew ratio, grind size, optimal brewing time, and more.
No spam. Unsubscribe any time.