Portafilter helps coffee lovers brew like a barista. When you use our links, we may earn an affiliate commission. Learn more.
Whether you plan to get a job in the Melbourne coffee industry or just want to brew a better coffee at home, a great course can teach you how to use an espresso machine.
Course content often includes choosing a suitable coffee machine, serving espresso, and creating latte art. Some barista courses allow you to socialize while you create coffee art.
Where to Find Free Barista Courses in Melbourne
If you are looking for an Australian barista school, a great resource is Eventbrite. On this popular website, you can find all kinds of practical training, including coffee-making courses for connoisseurs, an introductory free barista course, and a latte art class.
How Does Eventbrite Work?
Eventbrite is a website where anyone can register to teach a course with online or virtual attendance. Many of the courses offered at Eventbrite are meant to be social events that only last one evening.
Types of Eventbrite Courses
Many Eventbrite courses are devoted to making classic latte art a new experience for many.
Some courses are also introductions to brands or a way of selling espresso machines to those who make coffee at home.
When a new brand of beans is introduced to the public, coffee tastings for coffee lovers are offered, and courses on how to make a nitro brew and cold brew.
Are Eventbrite Courses Accredited?
Eventbrite does not usually offer accreditation. However, one can learn a lot about making a better beverage from another coffee lover. You might even be able to find a private class.
To be a properly certified barista, attend one of the professional barista courses listed below.
Get Your FREE Coffee Brewing Cheat Sheet!
This free cheat sheet will improve your coffee brew by providing quick information on brew ratio, grind size, optimal brewing time, and more.
No spam. Unsubscribe any time.
Barista Courses in Melbourne
Are you looking to improve your coffee-making skills? Here are five fantastic barista courses.
The best espresso school in Melbourne is the Melbourne Coffee Academy. Although gourmands are welcome, this is the school of choice for potential pros.
Smaller coffee training courses are offered with training in making basic espresso, advanced espresso drinks, filter coffee, and latte art.
A comprehensive barista masterclass shows aspiring baristas how to work in a cafe, serving espresso, and practice food safety. They also offer a barista apprenticeship that gives students practical experience.
At home, in just a few days baristas can take a course in coffee appreciation. You will be introduced to all the different coffee drinks in Melbourne, including pour-overs, cappuccinos, and espressos.
The academy also offers online home barista training. It is so much fun to learn about coffee beans and how to enjoy quality coffee without leaving the house.
Our top choice for the cheapest barista course is the Australian Barista School, which offers a 5-hour barista course.
The school believes that experience is such a good teacher. So each student gets their own coffee machine with a steam wand.
Students learn all the skills required to become a pro barista, including froth milk, making espresso, and cleaning and maintaining the coffee machine.
Enrollees also learn how to make the designer espresso coffee that you would find in many cafes. This coffee course is the perfect choice for people who need to know how to use a new espresso machine.
If you add two training hours to your class, you will also receive a nationally accredited certificate.
You will be taught barista skills such as frothing milk, etching, and free pouring techniques. This excellent coffee course offers world-class barista training for an affordable price.
A popular coffee course is Barista Basics Coffee Academy, which offers intensive hands-on training that helps aspiring baristas get a job. In Brisbane, Melbourne, and Sydney, their three locations offer accreditation.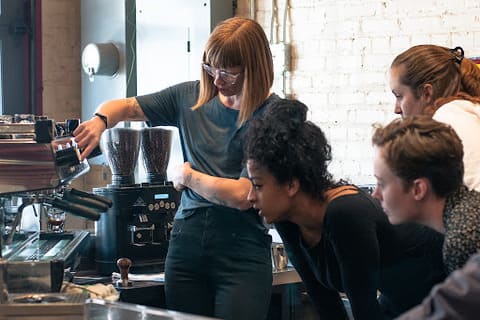 The course is only 3 hours long and teaches students how to serve espresso coffee. Skills taught include using the right grind size, tamping correctly, finishing designer coffees, and food safety.
These courses only have four students per training and offer the fundamental knowledge needed to work in the coffee industry in Australia.
Although this school is a great place to learn about all coffee-related things, the Barista Basics website states that these coffee classes are not meant to be social events. Still, it is fun to create coffee art in a group setting.
TAFE stands for Technical and Further Education and is the equivalent of a community college in Australia. The TAFE in Melbourne offers practical training and accreditation for those seeking barista jobs.
At TAFE, the motto is that experience makes an excellent teacher. Therefore, the coffee courses offer hands-on experience in making coffee. 
Chances are you will get a great trainer with an expert skill level. Skills taught include an introduction to espresso machines, how to froth milk, and basic food safety. 
The great thing about studying at TAFE is that they offer both short courses without accreditation and more thorough courses for coffee lovers that want to become pros.
Many who acquire their accreditation often find employment as baristas in the Melbourne Vic area. There is a cluster of barista jobs in cafes that cater to local caffeine lovers. In either case, it is the place to go to learn how to make perfect coffee.
Barista Course FAQs
Here are some frequently asked questions about becoming a professional barista in Melbourne.
How do I Become A Barista in Melbourne?
Becoming a pro server in Melbourne is as simple as finding a local school that offers an accredited course in how to prepare and serve coffee.
Technical schools such as TAFE also offer specialized professional training to help you find a job in the coffee industry.
How do I Get A Barista License in Australia?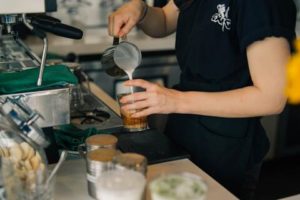 In Australia, getting a barista license is not required to obtain a barista job. All you need is official accreditation from a reputable school that offers it, such as TAFE or any schools mentioned above.
You may also like: Barista Courses Perth
Summary 
There are a lot of affordable, comprehensive coffee courses to choose from in Melbourne. Deciding which one is right for you has a lot to do with hands-on training.
Most cafes are looking for previous experience working with coffee machines and accreditation, which you can get at Melbourne coffee academy and TAFE.
If you are looking for an espresso school that can teach you coffee making at home, Eventbrite has many short courses.
There are many barista courses to choose from, so deciding which one is for you largely depends on whether or not you are looking for the skills that would equate to prior experience working in a cafe or just a night of education that is also great fun.
Get Your FREE Coffee Brewing Cheat Sheet!
This free cheat sheet will improve your coffee brew by providing quick information on brew ratio, grind size, optimal brewing time, and more.
No spam. Unsubscribe any time.