As an Amazon Associate I earn from qualifying purchases.
If you're anything like me, coffee is what gets you out of bed in the morning. Good coffee means an excellent start to the day, and there is no better investment you can make than the Best Espresso Machine Under $1000.
For under $1000, the best espresso machines that I recommend for most home baristas who enjoy brewing coffee drinks are the Breville Barista Express, Jura A1, or De'Longhi ESAM3300 Magnifica Super-Automatic Espresso Machine. These three models produce a great espresso with minimal effort and are reasonably priced. These are great options for most coffee lovers. Still, if you're looking for something that can produce a caffe latte at the touch of a button, you should consider the Philips 3200 Automatic Espresso Machine.
5 Best Espresso Machines Under $1000 in 2022
Breville Barista Express
Our Rating
Read full Breville Barista Express Review
Advantages
Includes an integrated conical burr grinder 
PID technology
½ lb bean hopper capacity
67oz water tank
Drawbacks
Expensive espresso machine (relative to the other devices on this shortlist)
Spoiler alert! I have owned a Breville Barista Express for three years, and it is my top pick of the Best Espresso Machines Under 1000.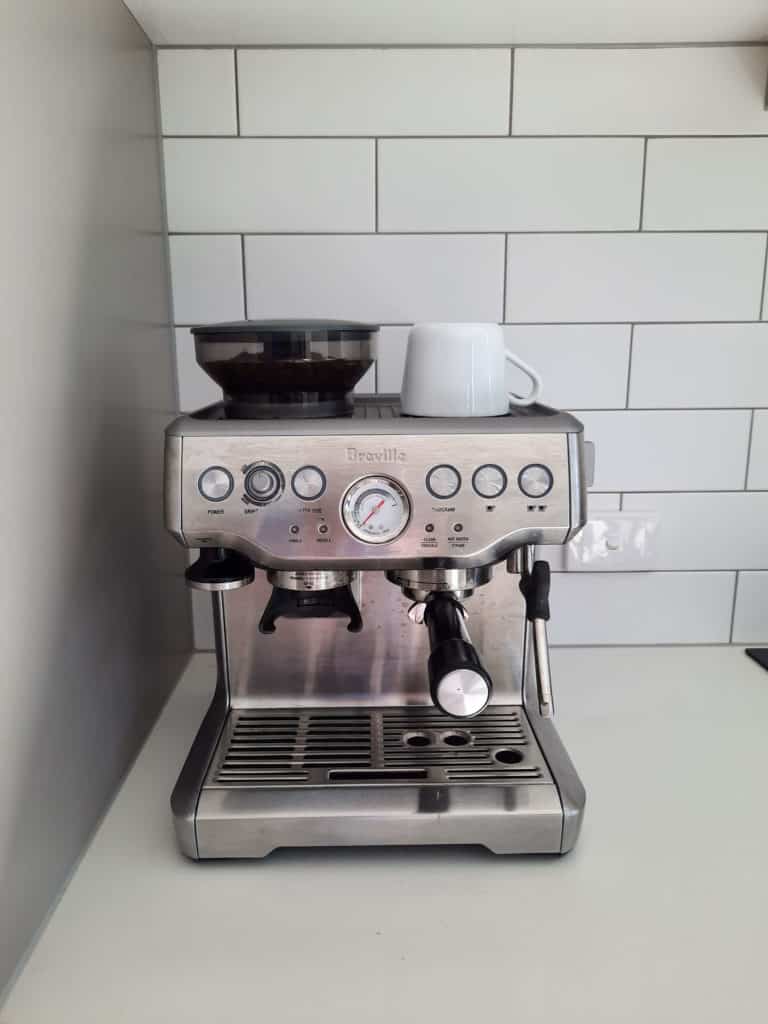 Here's why.
While the Breville may be the most expensive espresso machine on this list, it offers exceptional value for money, thanks to its built-in grinder, which saves you hundreds of dollars compared to other brands.
Once you figure out your favorite coffee settings, the Barista Express makes delicious espresso-based drinks every single time.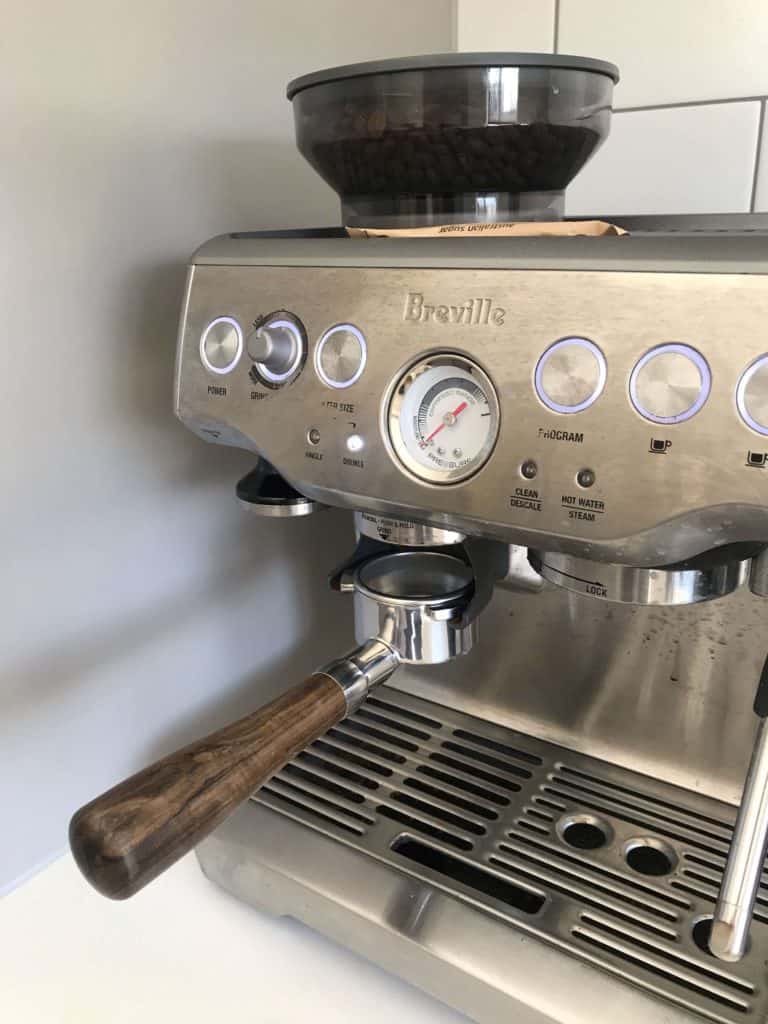 In terms of unique specifications and features:
It has a 0.5 lb bean hopper capacity
It is made of stainless steel (which I find very convenient to keep clean)
It has a 9 bar extraction and an impressive 15 bar Italian pump
Includes interchangeable portafilters (both pressurized and non-pressurized)
Features a removable drip tray with a neat popup feature that tells you when the tray needs emptying
It comes complete with an integrated conical burr grinder
Fine foam frother
The Breville Barista Express is a clear winner in the Best Espresso Machines Under 1000 category. Check out the 15,000+ fantastic reviews it has garnered on Amazon!
Jura A1 Coffee Maker
Our Rating
Advantages
Three programmable brewing options and adjustable coffee strength
A compact machine which takes up minimal kitchen countertop space
Available in piano black or stylish white
Built-in grinder
Drawbacks
You need to frequently refill the water tank due to its 37 fluid ounces water tank capacity
No manual steam wand or capability to heat and froth milk
Fixed brew group
It's no secret that I'm a big fan of Jura coffee machines, and I have to admit I was pleasantly surprised to learn that the Jura A1 meets the "espresso machine under 1000" requirements of this shortlist.
To be clear, though, if you're looking for the steam wand on this entry-level Jura coffee maker, then you will be disappointed.
So who is the Jura A1 suitable for?
If you're a coffee lover who would never add milk to your double shot of espresso, then this super-automatic machine is perfect for you!
The Jura A1 Super-Automatic Espresso Machine is a fantastic choice for an espresso connoisseur.
This super-automatic coffee machine is built to impress, with premium, upgraded features that consider every aspect of coffee brewing.
One feature that I liked was the high-quality conical burr grinder designed to maximize aroma and flavor.
It has a 37 fluid ounces water tank capacity.
This capacity equates refilling the tank approximately every four cups of coffee you make, which is not ideal for heavy coffee drinkers but sufficient for most home baristas.
There are three programmable brewing options available on the touch display:
Ristretto
Espresso (single or double shots)
Coffee
You can also choose your desired coffee strength by selecting the "normal" one-bean button or "strong" three-bean button.
De'Longhi ESAM3300 Magnifica Super-Automatic Coffee Maker
Our Rating
Advantages
Adjustable coffee spout height means minimal splashes while brewing, and it can accommodate your existing shot glasses or coffee cups.
Spare parts are readily available via Amazon or other reputable coffee machine suppliers.
Flexibility to use pre-ground coffee if you prefer
Removable brew unit and drip tray
Drawbacks
No water filter means this automatic espresso machine may not be suitable if you have hard water in your home
The built-in grinder works well; however it is noisier than most
Lacks the one-touch cappuccino system found on higher-end De'Longhi models.
The De'Longhi ESAM 3300 is a mid-range super-automatic espresso machine.
Thanks to the manual steam wand, it can make both single and double-shot espresso drinks and milk-based drinks, which comes as standard.

Noteworthy features include thirteen adjustable grind settings, milk frother, dual boilers (very impressive at this price range!), 60-ounce water tank capacity, steam wand, 8.8-ounce bean hopper, and the option to use freshly ground or pre-ground coffee beans.
This espresso machine comes in well under $1000, and at this price point, there are inevitably some compromises in terms of specifications and components.
For example, the ESAM 3300 doesn't include the cappuccino system found on more expensive models.
The main drawback of the De'Longhi ESAM 3300, in my opinion, is that it does not contain a water filter which means this machine could easily get damaged by limescale or hard water.
A workaround solution to this is to use bottled water or pre-filtered water using a Brita; however, the manufacturer should include a water filter even at this price point.
Overall, this is a tremendous super-automatic espresso machine for someone who enjoys delicious black and milk-based coffee drinks at an affordable price point.
Philips 3200 Series Fully Automatic Espresso Machine
Our Rating
Advantages
It makes excellent espresso and milk foam
Simple to operate and clean
High-quality build
Ceramic burr grinder with 12 grind settings
Automatic cleaning function
Drawbacks
Maximum water temperature still didn't produce a coffee drink as hot as I would have liked
One of the noisier super-automatic espresso machines under $1000 that I've used
Oily beans may not pass easily through the bean hopper
Philips is not a brand I would typically include in a "best espresso machine" shortlist. That said, the Philips 3200 LatteGo is an excellent super-automatic espresso machine that has deservedly earned its spot on our shortlist.
In short, the Philips 3200 LatteGo is an excellent option for coffee lovers who want to brew a caffe latte at the press of a button and have a minimal fuss with cleaning up afterward.
It comes equipped with a bean hopper and ceramic burr grinder with 12 grind settings which was a pleasant surprise and not something I've seen on other super-automatic espresso machines at this price point.
The Philips 3200 has a simple and intuitive display panel that lets you select from five preset options, and you can then adjust the grind, espresso, and milk levels to your preferences. The five preset options are:
Espresso
Cappuccino
Black Coffee
Latte Macchiato
Americano
During testing, I experimented with adjusting the espresso settings and, through trial and error, found that selecting the finest grind option, minimum water, and maximum water temperature.
Even with these extreme settings, I found that the volume of the espresso shot was around 0.85 ounces which I would consider in the "normal" range.
Also, I felt that the espresso double shot still wasn't quite as hot as I would have liked. Reading through the Amazon reviews, I discovered that other customers had identified this as a drawback.
De'Longhi La Specialista Espresso Machine
Our Rating
Advantages
De'Longhi is a highly reputable brand with a proven history
Super-automatic and espresso machine combo
Removable drip tray
Drawbacks
It does not include a water filter as standard (need to purchase separately)
Probably not the best option if you are primarily looking for a super-automatic espresso machine
Quite complex to use and dial in the optimal settings
This is the second De'Longhi espresso machine under $1000 on my shortlist.
Why?
Because since the company was founded in 1902 by the De'Longhi family, it has established a reputation for producing high-quality, reliable household products.
The De'Longhi La Specialista Espresso Machine is unique because of its hybrid design, combining a portafilter and super-automatic espresso machine under $1000 into one!
You can use this coffee machine conventionally to brew a perfect espresso or, for those days where you're in a hurry or simply not in the mood to use the manual espresso maker mode, it can quickly brew your favorite coffee at the touch of a button.
After several months of testing the De'Longhi La Specialista, I concluded that it lends itself more to making espresso conventionally than as an automatic coffee machine.
Suppose you enjoy tinkering and taking the time to brew freshly ground coffee, and maybe even brush up on your latte art skills, most of the time but occasionally find yourself in a rush and need of a quick morning cup.
In that case, this semi-automatic espresso machine is worth considering.
Note: If you are seriously considering a hybrid coffee machine and would like to explore more options, you can also check out the Breville Oracle Touch.
How to Choose the Best Espresso Machine Under 1000: Buying Guide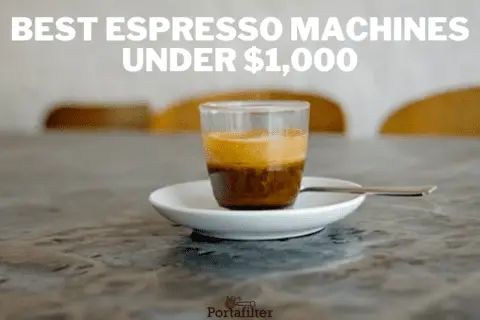 It can be confusing trying to decide amongst the myriad of options available to purchase.
Don't worry, I have broken this down into thirteen factors you should take into consideration before parting with your hard-earned cash.
#1 Cost
As with any purchase, price is an essential factor to consider. We have rounded up a selection for our top 5, but many models have varying price points. 
The more expensive models are likely to come with better quality materials and additional features.
If you are serious about your coffee and see an espresso machine as a serious investment, it is worth splashing a few extra dollars to get a higher-end machine.
If you are a novice to the intricate world of coffee brewing or want a morning coffee that isn't instant, many budget-friendly machines are on the market.
They will all make a decent cup of coffee, and cheaper ones are likely to be easier to use as the design will be more basic. 
#2 Size
Your espresso machine is likely to live in your kitchen; therefore, it is vital to consider the space options you have.
There is no point spending a lot of money on a luxurious machine and then having nowhere to put it. 
#3 Build materials
Cheaper machines are likely to be made from more inexpensive materials that may not be as durable.
Where more expensive machines are made from metal, low-end devices are usually constructed of plastic which is not an issue in the short term, as both materials will function effectively.
The plastic parts will wear out and break faster than their metal counterparts.
If you are looking for a machine that will last for years, it is worth spending a little more money on an espresso machine made from metal.
It is good to look for an espresso machine with stainless steel rather than a plastic boiler, even if the rest is primarily plastic.
These will be much more durable and will also brew better coffee!
#4 Pod or grounds?
Most espresso machines are split into two distinct categories:
Barista-style; and
Pod-based. 
Barista-style machines make coffee by pushing hot water through a puck of compacted ground coffee, infusing the water with the coffee flavor as it does so.
These tend to be slightly more expensive, but some people prefer the taste of using ground coffee.
Pod-based machines are brands like Nespresso, where you insert a drink pod into the hatch at the top of the machine and press a button, forcing hot water through the pod and making the drink. 
Many people love these as they are simple to use, and you can buy a vast variety of pods, making it possible to make any drink you crave at the push of a button. Pod-based machines tend to be cheaper.
#5 Manual or automatic
There are five types of coffee machines: 
pod-based
super-automatic
automatic
semi-automatic; and 
manual. 
Pod-based machines are described above and are the most consistent with the quality and taste of the drinks.
Super-automatic espresso machines do most of the process for you.
They grind, measure, and tamp the coffee beans before making the coffee. You can choose a preset coffee type or customize your perfect cup.
Automatic coffee machines have pre-programmed and customizable coffee sizes.
They are more consistent than manual and semi-automatic as the water is pulled through the grounds via an electronic button instead of a manually-controlled lever.
Semi-automatic machines are less consistent than automatic and use a button or dial to control the water flow through the coffee grounds.
Manual machines are similar to the ones that you see in cafes, where ground coffee is scooped into a portafilter (the part of the machine that looks like a handle) and tamped down.
Place the portafilter under the brew head, where water is manually pulled through the grounds with a lever.
This manual method is widely regarded as the most challenging method of making brewed coffee.
It does, however, allow for more creativity, and you can brush up on your latte art skills too.
#6 Pump or steam-powered
Steam-powered machines tend to be cheaper but can only average around 3 bars of pressure.
The coffee is also placed under a high temperature to create steam, leading to a slightly burnt taste.
Steam-powered coffee machines often cannot make the layer of crema (the light brown foam) on the top of the espresso.
Pump-powered machines can produce more than 15 bars of pressure at a lower temperature, resulting in a smoother tasting espresso.
These machines heat the water to 2 different temperatures to optimize both the espresso brewing and milk frothing. 
#7 Proportional, Integral, Derivative (PID)
PID stands for Proportional, Integral, Derivative and is designed to increase the water temperature stability. 
Before PID technology, the water in the boiler would have a thermostat that turned the boiler when the water temperature dropped below a certain threshold.
The boiler would then shut off when the temperature reached the upper-temperature limit. 
This rise and drop in the temperature levels make for an inconsistent cup of coffee, as you cannot guarantee the water is at a specific temperature.
PID technology consistently keeps the water temperature close to the operating temperature, allowing for much more precise temperature control. 
Temperature control is essential as the water temperature impacts how the coffee will taste.
Too hot, and the coffee will taste bitter, almost burnt.
Too cold, and you will have a bland, weak coffee.
#8 Pressure gauge
To make the perfect cup of espresso, experts say it should be brewed at around nine to ten bars of pressure.
A pressure gauge will allow you to see what force you place the coffee under and adjust it as necessary. 
A pressure gauge is a handy addition to the espresso machine for people who want to delve into the coffee-making world.
#9 Water source
Most super-automatic espresso machines will have removable water tanks located at the back. These should be lightweight and easy to remove so that refilling will be easier. 
If you are looking for a machine just for personal use, one with a small water tank will be fine.
However, if you are looking to make multiple coffees at once, it is a good idea to try and find an espresso machine with a larger water tank.
For industrial or commercial use, you can buy commercial coffee machines with a pipe so that the device can be plumbed directly into the water source, which is handy as it means you will not have to keep refilling the water tank. 
#10 Steam wand
If you are partial to a milky coffee like a latte or cappuccino, a steam wand is a vital part of your espresso machine.
This is a small metal stick extending from the side of the machine that you can adjust.
When the espresso has been brewed, and the milk steaming unit is warm, place the tip of the steam wand in a metal jug of milk.
Steam wands have adjustable gauges so that you can achieve the perfect foam and temperature of your milk frothing. 
Steaming milk is a process that takes a while to get used to, but once you have the knack, it is a wholly therapeutic process.
#11 Single or double boiler
This section is only applicable on machines with a steam wand. 
A single boiler machine can only handle brewing coffee or steaming milk, not both.
This means that you must wait for the steaming unit to warm up after brewing an espresso before you can steam milk.
If you drink a lot of lattes or frequently make drinks for large groups of people, a single boiler may not be the best choice for you.
A double boiler machine can handle both functions simultaneously, making your coffee-making process slightly faster.
However, if you are only brewing a couple of drinks at a time, a double boiler is not necessary. 
#12 Additional features
Some higher-end machines may boast an electronic display so that you can customize the size and strength of your coffee. 
Other machines may come with a second tap, a tea water dispenser.
This tea water dispenser is helpful if you drink a lot of tea or want a source of instant boiling water in your home.
For most people, however, this is likely a mostly defunct feature. 
Some espresso machines, as mentioned above, come with an in-built coffee grinder so that you can always have freshly ground beans.
This is a nice bonus feature for the coffee enthusiasts in an espresso machine; however, most average coffee drinkers likely will not notice the difference between fresh and pre-ground coffee beans.
#13 Ease of cleaning 
Espresso machines have a reputation for being impossible to clean, but this is not always the case.
Regardless, it is vital to clean your espresso machine regularly to keep it in working order and help the machine's longevity.
It is good to research how easily the machine is to take apart and how to clean the different elements, such as the drip tray.
Check whether any parts require soaking or specialist cleaning materials. 
People Also Ask
What is the most reliable espresso machine?
The Rancilio Silvia espresso machine and ECM Casa V are two of the most reliable devices. Due to their superior build quality, heavy-duty components, and commercial espresso machines' performance, they can last more than fifteen years.
What is the best value home espresso machine?
The Breville Barista Express, Jura A1, and De'Longhi ESAM3300 super-automatic are the three best value home espresso machines. They each cost less than $1000, make great coffee, and are suitable for most coffee lovers.
Final verdict
Hopefully, after reading this article, you appreciate some great options when choosing an espresso machine under $1000.
The Breville Barista Express is my favorite home espresso machine because it makes delicious coffee, can froth milk easily, includes a built-in coffee grinder, and offers exceptional value for money.
The Jura A1 is the super-automatic espresso machine of choice for black coffee lovers who appreciate premium Jura coffee machine quality.
Finally, the De'Longhi ESAM 3300 super-automatic espresso machine is an excellent choice if you enjoy various coffee drinks at an affordable price point.
Do consider that the major drawback of this machine is its lack of a water filter, which could be a problem if your home has hard water or limescale.