Making a cup of coffee might seem like something we all know how to do. But whichever way you make your morning cup, we bet the best coffee maker out there that can make it even better.
On average, most American homes will have a coffee maker.
But this will usually be a standard, old-fashioned drip or filter coffee maker. These are fine and we have even included some on this list.
But make sure you give every option a browse before just settling for what you know.
There is such a wide range of coffees available, from the bean to the brew. So it makes sense that there is a wide range of coffee makers that are all different. 
Most of us make at least one cup of coffee every day, usually in the morning. So why not make that coffee as perfect as possible?
For many people, that morning coffee is going to make your break their day. So investing in the kind of coffee maker that will make your perfect cup can also make your perfect day.
If you like a simple black coffee, then a filtered drip can be just fine.
But if you prefer something a little more complicated such as a latte or a cappuccino, you don't have to take a trip to the coffee shop every time you want one.
As there are so many different kinds of coffee makers available, it can be confusing to understand exactly what each one does.
So, to give you some ideas, talk you through the features, and help you make that perfect cup, check out the best coffee maker's top three picks below or scroll deeper for detailed reviews plus buying advice.
The Best Coffee Maker Comparison Table
We earn a commission if you make a purchase, at no additional cost to you.
We earn a commission if you make a purchase, at no additional cost to you.
9 Best Coffee Machines for 2022
After the standard filtered drip coffee maker, Nespresso Pod coffee makers are the best known, and best-loved.




Nespresso is known for producing an excellent cup of coffee. So, of course, a Nespresso Pod coffee maker could not be left off this list.




This Breville Evoluo coffee machine has a bold design and comes in chrome, polished black, matte black, red, and silver. This will be a real statement in the kitchen.




It isn't to be hidden away in the corner or a storage cupboard. It functions in the usual Nespresso Pod coffee maker style.




The top domed section lifts up and the pod is placed inside.




Then the top comes down which triggers the water to pass through the pod. Each pod only holds enough coffee for one cup at a time.




This is great if you struggle to make sense of coffee strength (or just need some help when you're bleary-eyed in the morning).




But it is a slow process if you're making coffee for multiple people. It will be worth it, but it will take a while.

Pros:

Super easy to use
Perfect for home office
Great value for money

Buy on Amazon Our Vertuo Review

We earn a commission if you make a purchase, at no additional cost to you.

05/20/2022 03:42 pm GMT

This Mr. Coffee drip coffee maker is the most common style found in American homes. It will produce large amounts of coffee relatively quickly.




This drip coffee maker has a warming plate.




This means that, even if you only intend to drink the coffee yourself, you can leave it throughout the day. You can keep coming back to fill up without waiting for any more coffee to brew.




This kind of coffee maker is best for someone who cares more about the energy coffee provides, rather than the taste or experience.




Of course, the grounds used are very important in determining how good a cup of coffee is. But the filtration process is also important.




Although it will be kept warm, leaving coffee out for hours will also affect its taste. Compared to similar best drip coffee makers, this Mr. Coffee four cup product is very sleek and modern.




This kind of drip coffee maker is usually associated with dreary, gray, and beige offices. But this coffee machine wouldn't look out of place in a high-class boardroom.

Pros:

Best drip coffee maker machine
Reputable brand
Bestseller on Amazon

Buy on Amazon

We earn a commission if you make a purchase, at no additional cost to you.

05/20/2022 07:02 am GMT

This four-cup coffee maker is a simple device that will do an excellent job. It is by far the most affordable option on this list.




It is a drip coffee maker and so won't provide the same excellent taste and texture as an espresso machine or a coffee grinder.




But the coffee will still be of good quality.




This style of coffee maker simply makes a more standard coffee. This is great if you just need a large capacity for large amounts of coffee but still appreciate the taste.




Just because your coffee is simple, doesn't mean you can't make it taste delicious. Even if you primarily drink coffee for the caffeine kick, you still deserve a great-tasting cup of coffee.




This is a great coffee maker for a dorm room or a home office.




This is the coffee maker you fill up to the power you through long work or study sessions. Although it won't provide the same high quality as an espresso, that doesn't mean the coffee will be bad.




You can still use delicious, good-quality ground coffee in this coffee maker. It will simply make it more diluted and make a simpler style of coffee.




This is a wake-up, fill-up, switch on, and buckle-down kind of coffee maker.

Buy on Amazon Best Four Cup Coffee Makers

We earn a commission if you make a purchase, at no additional cost to you.

05/20/2022 05:32 am GMT

This looks like a very technical machine for making coffee. It has a lot of features and settings, but don't let it overwhelm you.




It is still easy to use and will still make you a great shot of espresso.




The advanced settings on this coffee machine allow you to choose the strength and number of shots of espresso.




It also includes a milk frother that will give you the same taste and texture as steamed milk, without any work on your part.




This machine also features a coffee bean grinder.




There is so much going on with this coffee maker that you can make a coffee just like you would find in your favorite coffee shop, at the touch of just a few buttons.




As can be expected from such a device, this coffee maker is on the more expensive end of the price range.




But you are paying for quality, a well-known and reliable brand, and an excellent cup of coffee.




This coffee maker is truly impressive as it has so many great features and is an espresso machine, milk frother, and coffee grinder all in one.

Pros:

Heats up in 60 seconds
Features integrated, professional burr grinder
Easy-to-use control panel

Buy on 1st In Coffee Buy on Amazon

We earn a commission if you make a purchase, at no additional cost to you.

Lattes are one of the most popular choices in a coffee shop. But it's difficult to get the same hot, milky taste and texture at home.




Adding cold milk or cream to a black coffee doesn't have quite the same effect.




This latte machine has a steaming wand attached to the side.




It can be used to steam milk until it is the perfect temperature and texture to replicate your favorite barista's latte. It might take a bit of getting used to.




But once you have perfected the skill, it will be just another part of your morning routine. And it will be a worthwhile one.




This latte machine has a very simple look and is also very simple to use.




If you have seen a coffee machine in a coffee shop, you know that most are huge and very complicated.




But this is the size of your average home espresso machine, with an added steaming wand.




Although it is called a latte machine, you can actually use a steaming wand to make any kind of milky coffee you like.




The difference between a latte, a cappuccino, and a macchiato isn't the coffee but the milk.




A steaming wand is used for all three, but the milk is steamed and poured differently. This coffee maker might be best for lattes but can do so much more.

Buy on Amazon Best Latte Machines Review

We earn a commission if you make a purchase, at no additional cost to you.

05/20/2022 06:52 am GMT

We can almost 100% guarantee that you have never seen a coffee maker quite like this. The range of abilities would be enough of a draw.




But the style and innovation of this coffee maker are truly impressive.




This best Ninja coffee maker allows you to specify exactly what kind of coffee you want and even in what receptacle you're going to have it.




You can choose the size of cup you want to use or the size of the carafe. You can even select it to pour you the perfect-sized coffee for a travel cup.




From there, you have the choice between a milky and frothy coffee, something incredibly hot and rich, or something cool and refreshing.




With a few buttons, you can have something heavy, warming, and energizing. Or a cold coffee over ice.




For such a complicated coffee maker it is (at the time of writing) incredibly affordable. This is almost four coffee makers in one, yet it is available at a lower price than some much simpler designs.




This coffee maker comes with the option of a glass or a thermal carafe.




Understandably, the thermal carafe option comes at a much higher price.

Although, that is still a much lower price than many other options available.

Buy on Amazon

We earn a commission if you make a purchase, at no additional cost to you.

05/20/2022 07:07 am GMT

Espresso is the base of every coffee drink.




If you care about the taste, texture, and origins of your coffee then investing in a good espresso machine is a must.




This espresso machine also has a steaming wand, so can make frothy coffees too. But it will also make an excellent espresso.




As it features a professional three-in-one holder, it will filter the espresso perfectly. It will also allow you to brew two espressos at the same time.




This is partly due to the style and shape of the machine but mostly because of the shape of the filter.




One of the nicest elements of this espresso machine is how compact it is. 




Because of this compact nature, the filter is also relatively small and compact.

This means that the filter is also the perfect size for teabags.




So, not only is this a sophisticated espresso machine, but it is also an incredibly complicated and sophisticated hot water dispenser (provided you thoroughly clean the filter in between drinks, of course).




The compact nature of this espresso machine is actually quite surprising, considering how sophisticated it is.




Its size is one of the reasons why such a sophisticated espresso machine is (at the time of writing) so affordable.

Buy on Amazon Our Best Espresso Machines Review

We earn a commission if you make a purchase, at no additional cost to you.

05/20/2022 01:59 am GMT

Smeg kitchenware is truly iconic. If the branding was taken away from any Smeg product, you would still be able to identify them as Smeg.




Smeg products are the kind most people imagine having in their dream kitchen but never quite manage to have.




The classic yet modern curved aesthetic is beautiful and is a series upgrade from the standard drip coffee maker.




Walking into the kitchen to see this coffee maker will definitely brighten your mornings.




Not only does it look great, but the Smeg coffee makers also make great coffee.




This Smeg coffee maker is very simple but the style will make every time you reach for a refill a charming moment.




As with almost every Smeg product, this product is pretty pricey for a drip coffee maker.




But, with something so unique and classic as this, you are also paying for the brand and the look.




The Smeg aesthetic is not only iconic but is unique. You won't find this style anywhere else.




If you love the Smeg style, then it's worth investing in this coffee maker. It will make those dreary days when you need an extra jolt of coffee so much better.

Buy on Amazon Our Smeg Coffee Maker Review

We earn a commission if you make a purchase, at no additional cost to you.

05/20/2022 11:04 am GMT
Get 50% Off Your First Bag Of Coffee!
This delicious, immune-boosting, healthy, low-acid, USDA organic certified is our favorite coffee. Our friends at Lifeboost offer our readers 50% off for all first time customers. So give it a try today, and see why it's our go-to!
SAVE 50% NOW
The Best Coffee Maker Buying Guide
Buying a coffee maker is an investment. It is an investment of your money, of course, but also of your time.
There are much faster ways of making coffee but fast doesn't always mean better.
If you love coffee and want every cup to be as perfect as possible, then you need a good quality coffee maker.
Now have all of the information about different kinds of coffee makers, how do you decide which one is the best for you?
We've put together this guide for you to not only find a great coffee maker but the perfect coffee maker for you.
Coffee Maker Type
Best for whom?
Drip Coffee Maker 
Someone who needs a big pot of coffee in the morning and will need to top up their mug throughout the day.

A team working in an office.
Grind and brew coffee maker
Someone who drinks coffee because they love the taste loves coffee at its freshest and enjoys choosing the beans and the overall process.
Four cup coffee maker
Someone, or some people, who need a lot of coffee quickly and don't care too much about the flavor. 
Pour-over coffee maker
Someone who likes a simple and standard cup of joe. You don't need anything too fancy. But you can still appreciate a delicious and good-quality cup of coffee.
Super-automatic espresso machine
Someone who likes a fast shot of coffee made as fast as possible, who doesn't have the time for a long coffee but still appreciates good quality and a good tasting cup.
Latte Machine
Someone who enjoys a creamy coffee shop coffee, and who also enjoys not having to wait in line or pay expensive prices for their coffee every day.
Single-serve coffee maker
Someone who only needs a cup every now and again. This isn't for making large amounts of coffee for yourself and others.
Espresso machine 
Someone who likes a short sharp kick of caffeine. Espresso shots can be sipped but will still give you a quick hit of energy.
How to Choose a Coffee Maker
Choosing the right coffee maker depends entirely on your own personal taste.
Some people couldn't care less about the taste and just drink coffee to keep themselves awake.
Others are aficionados and know exactly how they like their coffee, down to the most minute detail.
Neither of these is wrong.
You may be reading this article wondering how someone could possibly enjoy coffee and drink it for any reason other than the energy boost.
Alternatively, you could wonder how anyone could not go to the effort to make every sip as delicious as possible.
The beauty of investing in a good quality coffee maker is that you don't have to choose one or the other.
Of course, the beans are one of, if not the most important factor (read on or scroll down for more info on the importance of beans).
But the way the water is filtered through the grounds can make or break a cup of coffee.
A coffee maker can have a huge impact on the taste of a cup of coffee. But so can the way you use that coffee maker.
Something as simple as the plunger on a French press needs to be pushed at exactly the right moment.
Otherwise, the coffee will be too weak and it will have little taste or energizing effects.
The Importance of Brewing
The brewing process is the process of making the cup of coffee itself. So it is very important.
We talk about the importance of beans below.
Beans can of course have a huge impact on the flavor of your coffee.
But if they aren't brewed properly, then the taste can be lost and or even completely ruined.
Coffee will be brewed very differently by different coffee makers.
If you're reading this guide, you're probably a big fan of coffee and care a lot about its taste.
Some people drink coffee solely for an energy boost. But even then, that energy should still taste delicious.
A good quality espresso machine will give you the best quality and most concentrated taste.
This is because it is a very short coffee that doesn't use a lot of water.
Other coffee makers, such as more traditional pour-over coffee makers with large carafes have a weaker taste.
This is because they are less concentrated.
The coffee won't have as much time to brew and won't have as rich a flavor.
The Importance of Beans
No matter the coffee maker you choose, the beans you use will still have a huge impact.
The process of filtration must be engineered well to produce a good cup of coffee.
But the type of beans you use, how they are ground, and how they are packed into the machine is also very important.
Beans come in a wide range of flavors and intensities.
So it's worth doing some research and finding out what you really like before buying a whole pack. If you do and you don't like it, then the beans will simply go to waste. Which will be painful for anyone with a love of coffee.
If you want the freshest coffee possible and are certain of your coffee bean preference, then you should invest in a coffee maker that grinds the beans. There is not a specific kind of bean grinding coffee machine.
Espresso vs Americano
If you disregard all of the complex additional abilities of the above coffee makers, the one thing that makes the biggest difference is the amount of water.
The filtration of the ground coffee beans is the key to the perfect cup of coffee.
If you like a strong and full-flavored coffee, then espresso is the way to go. Even if you add a mountain of froth and cream, you will still get a full-bodied flavor.
Just in case you don't know, espresso is a short coffee that is packed down into a filter and has boiled water forced through it. It is the basis for all coffees, including americanos.
When coffee is made in a coffee shop, it always starts with an espresso.
So, if you're craving that coffee shop caffeine kick, then a decent espresso machine with a milk frother or a steaming wand is the way to go.
This is the main thing to consider when choosing a coffee maker.
Not how much the machine can do, how much it costs, or how impressive it looks.
But how much water it uses, how much froth it adds, and how much you will actually enjoy drinking the coffee it produces.
If you wouldn't be able to sit down and enjoy drinking the coffee, then it's not the coffee maker for you.
Some coffee makers require a fair bit of work.
Espresso machines with milk wands take some getting used to. They are small versions of professional barista machines, so you can't just press a button and make it happen.
Frequently Asked Questions
Does a coffee maker make a difference?
It absolutely does! Once you have found out just how easy it can be to make a delicious cup of coffee every morning, you will never go back.
Whether you normally use a simple drip coffee maker and are looking for something more complicated.
Or if you just use basic instant coffee and want an upgrade.
There are so many different options available.
The biggest difference a coffee maker can make to a cup of coffee doesn't actually have anything to do with the coffee itself.
The milk can be the real game-changer.
Sure, when you make an espresso with a proper espresso machine, it will be at its most delicious. But being able to froth your milk can completely change your cup of coffee.
Whether you buy a coffee maker with a milk frothing chamber or a milk wand.
Adding milk that's a little fancier than you would normally use just takes your coffee to that next level.
It's an easy way to upgrade your mornings.
Are expensive coffee makers worth it?
This depends on your perception of an "expensive" coffee maker. The price of coffee makers varies a lot.
The price can be completely different depending on the brand, the size, the capacity, and mostly on its abilities.
It is logical that a complicated coffee maker that can do a lot of different things is going to be more expensive than something simple.
The best thing to do is to set yourself a budget before you even begin looking at coffee makers.
If you know how much you are willing to spend, you won't get distracted by something fancy and complicated.
Otherwise, you will likely end up spending far more money than you were expecting.
This way, you will spend only as much as you can afford.
You won't end up with something overly complex that you never really use.
Or, you might be pleasantly surprised and find that your set budget will actually get you quite a lot.
Don't go into the coffee maker buying process assuming that all coffee makers are incredibly expensive.
Before looking, set your budget and decide exactly why you want a coffee maker.
Then, you can look for a coffee maker that will do exactly what you want and is within your budget.
What is the cleanest coffee maker?
This is a sensible question to ask but a difficult question to answer. Coffee machines can be pretty tricky to clean. As water and milk will be passing through the machine, the inside will obviously need cleaning.
If cleanliness is your main concern, then there are plenty of self-cleaning coffee makers around.
For these, you simply press a button and it will clean itself. If it needs a little more, you can find plenty of coffee machine cleaning products and descalers that will do a more industrious job.
How often should you replace your coffee maker?
The answer to this question generally depends on the kind of coffee maker you buy.
Like any kind of technical home appliance, there is an average life span.
On average, a coffee maker should last around 5 years.
But, if you take care of it properly and regularly clean it, it might last up to 10 years.
As it is an appliance, you should really only replace it once it stops working. One of the issues with coffee makers is the proximity of water and electricity.
So you do need to be careful.
All good quality coffee makers will be designed to protect against any liquids accessing the electrics. But you should still be careful.
Coffee makers are generally sturdy appliances.
You shouldn't have to replace it any more often than your toaster or your microwave.
What is the healthiest way to brew coffee?
This is an interesting question. As coffee is such a staple of our lives, it might surprise some people to discover that it is healthy.
Like pretty much everything, it's only healthy in moderation.
If you're pulling an all-nighter and drinking a constant supply of caffeine, you're not going to feel too good.
But coffee can boost your metabolism and, of course, give you lots of energy.
You can use this energy to be more productive and exercise.
There are also many claims that coffee can reduce the risk of health conditions such as heart attacks, strokes, and Parkinson's disease.
What are the best coffee makers for home use?
This depends entirely on the kind of coffee you want to make. Unless you want to spend thousands of dollars on a professional barista coffee machine, then any coffee maker you find online is suitable for home use.
If you want something simple, then a single-serve coffee maker or an espresso pod machine is ideal.
You simply place the pod inside the coffee maker, press a button, and watch it make your coffee for you.
If you want something a little fancier, then you don't need to do too much work.
There are plenty of options if you enjoy the process and want to grind your own beans, pack your own espresso, and froth your own milk.
But, if you want a barista-style coffee without the work, there are plenty of coffee makers that will froth the milk for you.
Most automatic coffee machines have a chamber for water.
Some also have a similar chamber for milk that it will froth or steam.
This will then be added to your mug, along with the coffee.
As has been mentioned several times throughout this article, the best coffee maker is the one that will make you your perfect coffee. Anything else is a waste of money.
Conclusion
Buying a coffee maker is an investment. It is an investment of both your money and your time. Some coffee makers take a lot of work and are quite complicated.
If you enjoy the coffee-making process, then this is a good thing.
If you like slow mornings, then it can be enjoyable to take the time to grind the beans and froth the milk.
But, you may be the complete opposite and just want to be able to make your coffee with the touch of a button.
With so many different styles of coffee makers available, both are possible. Sometimes even from the same coffee maker.
Read next: Is Lelit Bianca Coffee Machine Any Good?
The best thing to do when choosing a coffee maker is to decide what your favorite aspects of coffee are.
Then, try and find a coffee maker that makes your perfect coffee.
If you know what you want (and how much you want to spend) before you even start looking, you won't become distracted by fancy features.
Otherwise, you might find yourself spending a lot of money on a coffee maker that you only end up using one or two features.
Enjoy the creativity that comes with frothing milk and making latte art?
Great, then you should really invest in an espresso machine with a milk wand.
Need something that will power you up in the morning with as little work as possible? Then it's an easy-to-use Nespresso Pod machine for you.
Coffee is something most of us drink every day.
So it should be as delicious as possible. Make sure to take the time to find your perfect coffee maker.
Mark
G'day from Australia! I'm Mark, the Chief Editor of Portafilter. I'm super passionate about everything coffee related and love to spend endless hours mastering pulling the perfect shot on my Breville Barista Express.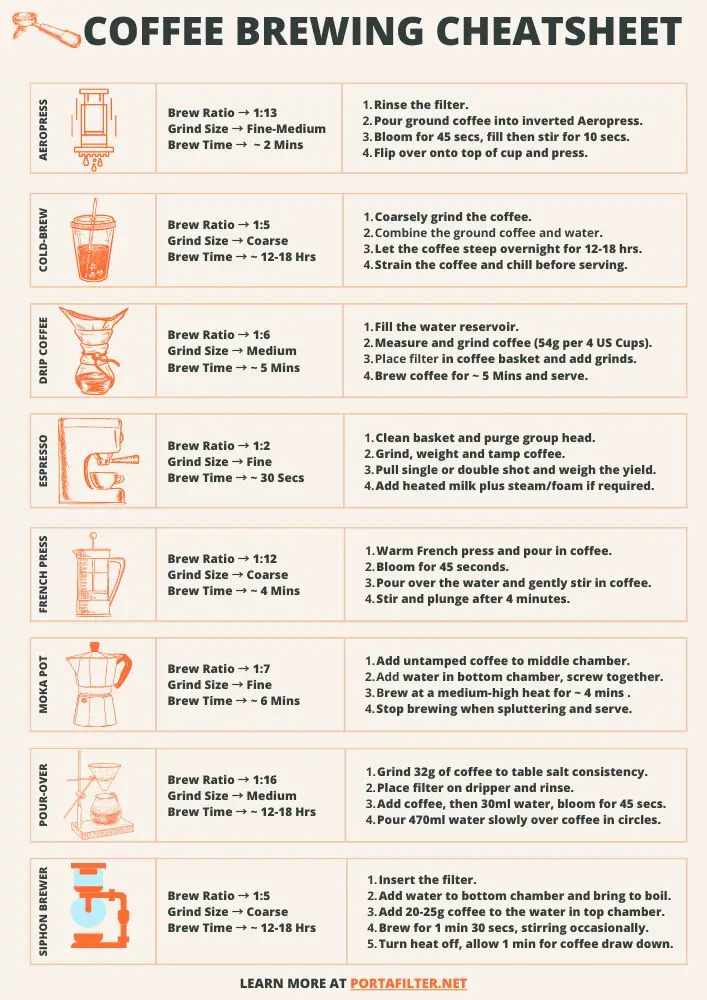 Get Our FREE Coffee Brewing Cheat Sheet
This free cheat sheet will improve your coffee brew by providing quick information on brew ratio, grind size, optimal brewing time, and more!
No spam. Unsubscribe any time.